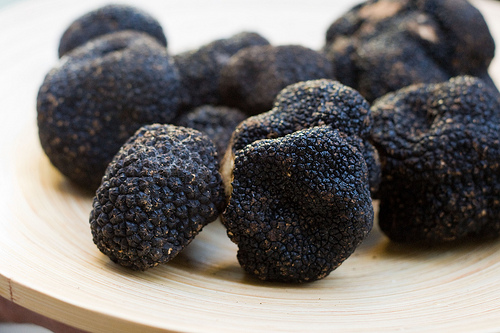 Mostly, The Domestic Front is about enabling. I truly believe that, to quote Ratatouille
(when you have a 2.5 year old in the house, you watch a lot of Pixar movies), "Anyone can cook." I try to provide you with the tools and confidence to cook great food from scratch in your own kitchen.
This post isn't about that, though. This isn't about enabling, it's about jealousy. Because when I tell you where I went last weekend, I know the green-eyed monster will be reading over your shoulder. Because, you see, I was invited to a truffle party. That's right, 13 separate dishes of fresh black Italian summer truffles (the summer truffles are slightly less pungent than the winter truffles, but they are still enough to make a grown man cry.) The lovely Erika of In Erika's Kitchen (who luckily for me happens to be a fellow alumna of my alma mater and works in my building to boot) through a fantastic shindig that included fantastic dishes like Truffled Macaroni and Cheese, Corn Veloute with freshly grated truffles on top, Radish and Truffle Butter Tartines (with freshly grated truffles on top), Crostini with Ricotta and Truffle Honey (again with the freshly grated truffles), Green Beans with Porcini Mushroom-Truffle Dip, Truffle Risotto with truffles grated on top (are you beginning to sense a theme here?), Truffle Grilled Cheese Sandwiches,Filet Mignon Sandwiches with Truffle Butter, and to top it all off, Truffled Chocolate Truffles. Yes, it was that decadent, and the house was lovely and the company (many fellow food bloggers and other food people) was terrific.
I don't know if Erika has a trust fund I don't know about or if she just got a screamingly good deal from her dealer (Truffle dealer that is), but this was a party I was lucky to have attended. And if you want to recreate this party at home, many of the recipes are included on Erika's website.
I'll return to our regularly scheduled programming soon (you don't need a pound of truffles to make delicious food, trust me!) but I'll leave you with one last lingering look: