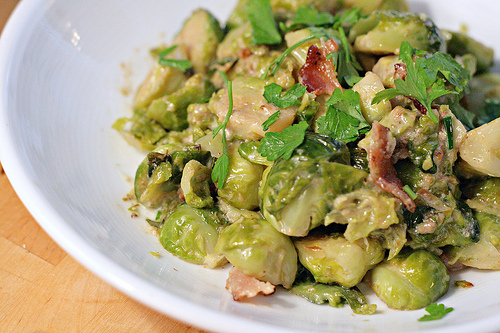 My household growing up wasn't exactly rife with vegetables. We ate a lot of tomatoes, a green salad most nights, occasionally green beans, or artichokes or asparagus or sometimes even spinach, but the more esoteric or unapproachable vegetables were not to be seen on the dinner table. This is mostly due to my dad, who, while otherwise epicurean in his tastes, is not the most veggie-loving guy.
Because of this, I was never introduced to some of the "challenging" vegetables in their "challenging" form (presumably poorly prepared by a harried mother who is just trying to get her kids to eat something green for once). I first encountered parsnips while studying abroad in England in college (and they are DELICIOUS), winter squash (other than pumpkin pie) was at a little Italian restaurant in the East Village when I was in law school (wood oven, lots of cheese), and beets (other than the canned variety common in salad bars) were in a lovely fresh salad with good goat cheese. But the lowly and much maligned brussels sprout was first eaten in my own kitchen, thanks to a mouthwatering recipe in Gourmet magazine (it involved scallops).
Brussels sprouts have since become one of my favorite vegetables, with their nutty flavor, tendercrisp texture and whimsical form (my childhood of playing with dollhouses predisposes me to love miniature things). When fall comes around and I start to see those little guys in the market, they come into regular rotation — usually thrown into a hot oven with some olive oil and salt to brown up, but sometimes in salads, in sautes and in that scallop dish from years ago. Now that I am a brussels sprout fanatic though, I find I need to convert the unbelievers (like my dad), and olive oil and salt, divine though they may be, just don't cut it.

Enter bacon. While I am still doubtful about the ubiquity of bacon (does it really make EVERYTHING better?) it does have a natural affinity with brussels sprouts — the smokiness and the salt really highlight the nuttiness of the sprout. Add some cream for sweetness and a touch of lemon juice to brighten the whole dish, and you have a brussels sprouts dish that even the vegetable phobic could love. Of course, cream and bacon do not a light dish make, but with the holidays coming up, this is a perfect dish to grace the Thanksgiving table as an alternative to all that disgustingly healthy turkey. (I've also made it with a tablespoon of butter in place of the bacon and it's still pretty fabulous, in case you're a vegetarian or don't eat pork.) You might just find that brussels sprouts are your new best friend.
Bacon Braised Brussels Sprouts with Cream
Ingredients
1 pound brussels sprouts
2 pieces bacon, roughly chopped
½ cup heavy cream
1 pinch salt
1 tablespoon lemon juice
2 tablespoons flat leaf parsley, chopped
Instructions
Wash brussels sprouts, remove outer leaves and bottoms, slice in half.
In a large heavy saucepan that has a tight fitting lid, brown bacon until crisp. Remove bacon, leaving fat in the pan.
Add brussels sprouts to bacon fat and cook over high heat, stirring frequently, until sprouts have begun to brown.
Add cream and a pinch of salt, stir, then cover with a lid and cook over medium low heat until cream is absorbed, about 15 minutes.
Add lemon juice to sprouts and stir to combine. Finish by sprinkling parsley and crumbled chopped bacon over the dish.