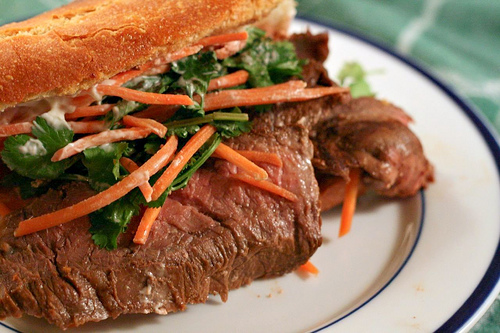 I really love sandwiches. What's not to love about them? Bread – good, condiments – good, and a filling to tickle your fancy. Portable, packable, all around satisfying. Sandwiches are good food.
Although there are many different sandwiches upon which I bestow my affection – a good BLT on toasted whole wheat, leftover Thanksgiving food on a sturdy white, meatloaf with ketchup on rye – I think the best sandwich may just be that Indochine fusion classic known as bánh mì.
Bánh mì are Vietnamese sandwiches, and there are as many variations as the day is long, but the unifying factor is good French bread and pickled vegetables. I first heard of bánh mì from John Thorne's Pot on the Fire, where he chronicled his discovery of bánh mì – Vietnamese cold cuts, liver pate (another thing borrowed from the French), pickled carrots and daikon, cilantro, chilies. This piqued my curiosity enough to drive me to NYC's Chinatown, where I had my first ever bánh mì, and it was revelatory. The sweetness of the carrots, the brightness of herbs, the heat of the chilies, the chew of the meat and the richness of the pate, all bundled together in that pinnacle of human achievement known as a baguette – let's just say I was hooked.
I'm lucky to live in a city with a large Vietnamese population where bánh mì are available, though these days I have to get my bánh mì fix in the San Gabriel Valley, which is an hour drive from my house. It's worth it more often than you may think, but some days I really want a bánh mì NOW and I don't have time to drive to Rosemead. Luckily, bánh mì, like most sandwiches, are wildly adaptable and easy to prepare at home.
(I should at this point stop and say that although what I am about to present you with are, in fact, excellent sandwiches, I do not pretend that they are authentic bánh mì. These are weeknight fix bánh mì style sandwiches. For more on preparing your own bánh mì or where to buy authentic bánh mì, I highly recommend you check out Battle of the Bánh Mì, maintained by Todd and Diane of White on Rice Couple.)
In the morning, start your marinade. You want a flavorful cut of beef for this – tenderness is less important because you're going to slice it thinly. I used something my grocery store rather repulsively called "Beef Flap Meat". Good thing I'm a dedicated omnivore or that would have put me right off. It was perfect for this application – beefy and inexpensive. Hanger Steak, Tri Tip, Flank Steak or Skirt Steak would also be good choices. Mix Vietnamese or Thai Fish Sauce (I know it smells funky, but it's really delicious, and essential if you're going to do any Southeast Asian cooking – just think of it as Asian Worcestershire sauce or Southeast Asian soy sauce) with lime juice, brown sugar, fresh ginger and Sriracha. Turn your meat in the marinade, cover, and refrigerate for a few hours.
You also want to start your vegetables marinating – I use shredded carrots because they're easily available, but daikon would be a nice addition. I just marinate these in seasoned rice vinegar (which has sugar and mirin already) with some cut up dried Thai chilies and a little lime juice for kicks.
When you're ready to cook, heat a large cast iron skillet over high heat, and sear your steak well on both sides so it's nice and brown and caramelized. A meat thermometer would be useful, but I usually poke the meat and see if it's the texture I want it to be. A rule of thumb my mother taught me is that if you poke the meat and it feels like the skin between your forefinger and thumb, it's very rare. I like the meat to be the texture it is at my lower thumb joint. It's hard to explain, but next time you're cooking beef, try the poke test and figure out where it works for you. When the meat's cooked, let it rest while you're assembling your sandwich fillings.
In addition to the steak and the carrots, you'll need bread – a good baguette (In these photos I used a par baked baguette so that I could finish the baking right before assembly), fresh cilantro, mayonnaise (this is optional, but I like a little on my bread), liver pate (again optional, but I think the richness it adds is delicious and makes this more like a true bánh mì), cucumber (I hate cucumbers and never cook with them, but you may like them – and they add a nice crunch) and sliced fresh jalapenos (also optional, I skipped these this time, because of the spiciness in the marinade, but sometimes I add them).
When the steak has rested, slice it thinly, then spread your split bread with a little mayonnaise and some pate, and then layer in the meat, vegetables and cilantro. A little piece of sandwich happiness is now yours.
Vietnamese Style Steak Banh Mi Sandwiches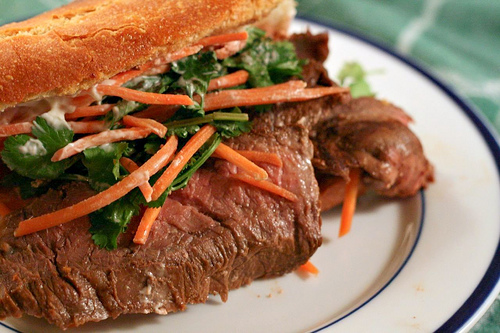 Ingredients
For the beef:
1-1.5 pound beef cut, suitable for slicing thinly
¼ c. fish sauce (the most readily available brand is Thai Kitchen, but if you can find Vietnamese then go ahead and buy it)
Juice of 2 limes
3 T brown sugar
Squirt or 2 of Sriracha
2 inches fresh ginger root, peeled and minced
For the carrots:
Shredded carrots
Seasoned Rice Vinegar
Dried Thai Chilies
For the sandwich:
Baguette
Smooth liver pate
Mayonnaise
Fresh Cilantro
Jalapenos, thinly sliced
Cucumber, sliced into long batons
Instructions
Mix all of ingredients for beef; marinate steak for at least 3 hours.
Marinate carrots in vinegar and chilies for at least 3 hours.
Cook the steak in a preheated cast iron skillet on high heat until medium rare, about 8 minutes a side, depending on the cut and thickness of your beef. Let rest 10 minutes.
Slice beef thinly against the grain. Spread mayonnaise and pate to taste on interior of split baguette. Layer in sliced steak, carrots, cilantro, and other vegetables. Eat warm and enjoy!