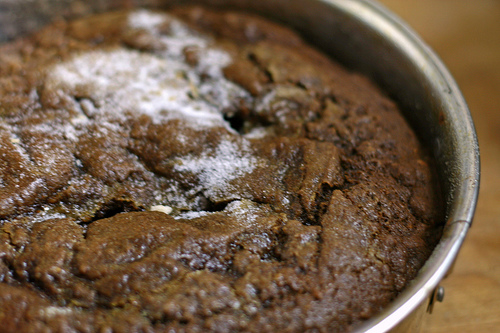 It's a common question on college application essays and at boring dinner parties – if you could have dinner with any person, living or dead, whom would you choose? Jesus figures highly in the answers I've heard, so do William Shakespeare and Bill Clinton (which I suppose tells you something about my circle of acquaintance). Me? My answer is always the same – Laurie Colwin. If you've never read Laurie Colwin's writing, you should, right now. I stumbled on a mention of her in an article in Gourmet in 2000, which led me to a discovery of her books, Home Cooking
and More Home Cooking
. Reading these was like discovering an old friend who loved food and cooking as much as I do. If she were coming over for dinner, we'd hang out in the kitchen, chopping and gossiping, then sit down with some wine and a nice simple meal from ingredients we picked up at the farmer's market – maybe a chicken scaloppini, or a pasta dish with leeks and a nice green salad, and then we'd curl up on the couch with a cup of coffee and something we both love – gingerbread.

Last week, when I was feeling dispirited, I pulled Laurie off the shelf, seeking some solace, and found just what I was looking for. Baking for me is very soothing – the measuring and the stirring, and the frivolity of it. There are no fraught decisions to make, no rush to get something on the table in time for dinner. It's all laid out for you, and all you have to do is follow directions and you end up with something you can eat or not as you see fit. And gingerbread is something I particularly love – it just smacks of hominess, of simpler times, of nursery food and Mary Poppins and Little Women. It's rich and spicy and sweet and fragrant, and there are as many variations on gingerbread as the day is long. It is my opinion (and Laurie seems to agree with me) that one can never have too many recipes for gingerbread, and that it is just the thing when you're feeling low to whip up (though there is no actual whipping involved) and flood your kitchen with fragrance.
This particular recipe comes from Laurie's second food book – More Home Cooking
(her first book also has a recipe for gingerbread which is more widely known. It's also very good). It appealed to me because of the ease of preparation – instead of the creaming of the butter and sugar you usually see in cakes (which adds lightness and is best done with an electric mixer), this recipe is more of a quick bread – it uses melted butter and the fanciest cooking implement you need is a wooden spoon. Laurie comes out firmly against the use of molasses, favoring cane syrup instead. This is where we disagree (but we're still firm friends, of course). I like the slightly bitter taste of molasses, and think it adds a nice complex note. If you don't want that, I'd recommend using regular molasses, instead of blackstrap, or you could try what Laurie recommends, which is Steen's Cane Syrup
. We both agree that you should not skimp on the ginger, and I added a little black pepper to spice things up. Laurie tells me that gingerbread is particularly appealing to small children, and I can confirm this – the Nuni considers herself a fan.
This is not an extremely moist gingerbread – it's more of a quick bread than a cake, and it's not too sweet. Unlike some gingerbread, it doesn't keep well for more than a few days, but this doesn't seem to be a problem in our house. It's perfect for teatime, after dinner or even breakfast with a cup of coffee and a chat with an old friend.
Laurie Colwin's Gingerbread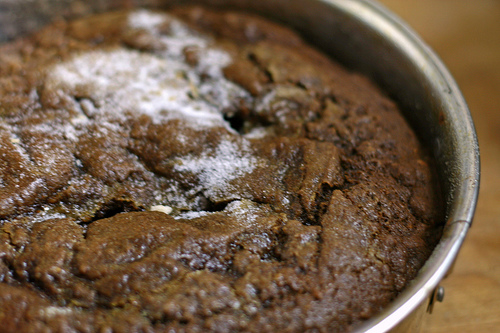 Ingredients
½ c. molasses or cane syrup
6 T butter
1 egg
¼ c. buttermilk
2 c. flour
1 tsp baking soda
1 T ground ginger
1 tsp cinnamon
⅓ c. packed brown sugar
Pinch salt
¼ c.- ½ c. golden raisins (optional)
Granulated sugar to sprinkle on top
Instructions
Preheat oven to 375 degrees. Prepare an 8 inch round cake tin (my favorite product for cakes is something called Baker's Joy or one of its many imitators. It's a non stick spray with flour in it, and nothing works better to prevent cakes sticking in the pans. If you don't have this, butter the cake tin well and line the bottom with a circle of parchment paper. (I'm with Laurie on this one, who says "Parchment paper has come to have great importance in my kitchen, and it is my opinion that the person who invented it should get a Nobel Prize."))
Melt butter in a dish and combine with molasses. In a separate dish beat egg and buttermilk together. Mix together the flour, baking soda, spices, sugar and salt, then add the egg mixture, then the syrup mixture, and mix well. If using, stir in the raisins.
Tip into the cake pan, and sprinkle with sugar. Bake 10 minutes in the 375-degree oven, turn the heat down to 325 degrees, and bake 35 to 40 minutes more. It's OK if this seems a bit splodgy in the middle – you don't want to overbake it.
Let cool and enjoy. As I mentioned, this is particularly good with coffee.
Notes
Adapted from More Home Cooking by Laurie Colwin
In another note, today is April Food Day – food bloggers joining together to fight hunger (because isn't that what we do best?) Please take the time today to follow the links below and make a donation to Feeding America, a charity which helps stock food banks in all fifty states and the District of Columbia. In our current economic climate, food banks are finding more and more demand for their resources, and every little bit helps.
The April Food Day blog
The Feeding America Site
The Donation Page