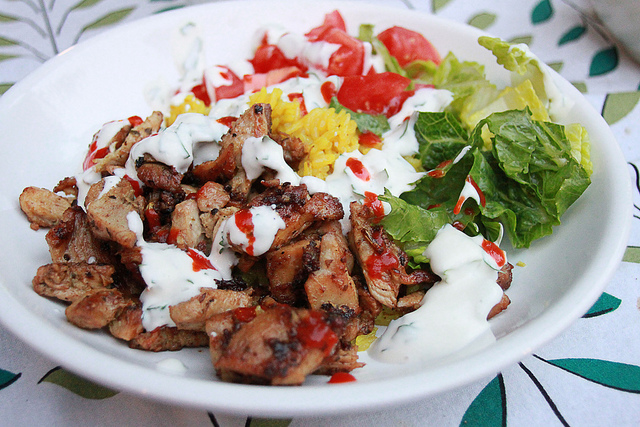 I know I am supposed to be charmed by New York. I know I am supposed to wax rhapsodic about the "energy" of the city, to tell you about the fabulous meals I experienced at Eataly and Eleven Madison Park and this tiny hole in the wall I "discovered" in the Village. I am supposed to be converted to the cult of the Shack Burger and say things like "No place is like New York".
Well, I'm not charmed. The city is dirty and smelly and noisy and crowded. The weather is uncalled for. Everything is too expensive. And it's hard to navigate. You literally cannot get a stroller out of the subway without setting off an alarm. In the seven years since I moved away from New York (to, may I add, one of the largest metropolitan areas in the United States) I have become old and sedate and suburbanized. I can't hack it in New York any more. So no, I am not charmed.
But I have to visit, because there live my people. My girlfriends from my young married days, who think nothing of coming to a happy hour near my hotel when I'm in town despite the fact that there are an additional eight and a half children among us and most don't even live in Manhattan (the half is Mrs. Limestone's daughter to be). My husband's family – his father and half sister and stepbrother whose kids are my kids' only cousins. My baby cousin, who has worked in some of the most amazing restaurants in the city. My college roommate, who was living with me when I met my husband, and knew "us" from the earliest days of our courtship. And the godfathers of both of my children.
So I try to find things to love about New York. One thing to love is the laws on gay marriage. The impetus for our trip was the marriage of the Nuni's godfather (who is one of my oldest and dearest friends) to his partner of eight years. I was Matron of Honor, Nuni was the flower girl. The wedding was beautiful, and I wouldn't have missed it for the world.
Here's a link to a video put together by one of the grooms featuring the song he wrote for his vows. Aren't they handsome?
And our family, in Central Park (about 5 minutes before the Nuni stepped in a pile of poo apparently left by the world's largest Great Dane. We had to throw away her shoes)
Another thing to love about New York is street meat, aka halal chicken and rice, which is sold from carts on the Sidewalks of New York. When I was studying for the New York BarExam, my review course was right near one of these carts, and I would often get delicious spicy, savory chicken with crisp vegetables and fragrant rice for lunch. LA has a thriving street food scene but offers nothing quite like street meat, and my only chance to enjoy it was on my infrequent trips to New York.
Fortunately, Serious Eats came to my rescue and developed a recipe for street meat. The first time I made it, the scent of the rice instantly carried me back to that summer, and I was, however briefly, 24 again. It has since become a serious staple in our house. Relatively easy to make, good to reheat, excellent to take to families with new babies and a frequent request made by my homesick husband. The Nuni loves it because I let her make the white sauce all by herself (it's hard to screw up and a good way to train her to taste and season). In fact, it is, I would venture, even better than the original.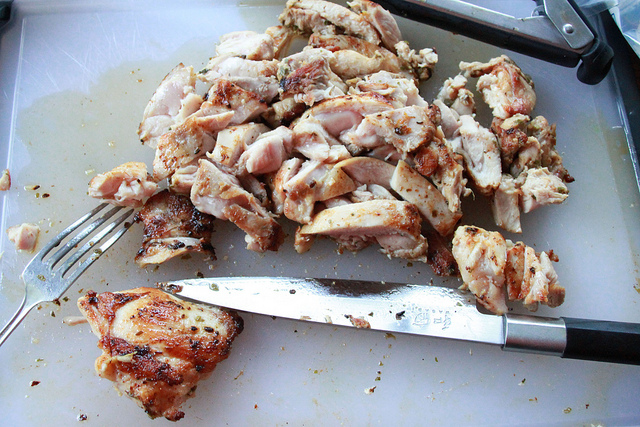 Now if only I could get my people to move to California…

Halal Chicken and Rice or Street Meat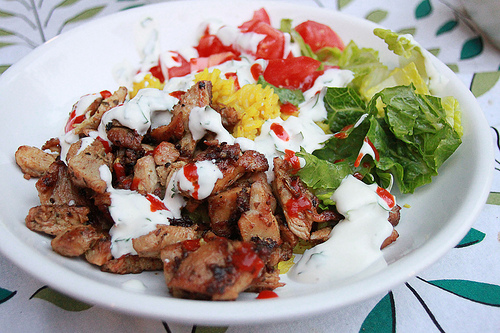 Ingredients
For the chicken:
Juice of 2 small lemons
2 Tablespoons chopped fresh oregano
1 teaspoon ground coriander
6 garlic cloves
½ cup plus 1 Tablespoon extra virgin olive oil
Salt and pepper
2 pounds boneless, skinless chicken thighs
For the rice:
2 tablespoons salted butter
½ teaspoon turmeric
¼ teaspoon ground cumin
1½ cups jasmine or Basmati rice
2½ cups chicken broth
For the sauce:
½ cup mayonnaise
½ cup plain Greek yogurt
1 Tablespoon sugar or to taste
2 Tablespoons red wine vinegar or to taste
Squeeze lemon juice
¼ cup chopped fresh parsley
Salt and pepper
To serve:
Shredded romaine lettuce
Roughly chopped tomato
Sriracha or sambal oelek hot sauce
Instructions
Starting the chicken:
Combine the lemon juice, oregano, coriander, garlic, and ½ cup olive oil in a small food processor and blend until chopped and combined (no need for total smoothness).
Set aside half the mixture and Marinate the chicken thighs in the remaining half for at least an hour but up to a day.
Heat the remaining oil in a heavy skillet (I use cast iron. ). Remove the chicken from the marinade, salt and pepper it, and sauté in the oil until brown (no need for the thighs to cook through).
Remove the thighs from the pan, roughly chop into bite sized pieces, and put chicken pieces and any juices into the reserved marinade and refrigerate. Don't wash your pan.
Meanwhile, make the rice:
In a 2 quart pot, melt the butter over medium high heat, and add the spices and cook for about 30 seconds to a minute. (Smell that? That's one of the good New York smells. Now you can get it without the tinge of diesel fumes and garbage!).
Add the rice and stir until the rice is coated in the butter and lightly toasted, a couple of minutes.
Add the chicken broth, stir, cover, reduce heat and cook over low heat for 15 minutes, or until rice is tender.
Make the sauce:
Combine all the ingredients for the sauce, and adjust according to taste. (The Nuni loves tasting and saying, "I think just a little more lemon juice. Don't you, mom?")
Finishing the Chicken:
Finally, reheat your skillet over medium heat, dump all of the contents of your chicken bowl ( chicken, marinade, juices) into the skillet and sauté until the chicken pieces are cooked through and crisp around the edges.
Serve the chicken over rice with lettuce and tomatoes and pass the white sauce and hot sauce.