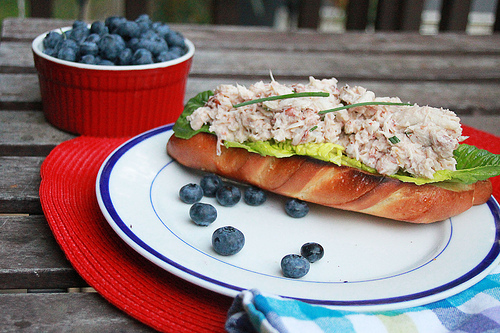 After we went to New York this summer, we decided to head up the coast to Maine. Ken and I both love New England — he spent part of his childhood there, and we met in college there. I'm a total California girl, but the other place I really feel at home is New England.
Neither of us had ever been to Maine, though I had been fascinated with it since I was a child. To a kid growing up in Los Angeles, nothing is quite so exotic as the Pine Tree State. We rented a darling little cottage with a water view, no cell service, and a lot of peace.

And here's the thing about Maine — it's exactly how you imagine it to be.

Edward Hopper-esque lighthouses:

Granite coastlines studded with pine trees:

Piney islands, shrouded with mists:

Bustling New England villages:

And lobster. The lobster pound down the road sold them for $2.99 a lb, just pulled out of the water we could see from our bedroom that morning. We'd pick up some corn on the cob and wild blueberries or a pie from one of the many farm stands that dotted the side of the road, and boil up some dinner. We could feast like kings — a whole lobster each — for under $15. I ate lobster rolls for lunch and steamed lobster for dinner every single day we were in Maine.
Of course, once we got home, I had Maine withdrawal. Lobster in California is never, ever, ever $2.99 a pound. So I made do, in a thrifty New England way, and came up with these crab rolls (which I have, incidentally, also seen served in Maine. I just never ate them because, hello! LOBSTER.) Crab salad, bound with mayo and brightened with citrus (I happen to love grapefruit juice, but lemon juice will work as well, on a toasty buttered bun with a little green lettuce for crunch. It's a simple and super quick way to get a little piece of New England on your table for a casual dinner or weekend lunch.
A note on ingredients:
Crab isn't cheap, but you can get pretty good canned crab meat for around $9 a pound, and that's for the meat only, no shells. It's not King Crab Legs, or even fresh Dungeness, but it makes a pretty tasty sandwich. Be sure to get the refrigerated crab meat, not the shelf stable. Brand I buy is Chicken of the Sea, and I prefer leg to lump.
I used brioche rolls here, but other types of bread will work (even in Maine! I had a delicious lobster roll on homemade bread at a place in Rockland.) The classic is probably a top split hot dog bun (Pepperidge Farm makes them) which are hard to find here, but I've used a regular side split bun and it works too.

Summer Vacation II: Great State of Maine and Crab Rolls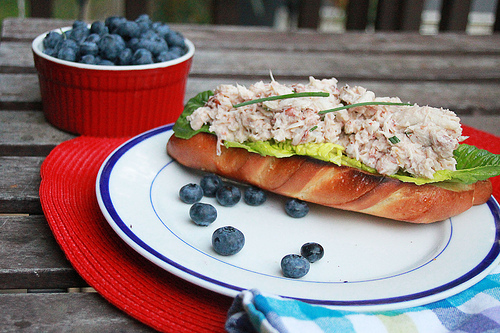 Ingredients
1 pound crab meat
⅓ cup mayonnaise
2 Tablespoons grapefruit or lemon juice
1-2 Tablespoons Chopped Fresh Chives
Salt and Pepper
Romaine Lettuce Leaves
Brioche Rolls or Hot Dog Buns
Butter
Instructions
Make the crab salad: Mix the crab with the mayo, citrus juice and chives, using a fork to break up any lumps in the crab meat. Salt and Pepper to taste.
Split the rolls or buns, butter and toast. Line the buttered bun with a lettuce leaf, and fill with the crab mixture. Serve immediately.