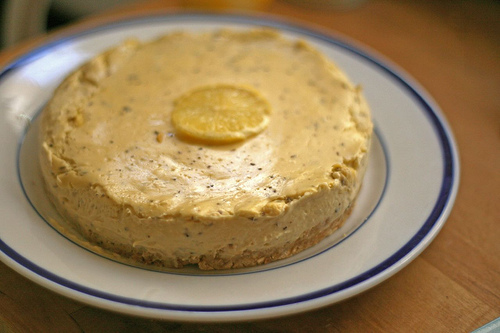 It's the end of the month which means it's time for the Daring Bakers' Challenge. If you don't know about this group of intrepid, take-no-prisoners bakers, you can find out more at their brand new website, The Daring Kitchen.
The April 2009 challenge is hosted by Jenny from Jenny Bakes. She has chosen Abbey's Infamous Cheesecake as the challenge.
Now cheesecake and I don't have the best history. You see, my father makes terrific cheesecake — huge, New York style cheesecake with a creamy filling and sour cream topping. He makes them every year at Christmas time for his students, and his fame as a cheesecake baker is widely acclaimed. I wouldn't dare make traditional cheesecake for fear of being accused of trying to steal his thunder or worse, having my cheesecake come up terribly, terribly short. The one time I did try to make a cheesecake — pumpkin cheesecake, for Thanksgiving, it was roundly dismissed in favor of pumpkin pie.
So you see, I needed a little daring.
Fortunately, Jenny gave us lots of leeway with this cheesecake, allowing us to get creative with the crust, the flavoring of the cheesecake, and the topping, so I didn't have to worry about stepping on my dad's cheesecake toes (it also helps that he's currently out of the country and can't challenge my cheesecake). Always loving slightly unusual flavorings, I elected to go with an earl grey tea flavored cheesecake, and to complement the lemony flavor of the bergamot, the crust is made from animal cookies, which have a slight lemon flavor, which I boosted with lemon zest.

I also cut the recipe in half (it's not that we can't eat a whole cheesecake, but that we can), which was enough for a 7 inch cheesecake and two mini cheesecakes in custard cups.


This was a really delicious cheesecake, and very easy to put together. I began by making the crust by making crumbs from the animal crackers (I was too lazy to drag out the food processor so I used a ziplock and a rolling pin which resulted in less than even crumbs. It didn't matter after cooking.)
To give the filling the earl grey tea flavor, I heated the cream with two teabags and let it cool and infuse. I squeezed every last bit of tea from the teabags then opened one and added the tea leaves to the filling. Using teabags meant the leaves were small enough that they added some good tea flavor and visual interest without adversely affecting the smooth texture.

The rest of the filling came together like a snap. Mix cream cheese and eggs and sugar with the cooled cream, and pour it into the pans with the crusts. I would recommend springform pans if you have them, since the cheesecakes release more easily, but if you prepare your pans with grease and parchment paper and make the cakes small enough, they're not too tough to depan.
Bake in a water bath (to avoid cracking) until the cheesecakes are still a little wobbly in the middle. The little ones were done after 30 minutes. The big one took closer to 40. Let cool thoroughly before you try to turn them out of the pan, then run a knife around the edge. Turn it out onto your hand (if you've got a better way I'm all ears) and quickly turn it onto a plate.
This was a great cheesecake. It was easy to put together, had a smooth creamy texture, and was not too sweet. I just might have to make it again and give my dad a run for his money.
Tea and Cookies -- Earl Grey Cheesecake
Ingredients
crust:
1 c. animal cracker crumbs
2 oz butter, melted
1 Tbsp. sugar
zest of 1 lemon
cheesecake:
1½ sticks of cream cheese, 8 oz each (total of 12 oz) room temperature
½ c. sugar
1 large egg
1 egg yolk
½ cup heavy cream
2 Earl Grey Teabags
3 T strongly brewed earl grey tea
Instructions
Preheat oven to 350 degrees F
Prepare a 7" cake pan with parchment paper on the bottom.
Mix together the crust ingredients and press into the pan. If you use springform (easier unmoulding) you'll want to cover the bottom of the pan in foil to avoid leaks from the water bath. Set crust aside.
Heat cream in a small saucepan with the teabags. Bring to a boil and let cool with the tea. Press on teabags to release as much flavor as possible, then open one tea bag and mix leaves into the cream.
Combine cream cheese and sugar in a bowl and cream together until smooth. Add egg and beat until incorporated, then add egg yolk and mix thoroughly. Add cream mixture and tea and blend until smooth and creamy.
Pour batter into prepared crust and tap the pan on the counter a few times to bring all air bubbles to the surface. Place pan into a larger pan and pour boiling water into the larger pan until halfway up the side of the cheesecake pan. If cheesecake pan is not airtight, cover bottom securely with foil before adding water.
Bake 40 minutes, until it is almost done --you want a little wobble in the middle. The original instructions called for letting it cool in the oven for 1 hour, but I overlooked this and removed the cake at this stage and it was fine. Chill thoroughly before removing from the pan.
Notes
Adapted from Abbey's Infamous Cheesecake