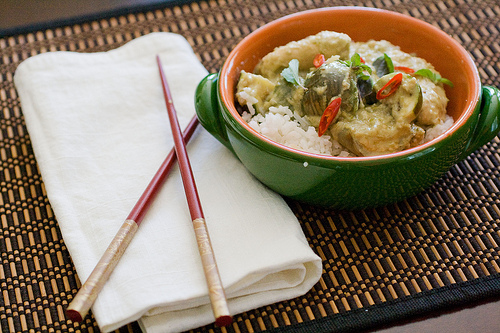 Reason number 453 I love living in Los Angeles: the huge variety of cuisines we have here. Whatever you want to eat — French food, Oaxacan, Tibetan, Filipino, Fusian Korean-Mexican — not only can you find it, but there's probably a truck that will serve it to you right outside your office building. As an Angeleno and a foodie, eating, and cooking, ethnic food is second nature to me. My weekly shopping usually involves a swing through Koreatown, a stop at the Armenian markets in Glendale, or a visit to the Chinese supermarkets in the San Gabriel Valley. So when it came time to choose a dish for Project Food Blog's second challenge, Cooking outside your Comfort Zone, I was a bit flummoxed.
I could have tried to discover some cuisine or microregion I hadn't actually cooked ("Hmm, I've never tasted the cuisine of Chad!"), or gone for broad irony ("After a visit from my mother in law, I've determined that nothing is more foreign than the cuisine of the Southern United States!"), but in the end I decided to go for an old favorite: Thai Green Curry.
We eat Thai food a lot. We've sought out Thai street festivals, upscale Thai restaurants, and neighborhood takeout joints. I, always looking for the next thing, am eager to try a different dish every time — Tom Ka Gai, Larb, Mee Krob. But my husband always orders the same thing: green curry. He's ordered it in fancy Thai restaurants, Japanese restaurants inexplicably, serving Thai food, takeout lunch buffets, and classic Thai joints in Thai town. He's probably at least eaten a hundred different versions of green curry in the 12 years I've known him. I've tried to make it, using the Thai Kitchen curry paste I found in the supermarket and a can of coconut milk, but the flavors weren't there. I knew if I could make a good, authentic, green curry, my husband would love me forever. (I hope he'll love me forever anyway, but I figured a good green curry wouldn't hurt).
And what's more, this harried cook went way outside her comfort zone in the preparation. Instead of my usual MO, which is all about maximum flavor in minimum steps (and minimal dirty dishes!) I decided to strive for true authenticity, which meant a shopping excursion in North Hollywood, and pounding my homemade curry paste by hand in a granite mortar and pestle, the way a true Thai cook would do it. After perusing several recipes on the internet, I decided to go for this one by the lovely Pim Te. First, Pim actually IS Thai, which helps, I think (I'm looking at YOU, Bobby Flay), second, she says everyone else is doing it wrong (which in my mind, is always a market for true authenticity), and third, she lives in a major metropolitan area in California, which means we're likely to have access to similar grocery items.
The shopping part was fun. I used to avoid ethnic markets because I was always afraid of buying the wrong thing, but after a few years of discovery, I've got a few tricks up my sleeve. The The Domestic Front Guide to Shopping in Ethnic Markets is as follows:
Know what your ingredients look like. At the market I went to, turmeric root (which I didn't need) and galangal (which I did), were right next to each other, both unlabeled. They're both rhizomes (similar to fresh ginger), commonly used in Thai cooking. Fortunately, I had looked at a few pictures of what I was looking for, so I was able to correctly use galangal.
Read ingredient lists. Not everything is identified in English, or identified with the name you're looking for, but US labeling laws means ingredients are listed in English. I was able to find kapi, or shrimp paste, by picking up a few likely jars and reading the ingredient lists (shrimp, salt, sugar)
Be flexible. Even at a huge and well-stocked market, you're likely to have a few duds. I couldn't find Kaffir Limes anywhere. I bought some kaffir lime leaves, figured it would add some of the flavor, even if it wasn't totally authentic, and moved on.
Be adventurous. Most ethnic markets have a wide selection of prepared foods. I always try to pick up something new, even if I can't identify it. On this trip that led me to some delicious buns filled with pandan custard.
I got my ingredients home, and proceeded to make my curry paste. Which involved chopping all the ingredients into tiny pieces (which took FOREVER, and I even got the Nuni to help me peel all the garlic), then pounding them individually in my granite mortar and pestle (mine is actually a granite molcajete, which is slightly different than the traditional Thai krok). The pounding also took forever, and required frequent breaks — those pestles are heavy! I followed Pim's advice on pounding order and also discovered a few tips on my own. First, while you're pounding, move the bulk of your paste to the sides of your mortar before adding a small amount of the unpounded ingredients — get those pulverized, then incorporate them into the paste. Second, when they say pound, they mean pound. A mortar and pestle is often used with a circular motion rubbing the ingredients against the sides, but I found for this, particularly for the fibrous ingredients like lemongrass and galangal, an up and down pounding motion worked best. Pounding is supposed to be better than a food processor because it releases the essential oils of the ingredients, and I could tell that the paste was incredibly moist, even from the dry ingredients like lemongrass. There was also something very soothing about the rhythmic pounding, and seeing the heavy pestle do so much damage.
Once the paste was made, I went on to make the curry. Having experienced first hand the number of chilies in the dish, I was expecting the final product to be unbearably spicy, and I was tempted to only use some of the paste, but I trusted Pim. The final product was spicy, yes, but enough to make it exciting, not inedible. The incredible texture of the curry paste made the dish substantial and far less soupy than the Thai Kitchen version. And the flavors? Hot, sour, salty and sweet are the four cornerstones of Thai cooking, and this dish had all of them in spades.
As for the husband, I fed him the curry and eagerly awaited his verdict. He said "I think you should quit your job and make this every day." I guess that means he liked it.

Thai Green Curry with Chicken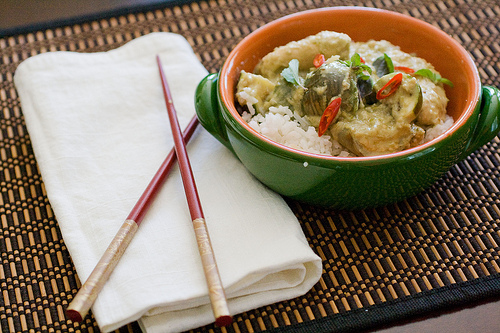 Ingredients
Curry Paste:
10 Bird-eye chillies, green ones only, seeded and finely chopped
12 medium Serrano chillies, seeded and finely chopped (It might be useful to wear gloves while you're cutting up the chillies to avoid touching your eyes later)
3 medium stalks of lemongrass, outer stems removed, inner stems sliced finely into rounds
1 scant tsp kaffir lime leaves, cut into thin strips
1.3 oz galangal, peeled, chopped
½ tsp cilantro stems, finely chopped
1.7 oz shallots, sliced (about 2 medium shallots)
3.5 oz. garlic, sliced (about 2.5 heads garlic)
½ tsp white pepper
1 tsp coriander
½ tsp cumin
2 tsp salt
1 tsp shrimp paste, wrapped in tin foil and roasted at 450 degrees for 10 minutes (this smells terrible. Do not let that put you off)
For the curry:
2 T neutral oil
Curry paste above
1 500 mL can coconut milk (I used Mae Ploy brand)
1 T fish sauce
2 tsp palm sugar
1 lb. chicken breast meat, cut into bite sized pieces
About 8 oz. Thai apple eggplants (about 6 smallish ones), cut into quarters.
Instructions
For the Curry Paste:
Pound the ingredients in a mortar and pestle one at a time in this order: first the chillies, then the lemongrass, galangal, lime leaves and cilantro stems. Then the garlic, and the shallots, and the seasonings, and finally the shrimp paste. You'll end up with about a cup of paste that's fairly moist with a lot of texture.
To Make the Curry:
Heat up a large wok or saute pain with the oil, add the curry paste and cook for a few minutes, stirring.
Skim the creamy part off the top of your coconut milk add to the pan, and cook until the paste is dissolved in the coconut cream. Let it bubble until the oil starts to separate, then add the remainder of the coconut milk, and let it cook until the oil starts to soften again.
Add the fish sauce and sugar, stir to dissolve, then add the chicken and eggplant. Turn the heat down to medium low, cover, and cook, stirring periodically, until the chicken is cooked through and the eggplant is tender.
Serve over Jasmine rice, garnished with Thai basil.
Am I going to be making hand-pounded curry paste again? If I have a lot of free time and aggression to get out. Or if I want to be a really really good wife.