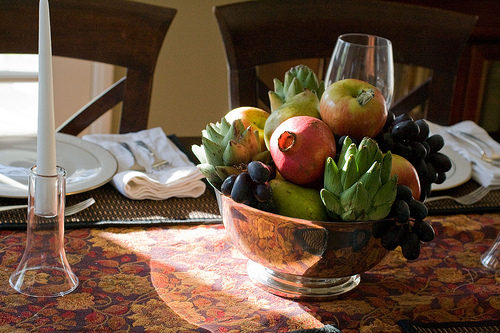 It started with the smell.
I arrived home from work Friday night, Nuni in tow, and was greeted by a smell, emanating from the kitchen. A TERRIBLE smell. It wasn't the trash — Friday is trash day, and ours was empty as a result. Knowing that we had four people coming over to our house the next day for a fancy dinner party, Ken and I spent Friday night tearing apart the kitchen, scrubbing every surface, and spraying Lysol with abandon, trying to find and eradicate the source of the smell. An overnight with the windows open and a generous application of Lysol had relegated the smell to the background, but I should have known then that this was a harbinger of things to come.
When I saw the Project Food Blog Round 3 Challenge, throw a luxury dinner party, I thought, "No sweat." I had just had twenty people over to my house for a three year old birthday party. I was channeling Martha Stewart. How hard can dinner for six be? I invited friends and proceeded to plan a menu.
When it comes to menu planning for a dinner party, the three principles to keep in mind are timing, balance, and cohesion. Timing — You don't want to spend the entire party in the kitchen, so meals that require lots of last minute fiddling are inadvisable. Balance — although it's tempting to load up on rich dishes at a fancy dinner party, you don't want your guests to feel like they have to roll home. Think about finding a balance between heavier dishes and lighter ones — dishes that lull the palate and those that wake it up. Finally, think about cohesion. Unless you have a theme of eclecticism, you might want to think twice before serving miso soup followed by tacos. In a good menu, each course should feel like it belongs together and proceeds logically from the previous one.
I knew from the moment I read the prompt that I wanted to make tarte tatin, the classic French upside down apple tart. It can be made in advance and is always impressive and delicious. Tarte Tatin heavily features butter and apples, two specialties of the Normandy region of France, which led me to decide on a main course — Pork Tenderloin cooked "a la Normande" – with butter, apples and cream. Looking for both balance and cohesion in the rest of the menu, I decided to go with an apple theme, alternating the richer courses (Pork Normande, Tarte Tatin, and hors d'oeuvres of a creamy chicken liver pate and a cheese spread both served on apple slices) with lighter fare (a beet and apple carpaccio with horseradish cream and an endive and apple salad to clear the palate before dessert). Once I had set the menu, I turned to the experts for wine pairing advice — in this case my aunt Suzi, who used to work at a winery and is a fabulous cook to boot. The menu was set.
Saturday morning I woke up early, hoping to hit the road and go shopping. Two and a half hours later (I have a three year old. Have you ever tried to get out of the house with one? It's a project.) the Nuni and I were on the road, hitting the first of THREE stores. Turns out Cabernet Franc? Not so easy to find. And I'm picky about apples — I miss the New England varieties we used to get in New York, and Washington State apples that have been shipped to California just aren't the same. I came home with all my ingredients, and a boatload of apples, only an hour or so behind schedule and without wine to serve with the main course. No sweat. I placed an online order at BevMo for Ken to pick up later, packed the Nuni off to her Nonna and Pappi's, set the table for inspiration, and proceeded to cook.
The next wrinkle popped up when Ken informed me that instead of acting as my sous chef, house tidier and delivery boy, he had work to do. No sweat. I had built in some extra time into my schedule. I sat down with my apple peeler and got to work. Beets roasted, pate made, cheese spread chilling in the fridge. Ken relented enough to pick up the wine. I set the table so I wouldn't have to worry about it. And I set to making my tarte tatin. Apples peeled, cored and halved, butter and sugar bubbling away. The apples weren't cooking down the way I thought they should, but I didn't worry about it. The sugar was looking very, very brown, but I didn't worry about it. Popped on the pastry top, and popped it in the oven. When it came out, Ken, who thinks I'm a klutz (probably with good reason), offered to flip it onto the plate for me. He fitted the plate to the (HOT) pan, eyeballed it, and did a flip, spraying tarte tatin juices all over himself. Burning hot, caramelized sugar, sticky napalm tarte tatin juices. Which promptly raised huge red blisters on his unprotected foot. Worse than that, I looked at the tarte and my heart sank — the sugar had caramelized too much, the apples had disintegrated and blackened; the tart could not be served.
Now I was starting to sweat. But not panic. I should probably note that if I were sane and this were not a blog dinner party, I would have moved on to plan B for dessert — good vanilla ice cream with dark chocolate over it; my killer chocolate chip cookies, or these gooey chocolate puddings that take ten minutes to make and are perfect for situations like this. But we're talking Project Food Blog here, so sanity went out the window. Ken was dispatched to the store to fetch more apples; I calmly sliced up the beets for the carpaccio and the endive for the salad. He brought back apples, which I peeled, cored sliced and quartered, and caramelized on the stove, this time watching like a hawk. This time the apples yielded their juice before disintegrating, the caramel cooked the apples before burning. I was ready to put on the pastry lid and pop it in the oven, when I realized the sheet of puff pastry I had bought earlier had thawed to the point that it was stuck together in a block, not a sheet. Knowing it was just laminated dough, I folded it up and rolled it out, and that was that. Only it wasn't, of course, No matter how well I rolled that dough, the second I tried to remove it from the rolling surface and place it on the apples, it would shrink. I rerolled it; it re shrank. I stuck it in the freezer for a few minutes to chill before rolling; it still shrank.
Now I was sweating in earnest. There may have been tears. I may have thrown a cutting board across the kitchen. When my husband innocently asked if I had begun the main course, he may have been the target of a stream of invective. Ken was dispatched to the store AGAIN to get more puff pastry.
And I turned to the number one principle of throwing a dinner party: NEVER LET THEM SEE YOU SWEAT. I started a load of dishes, took a shower, put on a chic little black dress, gold flats and some mascara, and chugged a glass of champagne (very few domestic crises can't be vastly improved by a LBD and a liberal application of champagne). When Ken returned, the kitchen was cleaner, the wife was party-ready, and the main course was at least begun.
By the time the guests arrived, the tarte tatin was in the oven (and the old one hidden away), the main course was simmering on the stovetop, the first course was plated, and cocktails and hors d'oeuvres were on the coffee table. And I had a champagne flute in my hand, and was smiling cheerily.


Even though I did have to leave the table from time to time (to serve the courses, to do the last minute finishes on the potato puree and the sauce Normande), I managed to actually enjoy the party, to talk with our friends, and to enjoy the conversation. The food was consumed to the last bit, the wine flowed, and the company was convivial. Ultimately, that's the key to a successful party – a party is about the people, not about the food. And frankly, I probably could have served chili, cornbread and chocolate chip cookies, and my guests would have had just as much fun.
That being said, the food was good. Really really good. Every bite was eaten, and the guests practically licked their plates. And what really swelled my heart with pride was when our guests asked for seconds on the tarte tatin. Even for the blood, sweat and tears it claimed in the making, the caramelized apple goodness was worth it. At the end of the evening, all that was left was a lone slice. Which didn't last long.
Luxury Dinner Party -- It Began with the Tarte Tatin...
Ingredients
6 large golden delicious apples
½ c. (1 stick) salted butter
1 c. sugar
1 sheet pre made puff pastry (I used Pepperidge Farm)
Instructions
Peel the apples, core them (a melon baller is a great tool for this!) and cut them in quarters, lengthwise.
Preheat oven to 425 degrees.
In a 9 inch heavy cast iron skillet, melt the butter, add the sugar and combine. Arrange the apples on the butter suger mixture, rounded sides down, and cram as many as you can fit into the pan. Cook over medium high heat for approximately 20 minutes, or until the juices are caramelizing, but the caramel is still a pale brown.
Add the puff pastry sheet on top of the apples, trim the corners to fit the pan, and place in the oven for 10 minutes.
Reduce the heat to 350, bake for another 10 minutes. The puff pastry should be brown and puffed.
Remove the tart from the oven, and while it is still warm (being VERY CAREFUL not to spill the juices on any part of your anatomy) turn the tart onto a plate, replacing any apples that have fallen out of place.
Serve warm or at room temperature