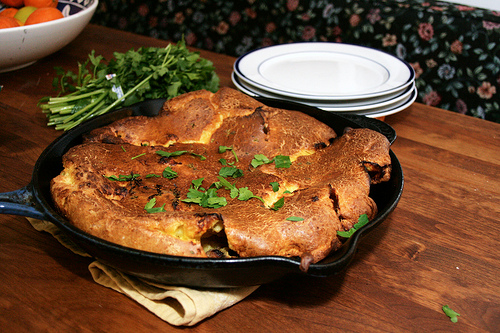 It's very strange being pregnant in January. It seems like everyone is going on a diet, vowing to lose weight, committing to a high-intensity exercise plan. Me? I'm craving hamburgers, and trying to decide if it's a good idea to go to a once a week yoga class. I do hope to lose weight this year, but not before I gain a bunch, and I'm just trying to keep up with my protein needs. Oh, and I plan to eat more vegetables.
This time of year has proven to be difficult, anyhow. My dad died a year ago, and while I steeled myself to face the date itself, I've found myself feeling a bit more fragile than I normally am. A year is the traditional period of mourning, but while there is a lot of happiness and even joy in my life, I haven't stopped tearing up unexpectedly, and I still miss him fiercely.
So instead of salads and superfoods, I've been seeking out comfort. One of my favorite Friday night dinners is Toad-in-the-Hole — a British classic that's basically a Yorkshire pudding with sausages. It's not health food, but it IS comfort food, and it's made from scratch (OK, I buy the sausages, but you COULD make them from scratch) and there's a place for that, too.

I didn't make any resolutions this year. Last year, my resolutions flew out the window on January 3rd. But if I were to make one, it would be to be forgiving of myself, to listen to my needs. And sometimes what you need is an old standby.
Toad in the Hole
Ingredients
1 lb uncooked sausage meat (I like this best with a German style sausage I buy at Trader Joe's (natch). I wouldn't use Italian, but whatever your favorite sausage is would work.)
1 T fat, olive oil, goose fat, chicken schmaltz ...
1½ c. milk
4 eggs
salt
1⅔ c. flour
pinch fresh thyme
Instructions
Preheat oven to 425 degrees.
In a large cast iron (or ovenproof) skillet, heat the fat. Remove the sausages from their casings, squeeze them into small patties (about 2 patties per sausage link), and brown the patties on each side.
While the sausages are browning, whisk the eggs and milk together with the salt, then whisk in the flour and thyme.
When the sausage patties have browned on both sides (don't let them get too browned, or they will burn in the oven) pour the batter over the sausages, and immediately put in the oven.
Bake for 30-35 minutes, until browned and puffy. Slice into wedges, and serve immediately.
Notes
From Nigella Lawson