I have a confession:  I've been holding out on you.  This wine is probably the reason I started the Trader Joe's Cheap Wine Pick series in the first place. This is the best cheap red wine I've found, and I almost always have a bottle or two hanging around the house. I only regret that it's only now that I'm getting around to telling you about it.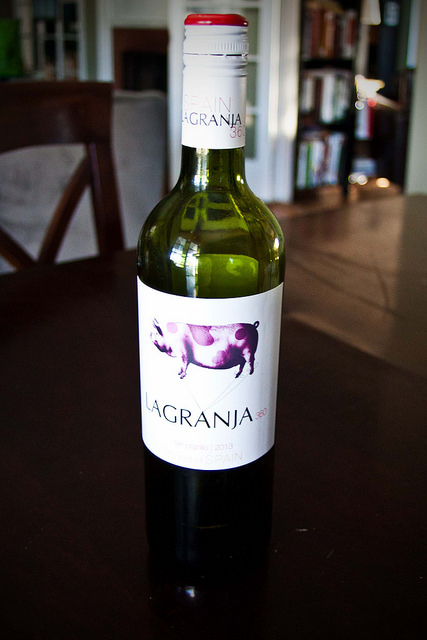 Wine: La Granja 360 Tempranillo
Region: Spain
Style: Medium-bodied, Ripe Berries
Price:  $3.99 a bottle
I will be honest – I don't bring this wine to people's houses (because it's $4 and it seems like an insult) and I don't serve it at dinner parties (again the $4) but this is my #1 favorite Tuesday night wine, my "invite a bunch of neighbors over for a glass of wine" wine, my "Thank God my children are finally asleep" wine.  It's drinkable, but not so smooth it feels flabby.  It has a good acidity that plays well with most foods (especially grilled meats) and nice berry flavors.  It has a pig on the label, and a screw top so that you don't have to worry about putting the opened bottle back in your fridge on its side.  And it's $4.  Did I mention it's $4?  And if I served it blind, I would totally serve it at a dinner party.  Especially after everyone has kicked the first bottle and has lost their inhibitions about labels.   This wine is like your dog – reliably happy to see you, likes most foods, easy to love.
I've found that generally European wines are more affordable than US wines –  less branding and marketing involved, maybe?  And the La Granja range (which includes several wines) is a great example of that.  This is my favorite – the Tempranill0, with the pig.  Not the Garnacha with the Zebra, or the other one with the … rooster?  It's a great backup wine, a great go-to wine, the best cheap red wine I've found.  And now you know about it.  Please don't buy up all my bottles.