I realize this is the world's slowest trip recap, but I took all of my photos in RAW, which means I have to convert them to upload them, and OHMYGOD SHOOT ME if I ever do that again. Still, I wanted to share with you a few special moments in London, including an AMAZING meal.
When last we spoke, we had just begun our day in London with a lovely visit to Borough Market. And then it started to rain. And rain. And rain. Undaunted, we pressed on, hopping a routemaster bus to Trafalgar Square, and heading up Regent's Crescent.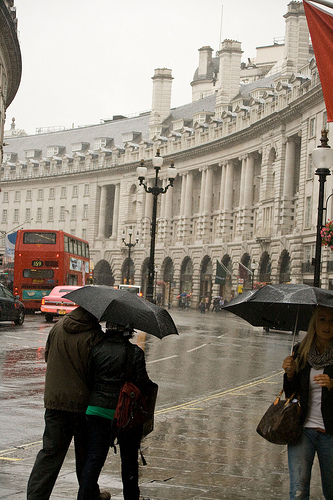 By this time, despite our umbrellas, we were thoroughly saturated. So we turned onto Piccadilly, and ducked into one of my favorite places, Fortnum and Mason, where we were greeted by liveried footmen.
Fortnum and Mason has floors of beautiful home goods, but what draws me are their food halls. They're famous for their hampers packed with tantalizing foodstuffs. It is a dearest wish of my life that someday, someone will send me a Fortnum and Mason hamper. It's terribly Evelyn Waugh.
Here's a stack of the famous hampers. Also, I covet that garden chair. I do not know why the pigeons are juxtaposed with gelatine desserts, but I like it.
As the purveyors of these famous hampers, they have the usual — smoked salmon (every place in Britain seems to have loads of smoked salmon), colorful sweets, probably a hundred different varieties of tea, and every kind of jam you could possibly think of. They also have exotic foodstuffs like scorpion candy, truffled salt, and Mrs. Butterworth maple flavored syrup.
After we loaded ourselves up (or down, as the case may be) with tins of Queen Anne and Fortmason tea, Gooseberry and Elderflower jam and Patum Peperium Gentleman's Relish, we braved the rain. Which continued, unabated. We slogged a bit more through the rain, caught another bus, and decided to walk through a very rainy Kensington Gardens. Which is all to say, by the time we arrived at the Milestone Hotel for early afternoon tea, it was an oasis of calm, warmth, and sweet, sweet dryness.
The Nuni is very fond of tea parties, dressing up, sweets, and anything fancy, so we felt obligated to have a proper, posh afternoon tea in London.
The Milestone offered a bang up tea, with plenty of clotted cream, which is my personal criteria for a good tea. (They also offered this smaller children's tea, which we very much appreciated). The sandwiches were excellent, the scones were light, and the pastries were too sweet, but that's pretty much par for the course at every hotel tea I've been to, ever. The mini pistachio eclairs were quite good, though.)
And after licking the last bit of cupcake frosting off her fingers, the Nuni promptly climbed onto this lovely windowseat and fell asleep. We had worn her out.
We took her back to our lovely hotel, the Kensington Hotel:

And all had a rest. We were awfully jetlagged, you see.

(A bit about the hotel: while the rooms were quite small (which is kind of par for the course for London), the hotel was beautiful and perfectly located in South Kensington, near the Piccadilly line underground which goes both to Heathrow and King's Cross. They also treated us very kindly when the three of us, suffering from jetlag, were up at 4 am, fixing the Nuni specialty "cocktails" (of juice and fruit) in the lovely bar.)
We had to rest up before dinner, which was scheduled for the Harwood Arms, one of the best gastropubs in London. I love a gastropub – unfussy and casual, but with a focus on good food. The Harwood Arms also focused on local, seasonal British cuisine, which has become a hackneyed phrase someplace like San Francisco, but is still a bit of a novelty in London. And the food didn't disappoint. I also appreciated that they offered food for children that wasn't stupid food. They had a simple lamb dish that they cooked up for the Nuni, which made us feel welcomed. (And she was very well behaved, having been refreshed by her nap).
We ordered what was simply described as "wood pigeon for two", since Ken adores game. We didn't know what to expect, but we didn't expect this gorgeous creation to appear:
A gamy and delicate wood pigeon broth, a smooth pate from the liver, kebabs with one flavoring, sweet and sour legs, and the breast, breaded and fried, but so perfectly and delicately that the crisp crust just offset the rosy and tender meat inside.
After that starter, I figured the main course would pale in comparison, but I was on a game roll with this duck:
I love duck, and I order it often in restaurants. Not infrequently, the flavor of the duck is hidden behind syrupy sauces or exotic spices. Here? It tasted like duck. There was seasoning, and a faintly sweet glaze which complemented the duck's gamy flavor, but this was duck as it was meant to be. Tender, with a crisp but not crunchy skin and the perfect layer of fat.
My mom (who met us for dinner) wanted to stop at the great main courses, pointing out (rightly) that many restaurants disappoint when it comes to dessert. Fortunately, we ignored her, and ordered Gooseberry doughnuts with Regent's Park honey cream.
Little puffs of air filled with a tart hit of gooseberries, dipped in a luscious cream? Yes please.
The Nuni agreed.
I remember a time when London was a culinary wasteland. The best you could hope for was a decent curry, or maybe, if you were lucky, some fish and chips. British cuisine was the butt of many jokes. But I live in a great food city, and I followed this short jaunt to London with a week in Paris, and our meal at the Harwood Arms was one of the best meals I've eaten in a long time. The food was surprising without being gimmicky, it felt grounded in its location, and seasonal without being cliche. British food has come into its own, and the Harwood Arms just exemplifies that.
Next stop — Paris!