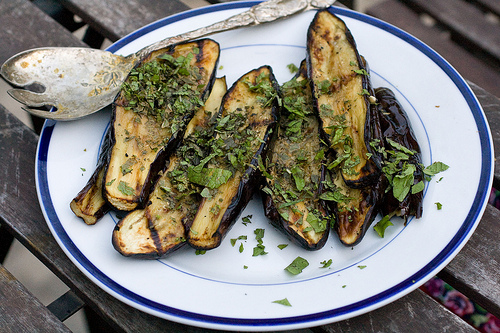 I often say that I blog what I eat, and it's true. But it's also true that when I'm sitting down Saturday morning to make my grocery list, I'm thinking about things I'd like to write about, to share with you. I write about recipes that fit into my life, but I've also planned them to fit into the blog. I think about the light, about when I'll have time to photograph them, or how to serve them.
Isn't it a saying that life is what happens when you're making other plans?
Then, there are the other recipes. The ones I just make because I felt like it — because I saw a recipe I wanted to try, or some great food in the markets, or it fit into a meal I was planning. This is that time. We had family over for dinner Sunday night because I felt like making peach cobbler (for the blog, natch. Not enough fruit desserts this summer!), and we couldn't eat an entire peach cobbler by ourselves (OK, we could, but we SHOULDN'T). So invitations went out to my mother, my cousin, my aunt. Casual. And since we couldn't just serve peach cobbler for dinner (well we could, but we SHOULDN'T), I picked up some sausages to grill, and then I saw these gorgeous eggplants at the market. I remembered a recipe — so simple it was barely a recipe — in the Canal House cookbook (I forget which volume) and we threw these on the grill with the sausages. I almost forgot to put them on, but I was looking for some parsley in my refrigerator and found the eggplant, and it was the work of a moment to get them ready for the grill.
When the moment came, they smelled so good, and looked so good I just snapped the photograph above. No styling, no planning. Just good eating. And they were good. They were so good, I wanted to share them with you.
As for the peach cobbler? Well, it was too dark by the time we ate it, and it disappeared so quickly I didn't have time to shoot it in the morning. It was good peach cobbler. I'll just have to make it again.
That's what I get for making plans.

Serendipitous Grilled Eggplant with Mint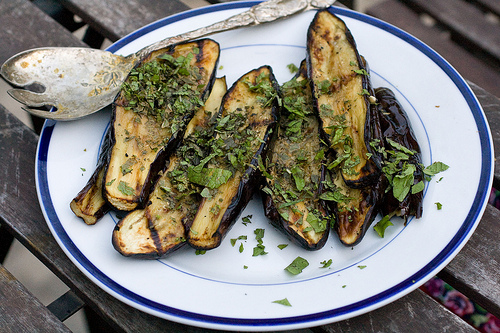 With much thanks to Canal House Cooking
Ingredients
4-5 Thin Japanese Eggplant
Some good glugs of olive oil
1 lemon
Salt (I used smoked salt because a) I had it and b) we were cooking on a gas grill. Regular salt also good.)
A small bunch of mint
Instructions
Wash the eggplant, slice them in half lengthwise, cut off the stem end.
Place the eggplant in a bowl with a good glug of olive oil and the juice from half your lemon. Sprinkle them with some salt, and toss to coat.
Grill the eggplant over medium heat, cut side down for 5 minutes, then flip and grill for 5 minutes more.
Squeeze the juice from the other half of the lemon over the eggplant, and scatter a shower of chopped mint leaves.