If there's any day of the year when you should say it with flowers, it's Valentine's Day.  A dozen red roses is a little cliche (and a lot too overpriced) for my taste.  To help you break out of your Valentine's Day floral rut, I asked local L.A. florist Pinky Farnum of Lark Farnum Floral Design to provide a tutorial on how to put together a totally chic and modern floral arrangement for your Valentine.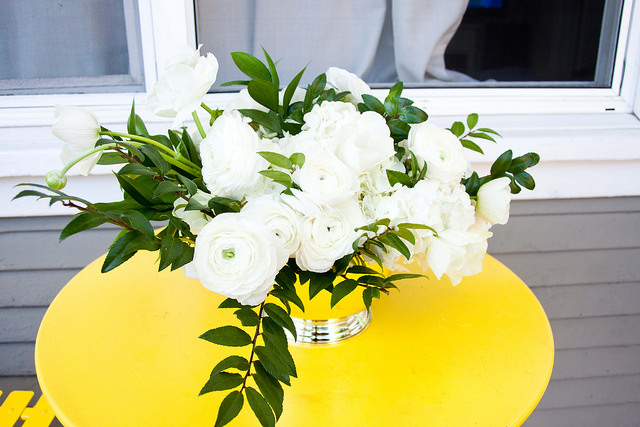 I know flower arranging can seem daunting, particularly if you have 99 other things on your mind like kids, laundry, work, that bill you haven't paid yet etc. If you're like me, you wake up at 3 AM with something buzzing in your brain. Whether you want to give flowers to your loved ones or yourself this Valentine's Day, don't be tricked into buying those tired $95 red roses on your way home at the last minute. I've tried to create an easy, quick arrangement that might just be the therapeutic gift you needed to give yourself along with your loved ones this holiday.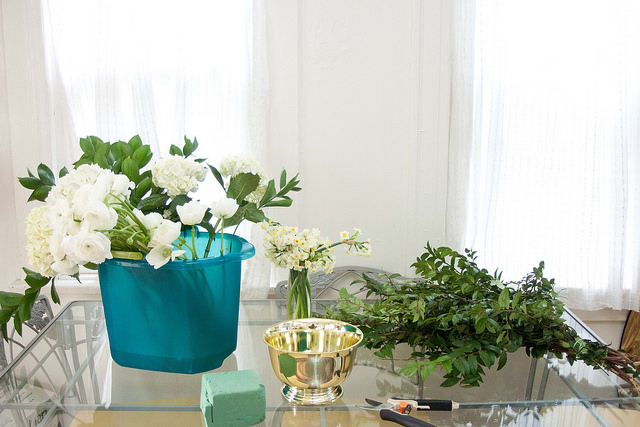 First off, start simple.  All of these blooms are often found at Trader Joe's or other local grocery stores. While red and pink may seem festive, I think a no fuss color palette of white and green keeps things simple and elegant. Plus, this will go with any décor or table setting!  For this arrangement I used huckleberry and boxwood greenery (but anything cut from the garden will do), hydrangea, ranunculus, and anemone. Feel free to substitute in what you find (tulips and roses would be lovely, easy-to-find options). I used a plastic vase I purchased in Downtown Los Angeles at Moskatels/Michaels; but any round vase with a wider opening will do [You can also use something you have around the house – KW]. I used floral foam oasis in the vase for extra support that you can also purchase at Michaels [or on Amazon]
. If you can't find any, a simple grid of scotch tape going across the top of your vase or chicken wire stuck inside the vase will help provide support so your arrangement can have more structure. Lastly, you will need a sharp pair of scissors or clippers. The more cleanly you cut your stems, the longer your flowers will last so resist that urge to break them with your hands.
Make sure to remove all the excess leaves and stems from your flowers. You do not want any leaves down inside of your vase in the water. Leaving them in can cause your water to get dirty and make your flowers die more quickly. Once you've stripped the leaves, put the stems back in water until you need to add them into the bouquet.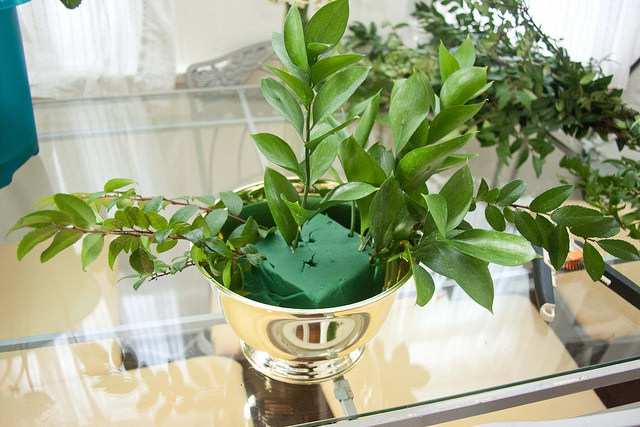 I always like to start with greenery in my arrangements as a base to help guide the shape. You can always add more later to fill everything out. Since the color palette is so simple, you can get more creative with the overall shape of your arrangement. I always like mine to be slightly asymmetrical so they look different from every angle. [Note:  I asked Pinky about the shape of her arrangements – she said she almost always likes to use an asymmetrical swoop shape for a table arrangement like this one, as it looks modern and organic.  Bouquets vary based on the flowers chosen and the bride's style.]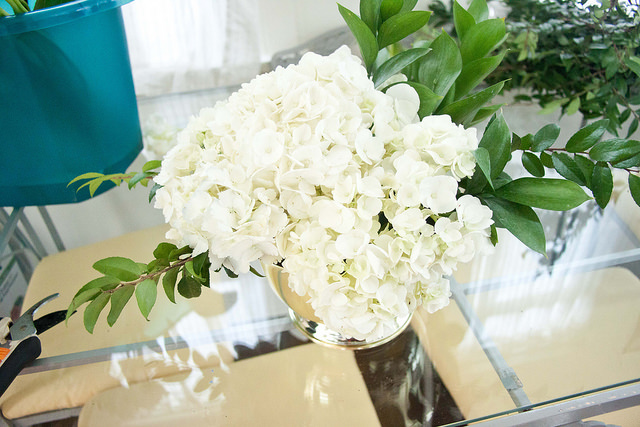 Next, I added hydrangea as a flower base. This is a great trick to fill out your arrangements with a larger flower at the base so they feel full and lush.
  For the finishing, I added in the smaller white anemones and ranunculus. I used my greenery framework to continue the slightly asymmetrical feel of the arrangement.  I placed some of the smaller flowers more closely to the hydrangea while I cut others with longer stems to come farther out of the arrangement in order to create shape and visual interest. With smaller blooms, I like to work with the rule of thumb that flowers look better grouped together in odd numbers. It's not an exact science, but I think it makes for a more visually pleasing arrangement.  I added in more greenery once I placed the smaller blooms to finish it all off. That wasn't so hard, was it?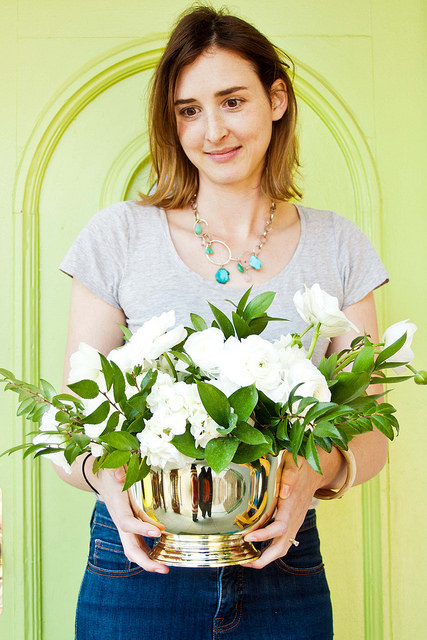 I know I'm a professional, but this arrangement took all of 25 minutes. I am also a strong proponent of the belief that flower arranging helps relieve stress. Isn't that alone a gift to everyone you love this Valentine's Day? Go ahead; treat yourself, your mom, your wife, your husband, your daughter, or your best friend with something a little bit more special this year. Happy arranging!
If you're not feeling up for arranging the flowers yourself, Pinky provides full-service wedding and event florals and event planning as well as arrangements for special days and holidays.  She's based in the Los Angeles area, but is available for travel.  You can reach her by email at larkfarnum@gmail.com or on her website, http://www.larkfarnum.com.