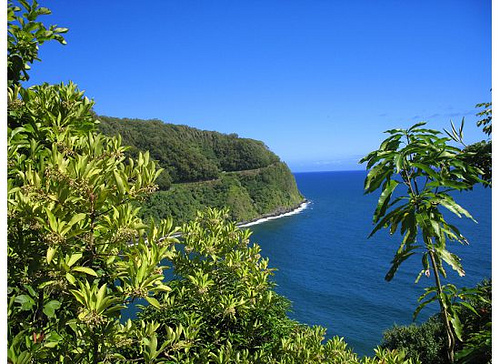 It has been hot as blazes in Los Angeles, and the thing about Los Angeles is it does hot extremely well. 3 digit temperatures, brush fires — a heat wave turns the City of Angels from a reasonably convincing rendition of paradise (OK, in some places) to a reasonably convincing rendition of hell.
So I think it's time for another piece in the travel series, because when L.A. gets like this, I would certainly love to be anywhere but here. And I find myself (as I often do) dreaming of sea breezes and warm water and golden sand — in short — Hawaii.

The thing about Hawaii is that it's exactly what you expect, and totally surprising at the same time.
The thing about Hawaii is that it's totally and completely touristy, and yet you can find a perfect beach that looks like this in the height of American vacation season:

The thing about Hawaii is that on one day, on one island, you can go from this:


to this:


to this:

The thing about Hawaii is that even the most cynical person will start putting flowers in her hair, because it feels normal.
The thing about Hawaii is that you can drink cocktails that look like this, without irony.

The thing about Hawaii is that all those things you've heard about it are true. Everything does smell like flowers. There are rainbows every day. And you can swim with dolphins.

The thing about Hawaii is that once you've been, you will want to go back.
Ken and I went to Maui a few years ago in those halcyon pre-child days when spending an entire day lying around on beach seemed like only a minor luxury. In addition to all that exhausting relaxing, we ate some great food — a seemingly endless parade of fresh pineapple, fresh-caught fish, macadamia nuts, local beef and vegetables ("upcountry" Maui is great farmland — it's all that rich volcanic soil), and mai tais, always mai tais. But one of our most memorable meals was at a small sushi restaurant in Kapalua called Sansei, where we ate some of the wonderful fusion cuisine that is so much a part of Hawaii thanks to the myriad cultures that have settled there (James Michener's Hawaii will give you a thorough and enjoyable, if exceedingly long overview.) I was so impressed with the restaurant (and the island) that I bought the cookbook
. The sauce below (which at Sansei is served with an Asian rock shrimp cake) is fantastic and impressive — it's a basic beurre blanc with Asian flavors and ingredients added. It's terrific on any fish, but I especially love it with some grilled shrimp (this simple marinade is perfect for shrimp, really enhancing its naturally sweet flavor) and of course, mai tais. If I close my eyes and sit in front of the fan, I can almost pretend I'm in Hawaii.
Grilled Shrimp with Ginger Chili sauce
Ingredients
For the shrimp
1 lb uncooked shrimp (it's OK if it's frozen so long as it's uncooked, since almost all shrimp sold in the US (and definitely in California) has been frozen at sea. If they're frozen, run them under running water for a bit to get rid of the ice before marinating)
¼ c. olive oil
2 cloves garlic, minced
generous pinch salt
2 T Orange Juice
Ginger Chili Lime Sauce
1 T olive oil
1 tsp minced shallot
4 T white wine
1 tsp chopped ginger
juice of 1 lime
6 T cream
½ c. butter, cold, cut into thick slices
¼ c. sweet Thai chili sauce such as Mae Ploy brand Sweet Chili Sauce
Instructions
For the shrimp:
Combine olive oil, garlic, salt and orange juice in a bowl or a ziploc bag. Add the shrimp and marinate for at least 2 hours, preferably longer. Thread onto skewers (if using bamboo skewers, soak them in water for at least 30 minutes before threading) and grill for 5-10 minutes or until shrimp are opaque. Serve with Ginger Lime Chili sauce.
For the sauce:
Saute the shallots in the olive oil in a medium saucepan until the shallots are translucent. Add the wine, lime juice and the chopped ginger and reduce by ½. Add the cream and reduce by ½. Whisk in the butter until the sauce is thick. Strain, and add the chili sauce. Serve warm.
Notes
Sauce from D.K.'s Sushi Chronicles from Hawai'i: Recipes from Sansei Seafood Restaurant & Sushi Bar by Dave Kodama This makes a ton of sauce and it's incredibly rich to boot. It tastes just as good after sitting in the fridge for a few days, but the texture does suffer. If you plan to make it in advance, I would chill the cream reduction and rewarm it and add the butter and the chili sauce just prior to serving it. If you have leftovers you can try to revive it by warming and whisking in more butter, because, a la Julia Child, more butter never hurts).