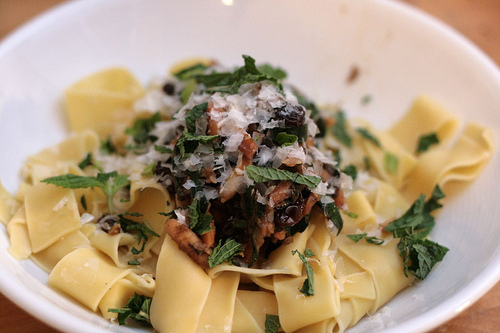 It's that time of the year when people who have vegetable gardens and live close to the earth and in tune with the seasons and all that start complaining about zucchini. "I have so much zucchini!" they say. "It's coming out my ears! Won't you take some zucchini?" Zucchini bread starts magically appearing in offices, as people try desperately to use up this weed.
I do not have a vegetable garden — I have a vegetable patio, courtesy of Ken, which really means that we grow almost enough tomatoes to keep me in BLT's, and a few assorted herbs. We also have many pots taken up by useless things like FLOWERS and CACTI, despite my many attempts to get through to Ken that this is a waste of time and space. "Can you eat it?" I ask. "Because if you can't eat it, then WHY are we growing it?" Ken thinks I am a plebeian when it comes to gardening. I think he is a plebeian when it comes to growing food. The Nuni doesn't care. She just likes to pick the "teeny teeny teeny maters", take a bite, then drop them on the ground.
Which is all a very long and blathery way of saying I am not one of those too many zucchini people (and even if I did have a genuine vegetable garden I would not be one of those too many zucchini people because I have a remarkable habit of picking the zucchini when they're still flowers and frying them and eating them, and you can eat a lot more zucchini when they're in fried flower form than you can when they're in fully grown marrow form). However, I do like a good zucchini, and I do take pity on the too many zucchini people, because, really, there is only so much zucchini bread that anyone can eat.

When I have an excess of zucchini (er, I've bought zucchini at the store or the farmers' market) this pasta dish (which comes from Nigella Lawson's Forever Summer, which is only an OK cookbook as a whole but has some truly splendid recipes in it) is one of my favorite things to make. The zucchini is sliced thin and cooked over low heat with olive oil and a lot of garlic. (And really, what isn't wonderful when cooked over a low heat with olive oil and a lot of garlic?) You add a touch of sweetness with golden raisins and a slug of marsala, nuttiness with toasted pine nuts, and then serve it over pasta. You can go with spaghetti, but what Nigella suggests as an accompaniment (and I heartily concur) are lovely, broad pappardelle. They provide more surface area for the garlic zucchini sludge to adhere to, and that's never a bad thing. Garnish with some parmesan and a little chopped mint (actually from our garden patio this time) and you have a dish fit for an August evening. Or, if you have Too Much Zucchini, for four or five August evenings. Who's counting?

Zucchini Pappardelle with Pine Nuts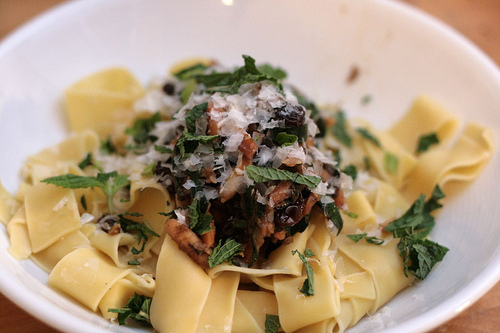 Ingredients
1 tablespoon butter
1 tablespoon olive oil
1½ pounds zucchini (4 medium), thinly sliced
3 cloves garlic, minced
salt and pepper
2–3 T Marsala
4 T golden raisins
2 tablespoons pine nuts, toasted
8 ounces pappardelle
Freshly grated Parmesan and chopped mint to garnish
Instructions
Heat the butter and oil in a heavy saucepan.
Add the zucchini to the pan with the garlic and season with salt and pepper. Cook over low to medium heat for about 30 minutes, stirring occasionally. The zucchini is ready when it has turned into not quite a gormless sludge -- you should see some zucchini shape, but not much. If you cook it until there is no zucchini shape left that's fine, too.
When the zucchini has reached the right consistency, add the Marsala and the raisins, cook for about 5 minutes more, then stir in the pine nuts.
Serve over pasta, garnished with parmesan and mint or parsley.
Notes
From Forever Summer by Nigella Lawson