We have a holiday party every December for our friends and neighbors. I make (too many) hors d'oeuvres, we served mulled wine for the grownups and hot cider for the kids, the grownups chat and the kids go wild, and everyone brings cookies. Holding the party as a cookie exchange is a fun way to let everyone bring something, the kids love a tableful of cookies, and I get to discover new cookie recipes every year.  Last year, my friend Christine brought one of her old family recipes for these whole wheat anise cookies, and I fell in love.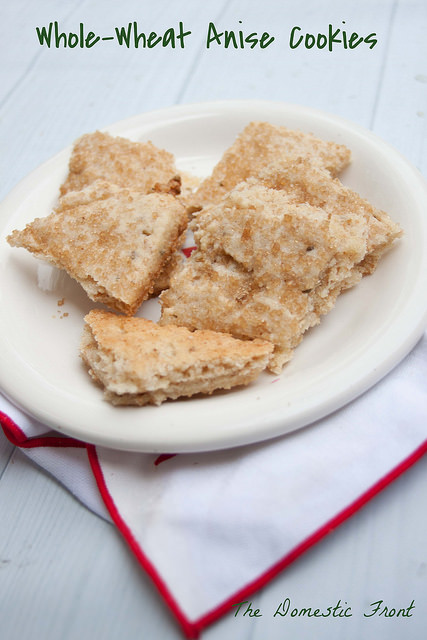 I realize these cookies may not sound appealing to everyone – whole wheat sounds too wholesome for cookies, and lots of people don't like the licorice flavor of anise.  The cookies aren't fancy, or decorated.  But I'm here to tell you: these cookies are far more than meets the eye.  The whole wheat flour doesn't make the cookies heavy – it makes them nutty and flavorful.  And the aniseed doesn't overwhelm with a strong licorice flavor – it just lends a subtle perfume that you may not even be able to identify as licorice.   The unusual method for making these cookies – more like pie crust than any other cookie recipe I've seen – leaves them light, flaky, and utterly addictive.
The holiday season has been a bit beyond crazy this year – our refrigerator died right after our huge annual party, and we've been living out of a cooler and eating takeout while we waited for the new one to be delivered.  As I'm sure you can guess, the delivery didn't exactly go smoothly, and now my dining room table is sitting next to my couch (and my Christmas tree) while a new refrigerator is in the dining room and the old one is still stinking up the kitchen.  Meanwhile, bits of kitchen trim are scattered hither and thither.  I know that my story isn't unique – December gets crazy for everyone with year-deadlines and socializing and shopping and all the baggage that comes with holidays and big family gatherings. In the season of crazy and excess, a Christmas cookie that's a little plain and a little old-fashioned hits that spot, and makes me remember the kind of Christmas I want to have – one about family, and friends and neighbors and traditions. (And one with a refrigerator, but hopefully we can deal with that.)
I hope you have a lovely Christmas, and can take a breath.
Whole Wheat Anise Cookies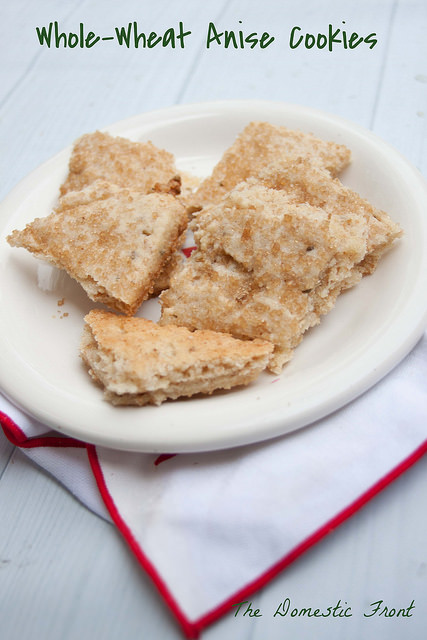 Christine's grandmother uses shortning for these cookies, but I subbed in butter and they were still great.
Ingredients
2 tablespoons anise seed
3 cups flour
1 teaspoon baking powder
1 teaspoon salt
1 cup granulated sugar
1-1/2 cups whole wheat flour
1-3/4 cups butter, cold and cut into cubes
½ cup (or maybe more) of water
¼ cup raw or turbinado sugar (granulated sugar may be substituted)
Instructions
Mix anise seed, flour, baking powder, salt, granulated sugar and whole wheat flour.
Cut in butter with a pastry cutter. Add enough of the water to be able to make a dough that will roll out.
On a cookie sheet lined with parchment paper, roll out the dough, sprinkle it with turbinado sugar.
Cut dough into squares but don't separate. Bake at 350 degrees for 15 minutes. The cookies will break apart when baked.