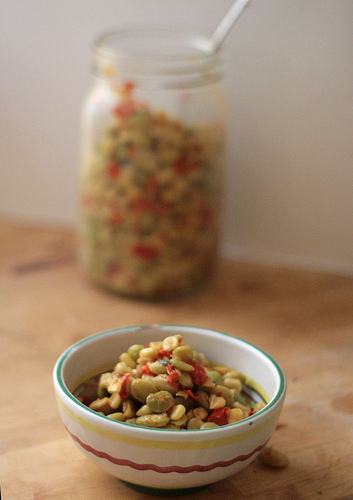 As a child I hated lima beans. I mean, what child doesn't? They're lima beans! They're the punchline of a thousand jokes, the substance of a thousand threats, the stuff of a thousand nightmares. Look up "lima beans" in the dictionary and you will see, "The food that all children and most adults hate."
It wasn't until I was an adult that I realized I had never even tasted lima beans. They've been so demonized that they rarely show up on any restaurant menu or home table. And once I did taste them, I really can't tell you why. Little velvet pillows with a mildly nutty flavor — what's not to like?
It might help that the first time I ever tasted lima beans was in this succotash. (Frankly it's the only way I've ever tasted lima beans; as I mentioned, they're not common in restaurants, and at home, well, why mess with perfection?) Succotash is such a marvelous word to begin with, and this particular recipe, with the savory notes of peppers and onions and the snap of ginger added to the typical fare of lima beans and corn, lives up to the excitement of the name. It's not sufferin' succotash — it's sprightly succotash, savory succotash, satisfying succotash.


I read about the recipe in my beloved Laurie Colwin, and, as with so many of her recipes, I was inspired to make it, even though it wasn't part of my normal culinary vocabulary. And again, as with so many of her recipes, this has become an absolute staple in our house. I like to serve it as a side dish to grilled sausages, or chicken. I like to eat it cold on toast. I like to store it in an old mayonnaise jar in my refrigerator so I can dip in my spoon at odd hours for a mouthful of texture and flavor. All I can say is thank goodness for Ms. Colwin, because it turns out that I LOVE lima beans. Who knew?
A Love of Limas -- Laurie Colwin's Succotash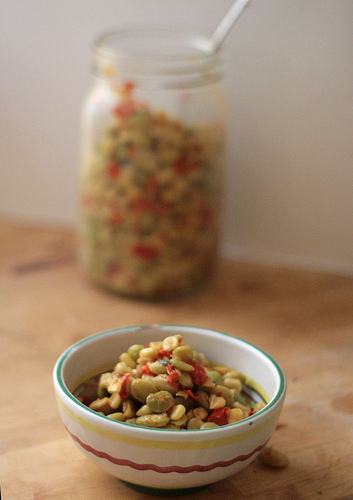 I always make this with frozen corn and frozen lima beans. I suppose you could make it with fresh, but it's difficult to find fresh lima beans. Do not use the large "Fordhook" beans for this -- they have an unpleasant bitter flavor, and do not, erroneously thinking you don't like lima beans, substitute edamame. The texture is all wrong. Also, do not omit the ginger, as it ties the whole dish together.
Ingredients
1 red bell pepper, chopped
½ medium onion, chopped
1 clove garlic, minced
2 T olive oil
10 oz. frozen sweet corn
10 oz. frozen baby lima beans
⅓ c. water
1 T sugar
salt and pepper to taste
1 T dried ginger
Instructions
Saute the garlic, onion and pepper in the olive oil over medium low heat until the vegetables are soft, the onions are translucent, and the whole thing is tinged with red. Add the beans, the corn and the water. Cover and cook for about 10 minutes until the vegetables are cooked through, then uncover and let it caramelize a bit. Never undercook lima beans. Add ginger and sugar, stir, and season to taste. Serve hot or cold and save the leftovers.
Notes
From Laurie Colwin's More Home Cooking