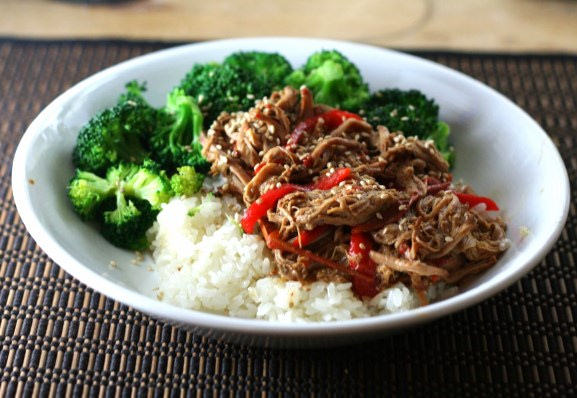 Ah, the poor crockpot. It is used, nay, embraced all winter, when it churns out a steady stream of warming soups, hearty stews and stick-to-your-ribs casseroles. Then, come summertime and hot weather, the lonely crockpot is summarily dismissed, banished to the cupboard below the stairs with the spiders. "No!" it cries, "Wait! It doesn't have to be like this! I can be summery! I am more eco-friendly than the grill! I don't heat up your kitchen like an oven! Save me!" But you remain deaf to its piteous cries, and turn your back on the crockpot.
Until now. Look, I know where you're coming from. Nobody wants to eat pot roast with gravy in July. But the crock pot should not be so easily dismissed. Just because it's daylight until 10 pm doesn't mean you don't want to come home and have dinner waiting. And any appliance that doesn't heat up the kitchen should be put into play in the summer. The key, of course, is to look to cuisines from tropical countries, where warm weather is the norm. You're still making a stew or a casserole, but it seems, somehow, more fitting. Take this Thai pork tenderloin recipe with peanut sauce. I might not make this during a heat wave, but for a normal summer dinner, a crockpot may be just the ticket.



It also has the advantage of being dead easy, which is always a summer perk. You don't even brown the meat — just throw it in the crockpot with some condiments and vegetables, cook all day, shred the meat, mix in a little peanut butter, and dinner is served.


This pork tenderloin recipe is worth giving your crockpot some counter space, even in July.

Consider the Crockpot -- Thai Pork with Peanut Sauce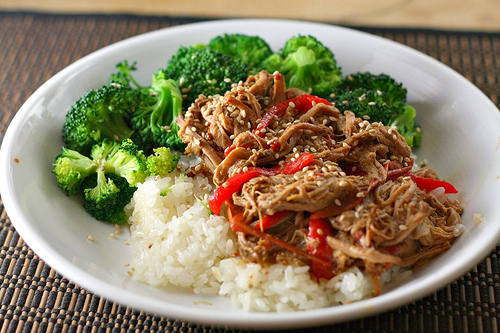 Ingredients
2 pork tenderloins (about 1 lb. each, each cut in thirds)
2 large red bell peppers, cored, seeded, cut into strips
⅓ cup prepared teriyaki sauce
2 tablespoons rice vinegar
1 teaspoon prepared Thai red curry paste (optional)
2 cloves garlic, minced
¼ cup creamy peanut butter
Instructions
Place pork, bell peppers, teriyaki sauce, rice vinegar, curry paste (if using) and garlic in cooker. Cook on low for 8 hours.
Remove pork from the crockpot and shred. Add peanut butter to liquid in cooker, stir to combine, then return pork to the cooker and toss so the sauce coats the meat.
Serve over rice.
Serves 6
Notes
Adapted from Not Your Mother's Slow Cooker Cookbook, by Beth Hensperger and Julie Kaufman
Other crockpot meals that may be summer-appropriate include Black beans 3 ways and Carolina Barbecue Pulled Pork