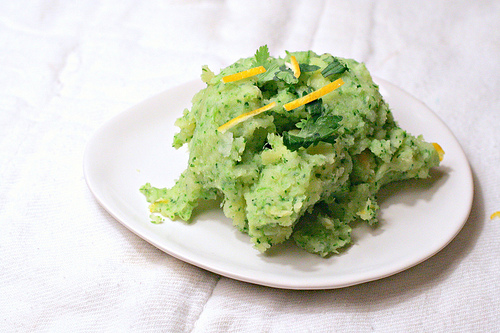 Well Harrumph.
Today is World Nutella Day and I was fully planning to participate. I had at least two projects in mind and I even attempted them, but someone stole my cooking mojo and both my experiments were abject failures. If you'd like some Nutella goodness I offer up these Nutella Nanaimo Bars from last week and I hope you enjoy them. You can also check out this Nutella Cheesecake from Eat, Live, Travel, Write, this Chocolate Hazelnut Spread from David Lebovitz or this dangerous looking nutella molten lava cake from Paula at Bell'alimento. So strike one for topicality.
Also, Sunday is the Super Bowl, which is a big holiday in food terms. I was going to post a new experimental guacamole recipe, but my avocados were not photo worthy. Feel free to check out Jalapeno Popper Dip, this Easy Crockpot Chili, Hot Clam Dip, Black Eyed Pea Salsa or Pimento Cheese if you're looking for grub for the big game. Strike two for topicality. (The guacamole recipe will come later).
So I'm going to present you today with a recipe that isn't at all topical, but is good, nonetheless. It came from a desire for old fahioned, comforting, mashed potatoes (because WHO doesn't like mashed potatoes?) combined with my New Year's goal to eat more vegetables. We always have broccoli in the house (the Nuni loves it raw), and I've made mashed cauliflower before — an idea was born.


Basically, this is the combination of pureed broccoli with mashed Idaho potatoes. There's still butter in the mashed potatoes — I just couldn't do it without the butter – but there's also fiber, and vitamins and a lovely green color from the broccoli. The flavor is brightened with lemon zest and enhanced with parmesan cheese. The broccoli adds an earthy flavor to the potatoes that's hard to pinpoint, and the whole thing is lovely with something like meatloaf or Pot Roast. It's mashed potatoes, but lighter, brighter and more colorful.

Mediterranean Broccoli Potato Mash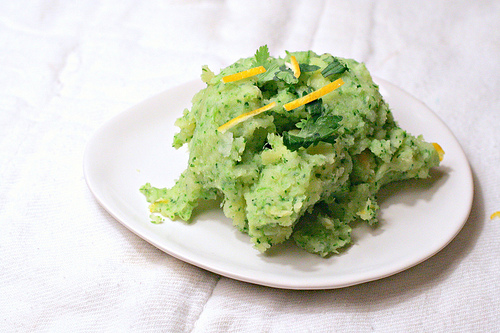 Ingredients
1.5 pounds Idaho Potatoes
6 ounces broccoli florets
4 tablespoons butter
1 Meyer Lemon, zested
4 tablespoons grated parmesan cheese
Salt
Instructions
Peel the potatoes and place them, whole in cold water in a large pan. Add a generous pinch of salt and place over high heat.
Once the potato water is boiling, wash the broccoli florets and place in a steamer basket over the potatoes and cover (you can use a strainer that fits into your pan -- it's OK if some steam escapes.)
Steam the broccoli until tender - 3-6 minutes. Remove from heat. Continue to cook the potatoes until tender -- 30-40 minutes. Drain, reserving some of the water.
Place the broccoli in a bowl and using an immersion blender, puree the broccoli until it's mostly smooth. (You can also do this in a food processor).
Mash the potatoes using a potato masher. Add broccoli puree and butter, continue mashing. Mash and add reserved potato water until your potatoes are the texture you like. Taste for salt.
Add parmesan and lemon zest and mix well. Season to taste.
Finally, an experiment that succeeded.