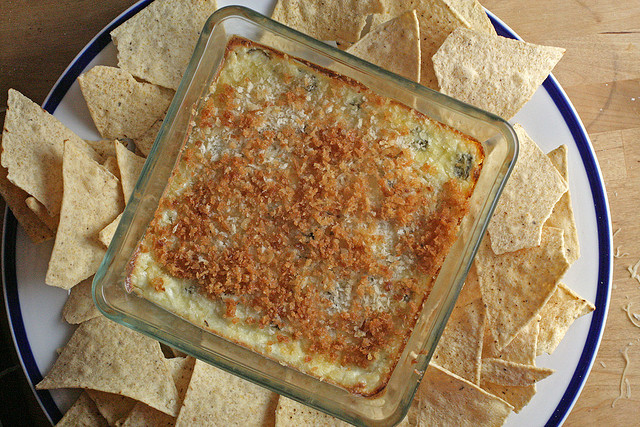 I hate to say that I don't care about the Super Bowl because it's such a lame girl thing to say. On the other hand, I don't really care about the Super Bowl. And I am kind of a lame girl. In my defense, L.A. hasn't had a pro football team in years, so I can't exactly root for the hometown. But the truth is, I'm just not really a pro football kind of girl.
Football food, however, is something I can get behind, because I am an appetizer kind of girl. Salty, spicy bite sized morsels? Yes please. Creamy dips with crunchy chips? Absolutely. I remember a highlight of my college dining hall experience being Super Bowl Sunday — in addition to the regular Sunday night fare like lentil tortilla rollups or Salisbury steak (this was before Alice Waters reformed my college dining hall) the chefs would provide an array of traditional Super Bowl nibbles for students to take to the buttery or back to their rooms to watch the big game. Things like nachos and hot dogs were popular, but what I looked forward to every year were the delicious crunchy spicy cheesy bites of goodness — the jalapeno poppers. My roommate and I would load our plate and head back to our room to read poetry (our freshman year, when we were intellectuals), listen to Tori Amos (sophomore year, when we were angsty) or watch girly movies (junior and senior year, when we were cool). OK, so we were kind of lame girls. But we were lame girls with jalapeno poppers (and our Caribbean themed spa party that took place during the Super Bowl senior year was super fun. We made blue cocktails and cranked up the heat in our room and gave each other pedicures).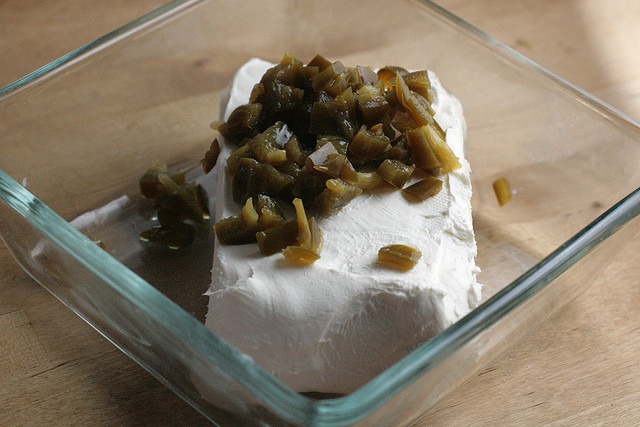 Now I'm married to a boy who did not grow up in Los Angeles and does not have that as an excuse, and he likes watching the Super Bowl to boot, sadly without pedicures, which means my only consolation is the snacks. (And the commercials). Oddly enough, jalapeno poppers can be tough to find here in L.A. (which is usually a city where jalapenos are ubiquitous). Fortunately, I've managed to recreate the creamy spicy crunchy goodness in an easy to make dip form, which has the added bonus of tortilla chips.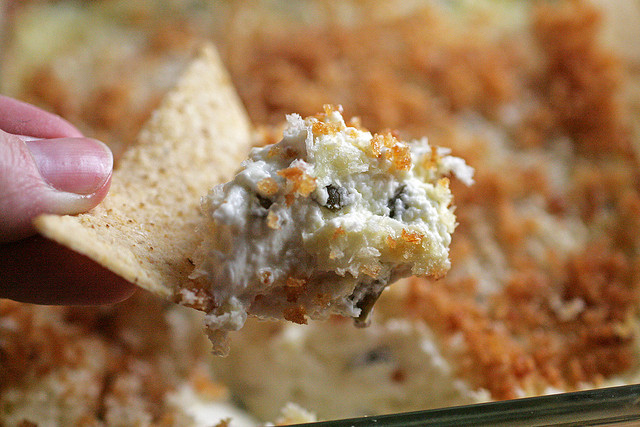 Worth having to watch the Super Bowl? Even that. But can I fast forward to the commercials?

Superbowl Jalapeno Popper Dip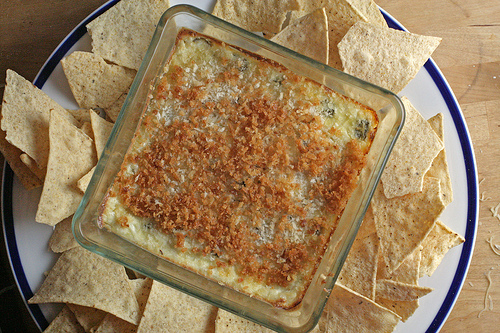 Ingredients
1 8 oz. block cream cheese
4-5 pickled jalapenos, chopped finely (about 3 T chopped)
½ c. shredded cheddar cheese
1 T mayonnaise
½ tsp. green Tabasco (green Tabasco is made from jalapenos -- it's less spicy than the red kind, and has a great flavor)
⅓ c. panko bread crumbs
1 tsp olive oil
Instructions
Preheat oven to 350.
In a heatproof bowl, combine cream cheese, jalapenos, cheddar, mayonnaise and Tabasco and mix well until everything is thoroughly combined.
Heat panko and olive oil over medium high heat in a skillet. Stir frequently, until panko is golden brown.
Sprinkle browned panko over the top of the cream cheese mixture. Bake at 350 degrees until cream cheese is starting to bubble, about 20 minutes.
Serve with tortilla chips.