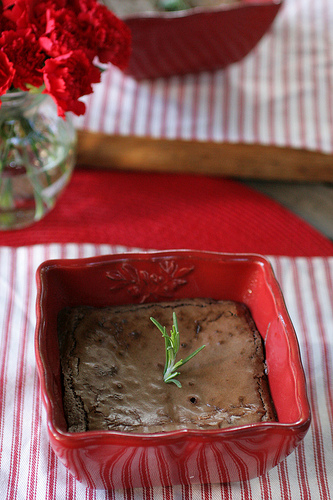 Ken and I have been together more than eleven years, and married for almost seven. Although on occasion he still makes my breath quicken and my heart go pitterpat, I think the real boon of a long love is that warm glow of contentment that comes from security. I know what to expect, whether its pizza and TiVo every Friday night, coffee in bed every morning (milk and a teaspoon of sugar, unless either one of us is sick, in which case we have tea), or the fact that neither one of us wants to empty the dishwasher. There is a comfort in routine that does not disappoint or catch you off your guard. And yet familiar does not mean boring. There's a reason I chose this man to marry — I find him perennially interesting (except for maybe the in depth discussions of cars or macroeconomics — sorry, honey) and completely unique and I always want more. I love him because I know him, but I always feel like there's more to know.
And that is why, on this Valentine's Day, I'll make him these molten chocolate rosemary cakes. Part cake, part pudding, with the feel of a fallen souffle, these will be sure to please. Sure, chocolate on Valentine's Day is something to be expected, but there are a reason cliche's become cliches. And this cliche is utterly worthwhile. It looks simple and straightforward — almost like a brownie – but pierce the outer layer and you get depths of warm, flowing chocolate richness. The rosemary (which is optional, by the way) adds another layer to the flavor. As wonderful as chocolate can be, it's so familiar that on its own it can seem one dimensional. These puddings have an extra little frisson, a haunting flavor and fragrance that you can't quite put your finger one. This is a dessert you want to get to know better. It has hidden depths.


And not to belabor the metaphor (alas! I fear it is too late!) these puddings, much like love, are easy. (Marriage takes work, but love should come easily). They come together with just a few ingredients which I always have around the house, and can go from concept to table in about 20 minutes. Which leaves you time for other pursuits.
What you'll have is warm, luscious chocolate with a faint herbal woodland scent. And if you still want more, you can serve these with a pitcher of cold cream to pour in the center of each chocolate pudding. Familiar, but hardly boring.
Molten Chocolate Rosemary Cakes
Ingredients
¾ c. sugar
1 sprig rosemary
1 stick butter
¾ c. chocolate chips
3 large eggs
¼ c. flour
Instructions
If you think about it in advance, put the sugar in a sealed jar with the rosemary an hour or two before you want to make this.
Preheat the oven to 350 degrees. Grease 4 1-cup ovenproof ramekins.
In a coffee grinder or mini cuisinart (disclosure -- Cuisinart sent me a free mini cuisinart as a Blogher Food '09 attendee), grind the leaves from the rosemary and the sugar until the rosemary is fairly finely chopped (you can remove any remaining unchopped pieces manually). Set aside.
Combine the chocolate and the butter in a heatproof bowl and microwave, 30 seconds at a time, stirring between each bout, until the butter and chocolate are melted and combined.
Beat the eggs with the rosemary sugar until pale yellow. Add the flour and beat to incorporate. Add the melted chocolate mixture and stir until the mixture is incorporated.
Divide the batter among the ramekins and bake until the top is set but the inside is still liquid -- 10-15 minutes. Let cool slightly and serve warm. Pour cold cream into the puddings if desired.
Notes
Adapted from Nigella Lawson