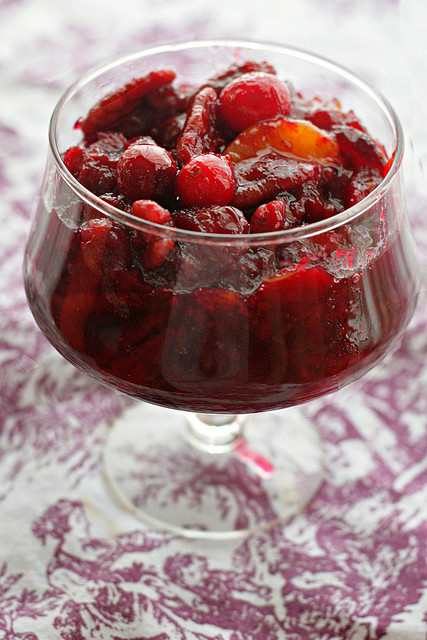 In the rush of planning and eating a Thanksgiving Meal, the cranberry sauce is kind of an afterthought. We carefully plot out our turkey roasting techniques, strategize our side dishes, and lovingly craft pies from scratch, but cranberry sauce usually involves the can opener. Diners, too, look askance at even homemade cranberry sauce — they politely take a spoonful because it looks pretty on the plate and may add a little zing to a bland and dry turkey, but there is invariably nearly a bowlful of leftover homemade cranberry sauce which becomes the subject of a polite-off after dinner conversation:
"I've packed you a big bowl of cranberry sauce to take home!"
"Oh, I couldn't possibly — I know how you love cranberries! But I'll take more stuffing."
"It's no problem! I'll just put it in this bag here!"
"Well, I was saving that spot for more pumpkin pie …"
"We ate all the pumpkin pie. Just take the cranberries, OK?"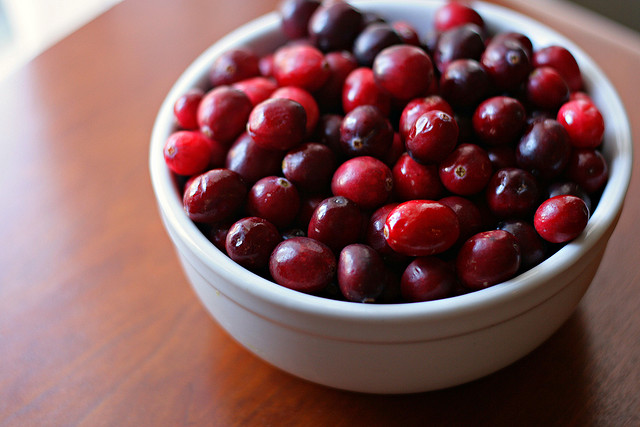 I, too was cranberry sauce unenlightened. I had it on the table out of deference to tradition, took a polite spoonful, and scooped the remainder into the trash at the end of the night. But then I got married, and my father in law (who really isn't a gourmet cook, but occasionally hits it out of the park) introduced me to this cranberry sauce (OK, I tarted up his recipe just a tad, but I can't help it!) It's INCREDIBLY easy to make (I honestly don't know why anyone bothers buying cranberry sauce — it takes about 30 seconds of active cooking to make homemade cranberry sauce), is a perfect complement to turkey, and actually tastes good on its own. I made some last week and I found my husband sneaking into the fridge to eat the leftovers out of the jar.

It involves the addition of mandarin oranges, a traditional pairing with cranberries (you can also use fresh oranges or tangerines, but I've found that the trouble involved in removing the membranes isn't worth the extra glow of self satisfaction I feel from using all fresh ingredients), allspice, port (you can replace this with orange juice if you're alchohol-averse, and in fact, that's what my father in law's original recipe calls for. You can also substitute with grand marnier, bourbon or red wine, but if you use the latter you may want to bump up the sugar just a tad), and toasted pecans, which give the sauce a fantastic crunch and texture which elevate it beyond condiment into full blown side dish territory.
In fact, if you make this homemade cranberry sauce, you may avoid the polite-off altogether. It will be replaced with those words you so rarely hear at the Thanksgiving table, "More cranberries, please."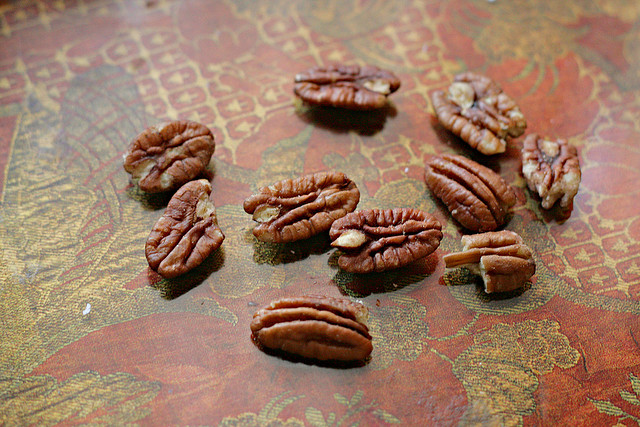 Spiced Cranberry Sauce with Oranges and Pecans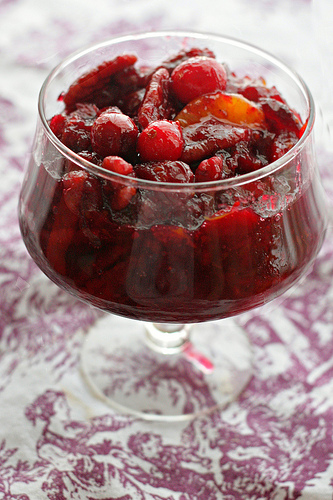 Ingredients
12 ounces fresh cranberries
1½ cups sugar
1 cup toasted pecan halves
11 ounces canned mandarin oranges, drained (I used canned, but you can also use fresh if you want to remove all the membranes, which I've done.)
½ teaspoon allspice
¼ cup port
Instructions
Combine all ingredients except port in a medium saucepan over medium low heat.
Cover and cook, stirring occasionally, until most of the cranberries have "burst and released their juices, about 10 minutes.
Add port, stir completely and chill.