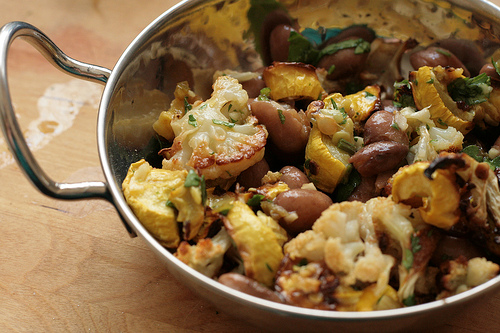 I like to pack my own lunch. Yes, I'm giving up the social hour at work, but frankly the lunch offerings in my neighborhood tend to pale in comparison to what gets produced in my own kitchen. I wish I could say that it's because I'm an amazing cook, but really it's just that corporate lunch spots tend to be that uninspiring. Too unhealthy, too bland, too expensive, too time consuming. All I want for lunch on a work day is something to eat (at my desk, in the office kitchen or outside near the fountains) that gives me a jolt of flavor and wakes up my palate without making me want to sleep for the rest of the afternoon. And, surprise surprise, that usually comes from home.

The question then becomes what to bring. Once you're freed from the time constraints of a one mile radius of your office, the world really becomes your oyster, with certain limitations. Not for me are the lean cuisines heated up in the communal microwave by my coworkers, the aroma of Fiesta Grilled Chicken or Oven Roasted Beef Burgundy permeating the floor. Leftovers can be nice and quick, but they're not always available and I hate reheating for the above mentioned aromatic reasons. A sandwich only reaches its pinnacle of sandwichness when it's freshly made, and doesn't spend at least four hours curled up in your purse or desk drawer waiting to be eaten. What I really want is something that can be made in advance (because who has time to cook lunch every morning?), holds well (preferably at room temperature) for several hours and still tastes and looks appealing and fresh.


Enter this salad — roasted vegetables, beans for protein, and a bright salsa verde to lend color and flavor. It's satisfying (all that fiber!) without being stultifying and will wake up your tastebuds without earning you dirty looks from your coworkers. You can make it on Sunday and eat it for the next three days and the flavor stays fresh. Just don't get too intimate in a meeting — the garlic may scare people off (this may, however, be a bonus).

Squash and Cauliflower Salad with Salsa Verde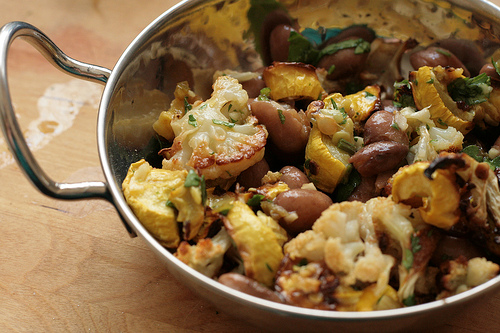 Ingredients
For the Salsa Verde
2 whole pickled jalapeno in escabeche (or the equivalent), finely chopped (I like Embasa brand which are available in my local grocery store. Or you could make your own)
3 T cilantro, finely chopped (if you're a cilantro hater, replace with Italian parsley)
2 cloves garlic, minced
3 T lime juice
4 T olive oil
For the salad
3 Yellow Summer Squash, chopped into bite sized pieces
12 oz. cauliflower florets, cut into bite sized pieces
2 -4 T olive oil
salt
1 c. cooked cranberry beans (these could be replaced with any cooked beans, including chick peas or cannellini. I just happened to have cranberry beans)
Instructions
For the salsa:
Combine all ingredients. Salt to taste. Set aside.
For the salad:
Preheat oven to 450. Toss squash and cauliflower in olive oil. You want each piece to be lightly coated in oil. Spread vegetables on a cookie sheet in a single layer, sprinkle generously with salt and roast until browned and soft -- 20-30 minutes. Let cool, and combine with beans and salsa verde.
Notes
The cauliflower and salsa verde is adapted from A Homemade Life by Molly Wizenberg