These almond brittle cookies, from Classic Home Desserts, are a great addition to any Christmas cookie plate.    They have a sugar cookie base and an almond and jam topping that echoes one of my favorite desserts – Lindsay Shere's Almond Tart from Chez Panisse.    What I love about both of these:  they look beautiful and impressive, but are relatively easy  to make.  These are an elegant cookie that would be a fine hostess gift or addition to any cocktail party, but kids like them too.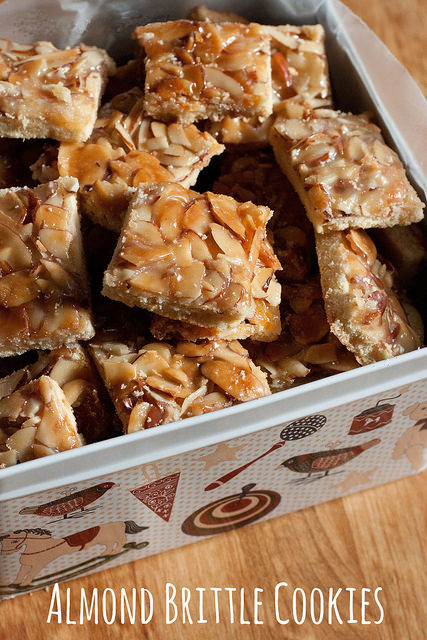 Every December, I wish I could take the entire month off of work in favor of decorating, wrapping and most of all, baking cookies. Since that has never, ever happened, I have to satisfy myself by baking cookies on evenings and weekends and forcing them upon my hapless coworkers.  I'm always looking for cookie recipes that look beautiful and impressive but are easy to make because I like to give the impression that  I, too am beautiful and impressive and can do anything anyone asks me to do (note, this is different than the impression that I WILL do anything anyone asks me to do.  That is not an impression you want to give, ever.)
These aren't quite as easy as no-bake cookies, or slice and bake cookies, but the effort to reward ratio is still pretty great.  You mix up a sugar cookie dough, slap it in a half sheet pan (lined with parchment – you'll thank me later), prebake it a bit,  then top with a layer of jam (thinned in the microwave because that's how we roll) and then you spread this lovely almond concoction on top and bake.  When they're  cooled, you cut into perfect squares and you end up with these beautiful cookies with neat edges and sliced almonds that are sweet but not too sweet and both chewy and crisp at the same time.
It's December, let the baking begin!  Start with this almond brittle Christmas cookie recipe and impress your friends!
Almond Brittle Christmas Cookie Recipe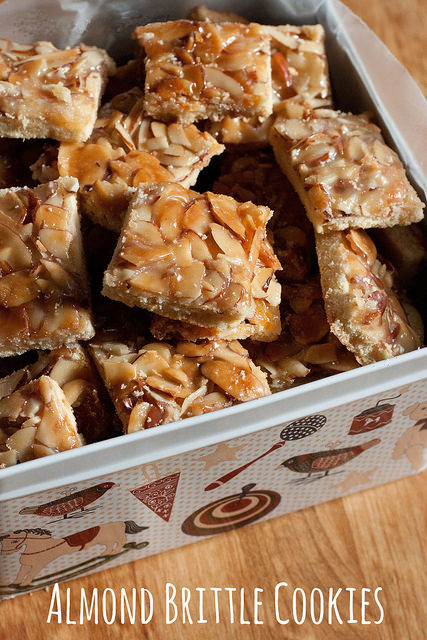 From Richard Sax's Classic Home Desserts
Ingredients
For the Cookie Base:
1 cup salted butter, softened
1 cup sugar
½ tsp salt
2 Tablespoons orange or lemon zest
1 large egg plus 1 egg yolk
2 Tablespoons whole milk
2 teaspoons vanilla
3½ cups flour
For the topping:
½ cup seedless jam (I used apricot, but raspberry would also be nice)
9 Tablespoons butter
½ cup plus 1 tablespoon sugar
¼ teaspoon salt
2 tablespoons honey
¼ cup heavy cream
1 tsp. vanilla
¼ tsp. fresh lemon juice
6 oz. sliced almonds
Instructions
For the cookie base:
Cream the butter and sugar with the salt and zest until the mixture is fluffy.
Beat in the egg, milk and vanilla. Add the flour and (mixing at low speed) incorporate into the dough.
Gather the dough into a ball and chill for 2 hours. Let soften slightly before rolling out.
To make the cookies:
Roll out the cookie dough on parchment paper to a roughly 10 inch by 15 inch rectangle. (It's better to have a slightly larger rectangle, and have the edges hang over)/ Transfer the parchment to a ½ sheet pan with edged sides. Chill the rolled dough for about 20 minutes.
Preheat oven to 400 degrees. Trim the edges of the dough to the corners of the sheet pan to make a trim rectangle. Prick all over with a fork, and bake until pale gold, about 16 minutes. Watch the dough in the oven and deflate any bubbles as they rise with a fork. Remove the parbaked cookie, and leave the oven on.
Warm the jam slightly (a few minutes in the microwave will do it) and brush over the cookie smoothly and evenly.
In a saucepan, melt the butter, then add the sugar, salt and honey. Cook, stirring, over low heat until the sugar dissolves. Add the cream, raise the heat and bring the mixture to a boil. Boil until thickened (about 3 minutes.) Remove from the heat and stir in the vanilla, lemon juice and almonds.
Pour the almond mixture over the cookie and jam, using a spatula to spread it evenly ove rthe surface.
Bake at 400 degrees about 15 minutes, until the topping is bubbly (check for browning every few minutes - the pan may need to be rotated to get the mixture evenly browned).
Cool the cookies to room temperature in the pan. Using a pizza cutter (best) or sharp knife, cut the cookies into small squares.