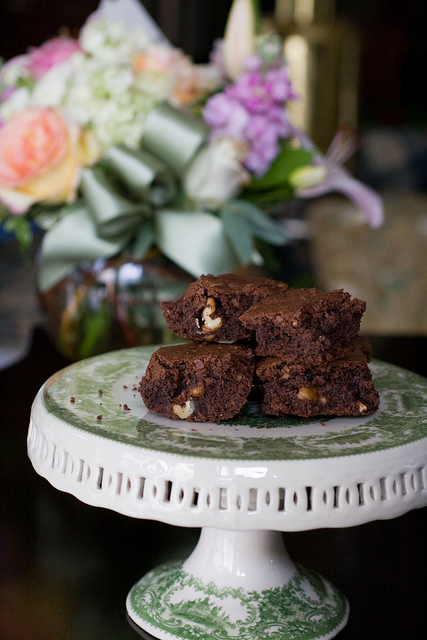 Life has been kind of crap lately, for me and for a lot of people I know. And when I say "crap", I mean something else which expresses my opinion of this more forcefully. But this is a family friendly blog, so I'll spare all of your delicate ears. Or eyes, really. The point is, the universe has been messing with me, and with my friends, and with my family, and I'm tired of it.
I find that when life is sad, or confusing, or upsetting, or just plain stressful, I crave nostalgia. A whiff of childhood, free from things like vet bills, and threatened government shutdowns, and leaky roofs, and office politics. Memories of a simpler time, before loss, and cancer, and grief, and battles nobody should have to fight. And I find that nostalgia always goes better with a large dose of chocolate.
These brownies are times of trouble brownies. They're made from stuff you do (or should) have in your pantry. They're not fancy and overwhelming with rich chocolate, but they still have the dense, fudgy chew of a good brownie (and as an aside, why does every cookbook and every brownie mix box offer a recipe for cakey brownies? I have never heard of anyone saying, "What I really want is a chocolate cupcake, but I have an obsession with corners, so let's make a cakey brownie." Nobody wants a cakey brownie. Are you listening, cookbook writers and food producers of the world?) These are the brownies that taste like what you remember those box mix brownies tasting like from your childhood, which is to say, better than the box mix brownies actually taste. (To verify this, I bought and made a box of Duncan Hines classic, which is kind of the ur mix brownie. And yep, these were better. And just about as easy).
So bake brownies, pour yourself a glass of milk, and forget about the troubles of the world. If only for a minute.

Cocoa Brownies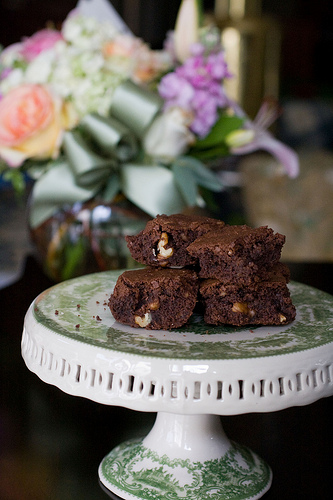 Adapted from Nigella Lawson
Ingredients
Recipe
Classic Brownies
Adapted from Nigella Lawson
1.5. sticks salted butter
1.5 c. white sugar
1 c. cocoa powder
1 c. flour
1 tsp. baking soda
1 pinch salt
3 eggs (recipe says 4)
1 tsp. vanilla
½ c. toasted chopped walnuts (optional)
13x9x2" pan
Instructions
Preheat oven to 375 degrees.
In a bowl, combine melted butter with the sugar, then add the cocoa, flour, baking soda, And salt. Break each egg into the mix, and stir to incorporate before adding the next egg. Finally, add the vanilla and the nuts. Pour into a greased 13X9x2 inch pan (I find it's helpful to line the pan with foil before greasing, and bake for 20-25 minutes or until firm on the edges and slightly depressed in the middle.