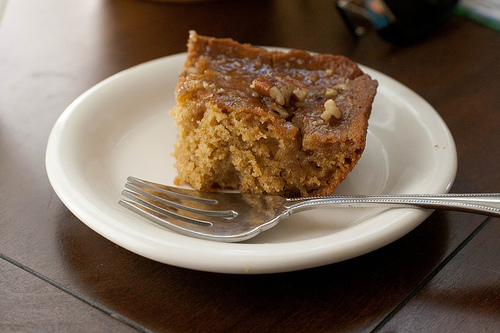 I do apologize for my quiet recently. It all stems from some exciting news, which is that after years of bubble sitting, Ken and I finally bit the bullet and bought a house. I say "bought" but we don't own it yet. Please keep your fingers crossed. It's not a fun process.
Of course, this probably more exciting for us than it is for you, other than an increased variety in backgrounds to food photography you see on The Domestic Front, and a period of quiet while I've been stressing, packing, organizing, purging, drinking very large glasses of wine and lukewarm margaritas (it was an EMERGENCY), packing, stressing, packing some more, and not cooking. Seriously, we've been living on hamburgers (frozen, courtesy of the George Forman Grill) and toast. A lot of toast. Good thing I really like toast. I've also been a bit, um, distracted, with my new project. So not enough posting. I'm sorry. Maybe I'll come back and teach you how to make a lukewarm margarita in an emergency (hint: it involves not measuring the tequila).
Of course, this means I found myself, a couple of Sundays ago, due for book club and having NOTHING to bring. (I said I've been busy, but book club is sacred. I need my girl time. And there needs to be carbs). So I whipped up this very basic coffee cake based on things I had in my house and one cookbook that had escaped the boxes (I keep finding cookbooks in the oddest places all over my house). Now you know my staples. (I know buttermilk seems like a weird staple, but buttermilk biscuits and dressing can save almost any meal). And this is delicious — gooey, decadent, with a sweet icing and the crunch of pecans reminiscent of a sticky bun — not at all the plain coffee cake I envisioned. And it comes together in a flash, too. Don't try to unmold it — you'll just lose all that gooey, sticky icing. Just scoop it out with a spoon. If you're under just a tiny bit of stress and you need a good hit of carbs and sugar, this has DEFINITELY got you covered.
Buttermilk Pecan Sticky Bun Coffee Cake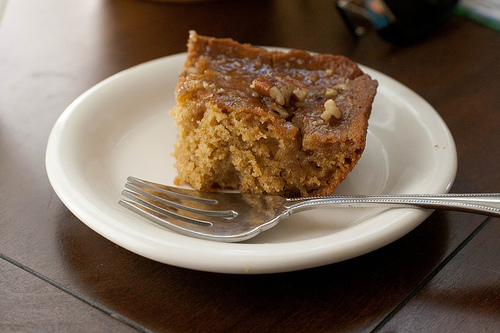 Ingredients
¾ cups butter
1½ cups granulated sugar
2 Tbs molasses
1¼ cups buttermilk
1 Tb vanilla
1 egg, beaten
1½ cups flour
1 cup whole wheat flour
1 tsp baking soda
1 tsp salt
For frosting:
¼ cup butter
¾ cup sugar
2 tsp cornstarch
¼ cup buttermilk,
⅔ c. pecan halves, toasted then chopped
Instructions
Preheat oven to 350 degrees. Grease and flour a 10X13 baking dish.
Combine the butter, sugar and molasses in a bowl. Beat until fluffy.
Add the eggs, vanilla and buttermilk and beat until combined.
Add the flours, baking soda and salt and mix until just combined.
Pour the cake batter into the prepared pan and bake at 350 for 45 minutes to an hour, or until a cake tester inserted in the center comes out clean.
While the cake is cooling, melt the ¼ c. butter in a small saucepan, and cook until a deep nutty brown color.
Add sugar, cornstarch and buttermilk, and cook over high heat, 2-3 minutes. Let cool to warm.
Pour the icing over the cake, and sprinkle with pecans.
Notes
Adapted from the Fannie Farmer Baking Book by Marion Cunningham.