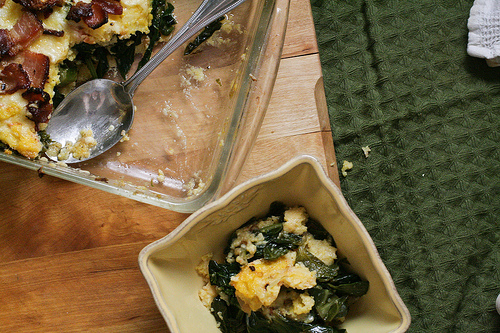 I've never been tempted to be a vegetarian. I never went through that adolescent phase where I got squeamish about meat. I don't find chickens or cows particularly cute; I will cheerfully handle raw meat; and I cook live crustaceans (I figure if I'm going to eat them, I need to be OK with cooking them). I've never given up red meat, or eschewed pork products, or cut down on fish. I'm an omnivore, and pretty happy with that state of affairs.
But the world has changed, or maybe my knowledge of it has, and I'm no longer happy with the meat and potatoes diet that I grew up with. The environmental consequences are too great; the agricultural practices too troubling, the implications too grave. It no longer makes sense to eat the traditional American diet — a hunk of meat and two sides. But I'm not willing to become a vegetarian. For one, I'm philosophically opposed to extremes, and I think cutting out an entire category of the human diet is a pretty extreme one. For another, I happen to like meat. Nothing says "summer" quite like a hamburger. Roast chicken is a delight of human existence. And bacon is something to live for.
But what can change, and what has changed, is our approach to eating meat. We'll still have a meat focused dinner once or twice a week (that roast chicken makes frequent appearances), but we'll eat other meals that are either entirely vegetarian, or use meat as an accessory, rather than the main event. I call this style of cooking the "meat as condiment" approach. It's a way to incorporate more vegetables into our diets without feeling like we're making extra work in our busy lives. As a result, I feel like our diet and our meals are more in balance.

This casserole, which originally appeared in EatingWell magazine, is a beautiful example of this type of food. It's not vegetarian (though vegetarians can feel free to omit the bacon). You get the flavor and great texture that bacon provides. But it has a hearty dose of vegetables in the person of southern style greens and some filling carbohydrates from the grits, so it's a great one-dish meal.
A note — I used a pre-bagged greens blend from Trader Joe's that's labeled "Southern Style Greens". If you've never had this, it's a terrific blend of collards, mustard greens and turnip greens and it saves some time in washing and chopping. However, any hearty, leafy greens will do, and I think this would be terrific with something like a blend of kale and spinach. For the grits, I used Bob's Red Mill Gluten Free Corn Grits, which are synonymous with polenta. Regular grits are hard to find in Southern California (don't use Instant!) but polenta will also work.
Grits and Greens Casserole
Ingredients
4 slices bacon, chopped (optional)
2 tsp olive oil
1 small onion, finely chopped
4 cloves garlic, finely chopped
2 c. chicken broth, divided
1 pinch salt
1 lb. chopped southern style greens
2 c. water
1 c. grits
¾ c. grated cheddar cheese, divided
¼ c. salsa
1 egg, beaten
Instructions
Preheat oven to 400 degrees F.
Grease an 8 inch square pan.
In a large dutch oven, fry bacon until crisp. Remove bacon to a paper towel, and pour off any excess bacon fat, but don't clean the pan.
Add oil, onion and garlic to pan and cook over medium low heat until translucent and starting to brown.
Add 1 cup broth and salt; bring to a boil over high heat.
Add greens, stir to coat in oil and begin wilting the greens. Cover and cook, stirring frequently, until greens are tender. Add water if the pan seems dry or the greens are sticking.
Meanwhile, boil 2 c. water and the remaining 1 c. broth to a boil in a separate saucepan. Add the grits in a stream, whisking as you add them so they don't form lumps. Bring to a simmer over medium heat, then reduce heat to medium low and cook until thick, whisking often.
Combine ½ c. of the cheese, salsa and egg. Remove the grits from the heat and add in the egg mixture.
Spread about half the grits in the baking dish. Top with the greens, then the remaining grits, then sprinkle bacon and the remaining cheese over the top.
Bake about 20 minutes or until the cheese is melted and bubbly
Notes
Adapted from EatingWell Magazine March/April 2010