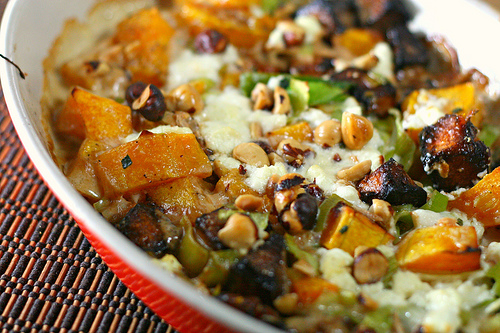 I suspect that the time for writing posts about butternut squash and eating things made with butternut squash is quickly drawing to a close. You all want asparagus and rhubarb and meyer lemons and things that taste like spring and warm weather. I understand this impetus, I really do, but I could not sleep at night thinking that you all would have to live another six to nine months without this recipe in your lives. It is just that delicious. It is more than the sum of its parts. It is what food is supposed to taste like. What this means, of course, is that you should make this right now. Well, you can finish reading this post, if you REALLY need to, but then run to the oven. Chop chop!
I got this recipe from my Aunt Suzi, who is an excellent cook. She makes the best orange cake I have ever had, and is the person who introduced me to the wonder that is panforte. A couple of Christmases ago, she presented me with a bottle of homemade limoncello and a cookbook full of her favorite recipes (from http://www.tastebook.com), which has become a favorite, with this recipe being, in my opinion, the star of the show. It's a great vegetarian main course or a decadent side dish, and can be served for brunch, lunch or dinner.

You begin by peeling a butternut squash and cutting it into chunks (or buying precut squash), tossing it in olive oil and roasting it. In these pictures, I peeled my own squash and bought some precut, and they caramelized unevenly, but they both tasted fabulous.
Then you sauté some leeks (and you know how I feel about leeks) in butter and fresh sage, toast and peel some hazelnuts (I know, but it's worth it!) and tumble it all into a gratin dish with some crumbled soft goat cheese. Pour over heavy cream (in a pinch, you can use evaporated milk, but this is your last gasp of winter cooking, you might as well go whole hog) and bake it.
Then you eat it. And keep eating it. And then put it in the refrigerator as leftovers, and when nobody is looking, finish it off yourself, because you won't want to share.

I can rest now, my work here is done. Go forth into the world and make this gratin. You won't be sorry.

Butternut Squash and Goat Cheese Gratin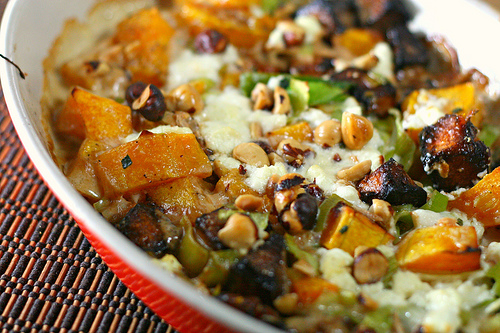 Ingredients
Recipe
Butternut Squash and Leek Gratin
1 ¼ lbs butternut squash, peeled and cubed
Olive oil
Salt and pepper
2 c. chopped leeks
2 T butter
1 T chopped fresh sage
2.5 oz. soft goat cheese
¼ c. chopped toasted hazelnuts
½ c. cream
Instructions
Toss the squash in olive oil, season in salt and pepper, and roast at 400 degrees until tender, about 30 minutes.
Saute leeks and sage in butter until tender.
Combine squash and leek mixture in a gratin dish. Add crumbled goat cheese, pour cream over, and top with toasted hazelnuts.
Bake uncovered at 375 degrees for 30 minutes.
As a housekeeping note, I realize there has been an issue with images on my RSS feed. I've been working to resolve it, and I think the kinks are worked out now.