I'm always looking for easy crockpot recipes that can either feed a crowd or be repurposed as leftovers.  This crockpot pulled pork – made with vinegar in the Carolina style, is the most popular recipe on this site and one of my favorites.  It's incredibly easy to make but a few hours in a crockpot yields a tender, flavorful pulled pork that makes great sandwiches, nachos or burritos.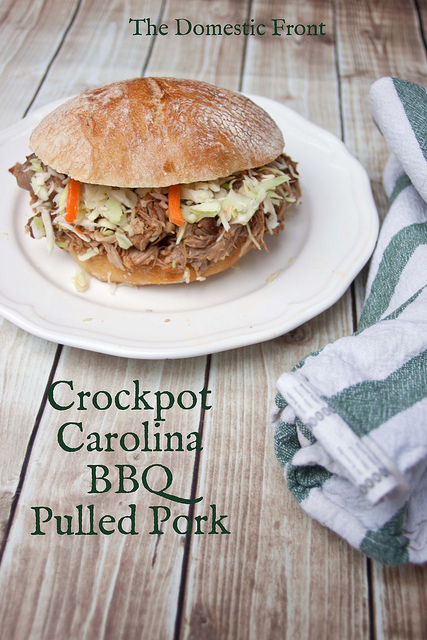 I should probably, in the spirit of full disclosure, tell you that I am not from the South. I am from California, and to me, barbecue means meat cooked on a grill, over an open flame, ideally on the rare side. Heck, you could even throw some corn on there. Or artichokes. Or be really crazy and barbecue some avocados .  Carolina Pulled Pork is not part of my cultural history.
Fortunately for you all, this recipe is not one of my family recipes. It's from my friend Mallory, who is from Illinois but LIVES in South Carolina, and she's married to a North Carolinan (Carolingian?) to boot. Carolina Pulled Pork  isn't the style of barbecue most of you Yankees think of — there is no tomato, no molasses, no honey, no sweet and sticky sauce. Just vinegar, and lots of it. This is sour barbecue, and I love it. Hello, my name is Kate and I am addicted to things that are tart.
Of course, a real barbecue aficionado will point out that this is not barbecue at all because there is no fire or smoke, and that would be true, but let's just ignore that, because I don't know about you but I don't have a barrel smoker in my yard – heck, I don't have a yard – and a crockpot will just have to do.

I will further horrify barbecue aficionados by telling you that while I do make this with a pork shoulder or butt (and don't try a loin, because it will be dry as dry and will be like sawdust. Sadly, you do need the fat here) I cut off the big piece of fat that is on top of that shoulder. You'll know it when you see it. I'm no fat free nut (as my enduring love of bacon attests), but that big slab of fat kind of grosses me out, so it has to go. If you really love the lard, go ahead and render it. I won't mind. After you cut off the fat, you rub the meat with spices, and set it atop some onions in your crockpot.
Then you mix up the kicker – the vinegar sauce. Vinegar, a little sugar, some salt, some seasonings. A little more vinegar. Did I mention I like things tart? You pour part of the vinegar mixture over the pork, you cover it, turn your slow cooker to low, and walk away for at least 8 hours.
When you come back, you will be confronted with something that looks like this:

If your mouth isn't watering yet, then either your browser is set wrong or you don' have a proper appreciation for the porky goodness that is about to ensue. Of course, you don't stop here – what about the rest of that vinegar? This is the point at which you pull the pork. Start with two forks and pull the pork apart. Then use your fingers.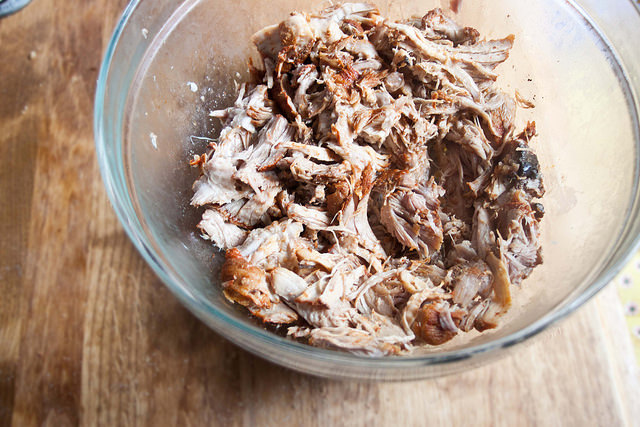 Deploy the shredded pork into a bowl, add the juices from the crock pot, and pour over the remaining vinegar sauce. (If your eaters aren't vinegar addicts, you could always serve the sauce on the side, I suppose).
The classic application for Carolina pulled pork is to eat it as a sandwich (though probably not so classic on ciabatta. I may have mentioned I'm from California). But don't let your imagination stop there. Add it to chili, make it into nachos (tortilla chips, salsa, sour cream, ranch beans and pulled pork topped with cheese. Yes, I have eaten this), make it into tacos instead of carnitas, use as a filling for enchiladas, or eat it straight with cornbread.
But save some for me.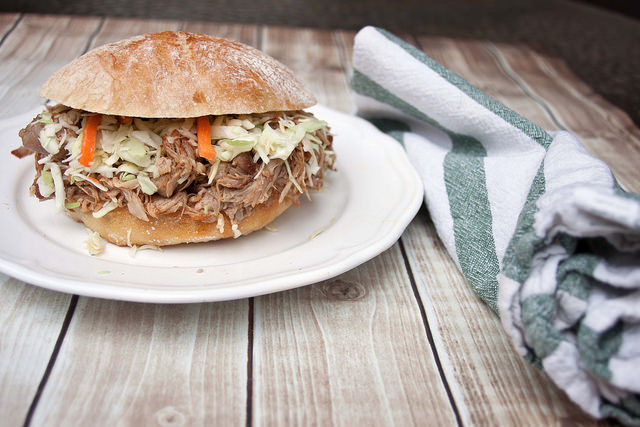 Carolina Crockpot Pulled Pork Recipe
Crockpot Carolina Pulled Pork Barbecue Recipe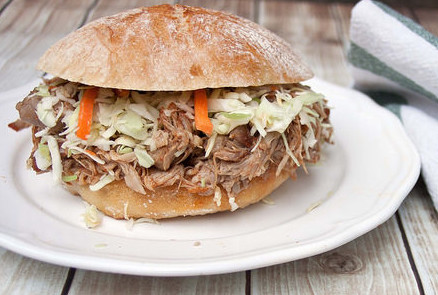 Ingredients
2 onions, quartered
2 T brown sugar
1 T smoked paprika
2 t salt
½ t ground black pepper
1 (4-6 lb) pork butt or shoulder roast
1 T liquid smoke
1 c cider vinegar
⅓ c Worcestershire sauce
1 ½ t crushed red pepper flakes
2 t sugar
½ t dry mustard
½ t granulated garlic
¼ t cayenne pepper
Instructions
Place onions in crock pot.
Blend brown sugar, paprika, salt and pepper; rub over roast.
Place roast in crock pot. Drizzle liquid smoke over roast.
Combine vinegar, Worcestershire sauce, red pepper flakes, sugar, mustard, garlic and cayenne pepper and stir to mix well.
Drizzle about ⅓ of mixture over roast. Cover and refrigerate remaining mixture.
Cook roast on low for 8-10 hours.
Remove meat and onions, discard onions and shred meat. Add juices from crock pot and remaining vinegar mixture (a portion may be reserved to pass).
Serve plain or as sandwiches.