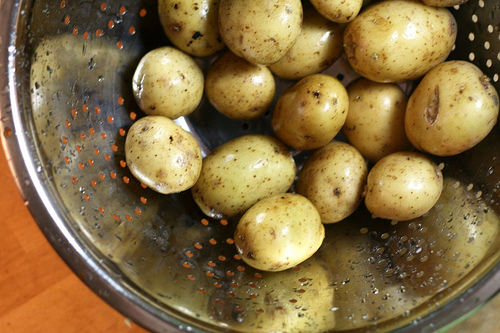 It's confession time. I love mashed potatoes. I know they're terribly unfashionable in our low glycemic-index, phytochemical-obsessed, Mediterranean Diet culture. They're stodgy and white and lacking in high concentrations of flavonoids or anthocyanins, without the punch of bright colors or big bold flavors.
And yet I could eat a bowlful all by myself, couldn't you?


These potatoes are mashed potatoes for the new millennium. Mashed potatoes you can bring out of the closet and serve to your guests, unashamedly and proudly. With their no-peel ease of preparation and the flash of green (from basil and scallions) these can stand up as a pleasing part of any meal.
Start with small, thin skinned potatoes. Russets (the "dusty" brown potatoes) are the traditional potatoes used for mash — their floury texture leads to fluffier potatoes, and they don't get gluey when you process them. These potatoes are minimally processed so glueyness isn't an issue, and you want the thin skins, so new potatoes it is. I used Klamath Pearl potatoes (an Irish potato) but baby reds, those little Dutch yellow potatoes, or even full sized Yukon Golds will do nicely (I like the little ones because they tend to cook faster, and I think the flavor is truer if you don't peel them prior to boiling). Give the potatoes a nice scrub, and boil them, starting in cold water. Test for doneness (time will vary depending on the size of your potato) by sticking a fork in it and seeing if they're fork tender. The fork should go in without too much resistance, but if the potatoes are falling apart they're overdone.
While the potatoes are cooking, chop some scallions (I used about 4 for a pound and a half of potatoes) and some basil (about 1/3 cup here). The scallions give zing without the sharpness of onions, and basil adds a nice herbal note that gives the potatoes some brightness without immediately identifying itself. When the potatoes are done, drain them, transfer to a bowl, and while they're still hot, begin to mash, with the skins still on.
I like to use an old fashioned potato masher, which dates back to my low-tech days in my stainless steel corner in NYC. It's also an excellent toddler toy. A handheld mixer will do in a jiffy, but be very wary with using a stand mixer and do not by any means use a food processor. Over mashing the potatoes will release the starch and make them gluey. These aren't haute cuisine pureed potatoes anyway — we want them lumpy (and they will be with the skins and the vegetables anyway) — we want them to remain potatoes.
While you're mashing the potatoes, add 1/4 c. butter (the heat of the potatoes will melt it as you mash), 1/3 c. cream, and generous pinches of salt to taste. When the potatoes are mashed to a pleasing and mostly uniform texture, add the basil and scallions, and mix thoroughly.
These make a terrific side dish for many things, but they're particularly nice with grilled chicken or with salmon.

Mashed Potatoes with Scallions and Basil
Ingredients
1½ lbs. small waxy potatoes
4 scallions, chopped
⅓ c. chopped basil, roughly chopped
¼ c. butter (at least)
salt
⅓ c. cream
Instructions
Boil the potatoes until tender when pierced by a pork. While the potatoes are still hot, mash them with butter and cream. Salt to taste, and add scallions and basil. Serve warm.