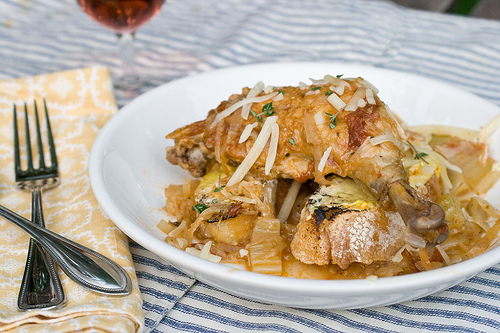 Ordinarily as a Californian, I decry hot weather. "We get plenty of sunshine!" I say. "Bring on the rain and the fire's cozy glow." Well, here it is, the end of March, and I realize I am spoiled. This winter was dry as a bone, but with spring has come the rain and the wet and nights in the 30's. And flu season. Working on my second cold in as many weeks and a single warm maternity cardigan, I cry uncle. I'm ready for our usual spring weather (heck, our usual weather) — 75 degrees and sunny. I want sandals and sundresses and time in the hammock. I have optimistically assembled adirondack chairs and ordered outside rugs for the deck, only to watch them soaking in the rain. (We won't address the fact that "tired of cold weather" may translate in my bruised and battered psyche to "tired of being pregnant" with May seeming very far away indeed.)
This will probably all come back to bite me this summer when I face yet another triple digit day at home with an active preschooler (almost kindergartener! How did THAT happen?) and a baby who wants to be held all the time (which is, IME, all babies), but right now I could use some sunshine, even if it's just sunshine on a plate. Eating a springtime salad for dinner when it's 50 degrees inside your house just seems wrong, but by March I am done with hearty beef stews and warming casseroles. Enter chicken bouillabaisse. Sure, it's a stew, but one that is lighter, fresher than your typical stew, singing of warmer climes and summer.
Along the Cote D'Azur, pretty much every restaurant offers a version of fish soup. Made with the local catch, it is always served with croutons, rouille (a garlic and saffron mayonnaise), and cheese. I had been craving a good soupe de poissons but not the trip to the fishmonger to get the bones to make the stock and the fish to puree into the soup and .. . well, you get the idea. Chicken bouillabaisse, though less traditional, is infinitely simpler, and offers many of the same flavors. I make mine with fennel, herbes de provence, and, because I had it, a pinch of lavender, all of which are ubiquitous in that part of the world. Served with the requisite croutons, rouille, and cheese, I could almost imagine myself on a terrace covered with rosemary, sipping my chilled rose next to the Mediterranean.
I made the rouille in my mini food processor,adding the olive oil a little at a time. It's best to make it in advance so the saffron gets a chance to infuse the mixture. I used pasteurized eggs to minimize the risk of food poisoning with le bebe — I would ordinarily take my chances with raw egg yolks, but that's your call. If you're short on time or lazy, adding some minced garlic, cayenne and saffron to prepared mayonnaise will also do in a pinch.
I've been using the pressure cooker a lot lately because my patience is not what it used to be. You can make this on the stovetop instead — cook in a covered dutch oven for about an hour, instead of 8 minutes. See? Impatience. Seriously though, I'm growing to love my pressure cooker — it's great for artichokes, tomato sauces, beans, or anything that would ordinarily cook a long time. And I don't have to plan ahead the way I do with the crock pot. I have this model
, and it's actually worth the cupboard space.

Chicken Bouillabaisse (Electric Pressure Cooker Recipe)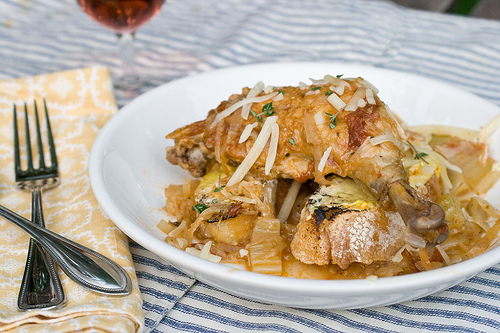 Ingredients
4-6 chicken pieces, with skin and bone (I cut up 1 4 lb. chicken -- leg and thigh pieces would work well)
¼ c. olive oil, divided
1 large onion, sliced
1 bulb fennel, roughly chopped
2 cloves garlic, minced
1 tsp fresh thyme leaves
½ tsp. herbes de provence
1 pinch dried food grade lavender (optional)
¼ c. white wine or white vermouth
1½ cups chicken broth
1 tomato, chopped
1 tsp. tomato paste
Instructions
Season the chicken pieces with salt and pepper. In a large skillet, heat 2 Tablespoons of the olive oil. Brown the chicken pieces on each side. Set aside.
In your pressure cooker (or a large dutch oven), heat the remaining 2 Tablespoons olive oil, and add the onion and fennel and a pinch of salt. Saute until translucent. Add the herbs, garlic and wine, and saute until the wine is mostly absorbed.
Add the chopped tomato, tomato paste, chicken broth and chicken pieces, put the lid on the pressure cooker, and cook at high pressure for 8 minutes. Use the valve to release the pressure. (Alternatively, add an additional ½ c. chicken broth and cook over low heat in a covered dutch oven for 1 hour)
To serve: Spread croutons (slices of baguette, toasted) with rouille (recipe to follow). Lay a piece of chicken atop the croutons, and spoon vegetables and broth around it. Top with shredded gruyere cheese.
Rouille (Saffron, Garlic and Red Pepper aioli)
Ingredients
6 cloves garlic
2 egg yolks
1 tsp. sherry vinegar
1 cup olive oil, or a mixture of olive and grapeseed oil
1 large pinch saffron
1 small pinch cayenne pepper
salt
Instructions
In the bowl of a food processor (I used a mini) chop the garlic with a pinch of salt until very finely chopped.
Add the egg yolks, and process until it forms something akin to a paste (it does not need to be entirely smooth).
Add the oil in dribs and drabs, starting with a little at a time, and processing between each addition until the paste thickens.
When all the oil has been incorporated, mix in the vinegar, the saffron and the cayenne.
Let sit in the refrigerator for at least an hour or two before serving.
Notes
Adapted from
Bistro Cooking by Patricia Wells
Many Marseillaise recipes for rouille call for a bread based sauce -- I prefer this one, which is closer to an aioli