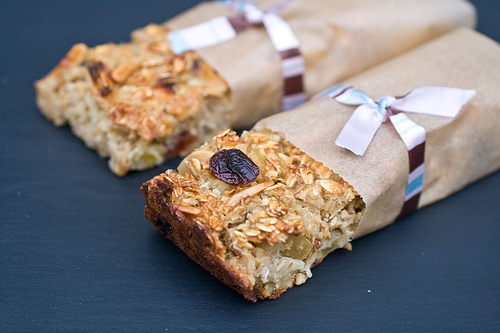 I'm probably not alone when I say that mornings can be a little rushed in our house. I need some serious wakeup time with a cup of coffee and some reading material, but I pay for it dearly by the rushing that follows. Shower, dress, wake the Nuni, dress the Nuni (an ordeal at times — the girl has OPINIONS), get everyone out the door and into the car appropriately brushed and washed and with hopefully matching socks.
Did I forget something? Oh yes, fed.
I'm a big believer in a decent breakfast. If I don't eat one, I'm climbing the walls and eating whatever I've packed for lunch at 10 am. The Nuni gets to eat at preschool, but their idea of a proper breakfast (waffles, mini bagels, cold cereal) is not my idea of a proper breakfast. There should be protein! Fiber! Preferably a little fruit! A breakfast that can get you through to elevenses, at least. Eggs and toast are lovely, or a bowl of oatmeal with lots of milk, but they don't really help the morning chaos. These oatmeal breakfast bars are the answer to that.
On Sunday afternoon, I throw the ingredients together (which takes only about 5 minutes longer than it takes to chop an apple), bake them, let them cool, and wrap them individually. Stored in the fridge, I can grab them quickly in the rush of weekday mornings, and they can be eaten on the go. (In the car, at the desk). They've got plenty of satisfying fiber (apple AND oatmeal), some good protein from nuts, milk and eggs, and enough sweetness that the Nuni will eat them. I've given you my favorite recipe below, which I make with dried mangos, blueberries and cranberries, but feel free to use any combination of dried fruits and nuts and spices. I sometimes add in some ground flaxseeds, too, and the milk can also be substituted with soy milk, if you're so inclined.

It's one way to make my mornings just a touch less chaotic, and to stretch out my coffee and book time just a few minutes longer.

Fruit and Oatmeal Breakfast Bars - Morning on the Go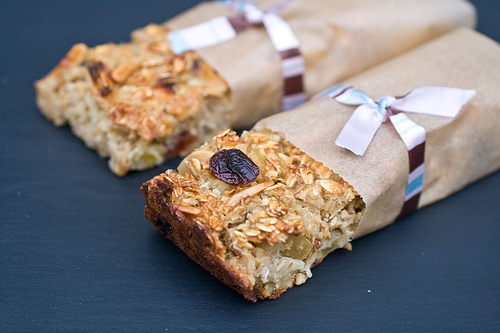 Adapted from Not Your Mother's Casseroles , by Faith Durand
Ingredients
2½ cups rolled oats
1 apple, cored and relatively finely chopped
½ cup brown sugar
¼ cup unsweetened shredded coconut
¾ cup mixed dried fruit (I use a combination of dried mangos, blueberries and cranberries they sell at Trader Joe's)
½ cup toasted slivered almonds
pinch salt
1 tsp. ground dried ginger
3 cups milk
2 eggs
1 teaspoon vanilla extract
½ teaspoon almond extract
Instructions
Preheat oven to 350. Grease a 9x13 Baking Dish. (I use Baker's Joy or Pam for Baking, which include flour)
Combine oats, apple, brown sugar, coconut, fruit, almonds, salt and ginger in a large bowl.
In a small bowl or measuring cup, beat together the milk, eggs and extracts.
Pour the milk mixture into the oat mixture and stir well to combine (It will look more like muesli in milk than anything like batter). Pour into the prepared pan.
Bake at 350 degrees for 50-60 minutes. Let cool, cut into bars, wrap and store.