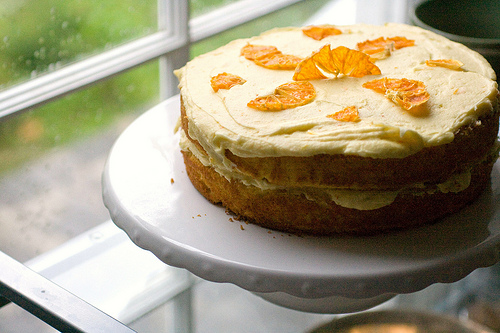 Longtime readers of The Domestic Front can probably guess that my family has some food traditions when it comes to Easter. Given that we tend to go a bit overboard when it comes to holiday food in general, our Christmas menu is rigidly set, and we're WASPs, they would be correct in that guess. Easter lunch/brunch/dinner (usually eaten sometime mid-afternoon) always consists of the following: Sees candy (essential for any Californian), my mother's fried chicken (my mother makes the world's best fried chicken. Someday I will stand next to her and take pictures for you all. I daren't try to replicate it myself), potato salad, and what my grandmother calls "bunny cake." Bunny cake takes many forms, and only sometimes is that form actually a bunny. The form is really determined by whomever is in charge of the cake — we've gone angel food, carrot cake, coconut, and one memorable year, bunny cake (as provided by my aunt) was a lemon meringue floating in a pool of basil scented custard.
My personal favorite take on a bunny cake (or a birthday cake, or a Sunday afternoon for no reason layer cake) is an orange layer cake with orange buttercream frosting. I love chocolate cake, and won't turn up my nose at a good coconut cake, or carrot cake, but when it comes to layer cakes, orange cake might just be my favorite. Orange cake seems to magically straddle that divide between those who prefer what my friend Mike calls the "brown" flavors (caramel, nuts, chocolate) and those who prefer a fruitier touch. I've been making this particular cake quite a bit lately (layer cake happens to be a pregnancy craving) and it's easy to throw together, with a nice orange flavor and a moist crumb.


A note on cake moistness: There seems to be a general perception out there that cake is dry and needs moistening. There are some cakes for which this is true — a sponge cake, which is low in fat, some wedding cakes, which require a certain denseness of crumb to maintain the weight of your structure. An old fashioned butter cake shouldn't have any problems with moistness (and I live in a desert!) and doesn't need spritzing with syrup or any other tricks. Make sure to beat very well at the butter/sugar/eggs stage, to incorporate as much air as possible, and as little as possible in the flour stage, to prevent gluten formation. Also, don't overbake — the cake should feel springy, and the cake tester should have steam and crumbs — just no liquid batter. Another key is to frost shortly after baking and eat relatively quickly before the cake gets stale. If you follow these steps, you shouldn't have any complaints about a dry cake!
In the interests of simplicity, I've also gone lazy with the frosting. I can cover a whole cake in frosting, smooth the sides, do the whole nine yards. But a more rustic look is starting to appeal to me, so I just slap on some frosting in between the layers and on top. This gives the whole cake a more rustic, homemade look (and I do like it when a homemade cake LOOKS homemade) but also evens out the balance of frosting and cake, so that you don't get too much sweetness.
I'm not in charge of bunny cake this year (when you're eight months pregnant, nobody really expects you to cook anything) but I might just make this cake anyway. Just because. You can't go wrong with orange cake.

Moist Orange Layer Cake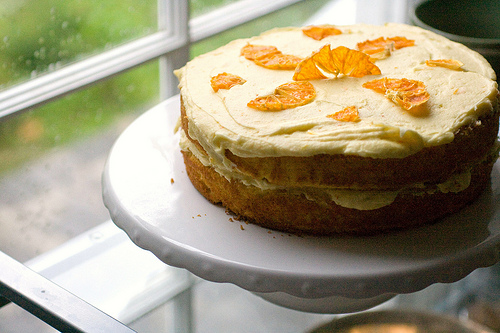 Ingredients
1 cup (2 sticks) salted butter
1.5 cups granulated sugar
zest from 1 orange
4 large eggs
¼ cup undiluted, thawed, frozen orange juice concentrate
1 tsp. vanilla extract
½ c. buttermilk
2.5 c. flour
½ tsp. baking powder
½ tsp. baking soda
1 large pinch salt
Instructions
Preheat oven to 350 degrees. Grease and flour 2 9-inch round cake pans (I use Pam with flour for baking)
Cream together the butter and the sugar until it's fluffy. Add the orange zest. Add the eggs, orange juice, and vanilla, and beat until the eggs are incorporated.
Combine the flour, baking powder, baking soda and salt in a separate container. Add the flour mixture and the buttermilk in two alternating installments, beating between each installment until just combined.
Divide the batter equally between the cake pans, using a spatula to spread the batter to the edge of the pans. Bake just until a cake tester comes out clean -- about 20-25 minutes. (I usually switch racks about half way through baking). Let cool in the pan on a rack for about 10 minutes, then remove cakes from pans, and let cool thoroughly on a rack before icing.
Orange Buttercream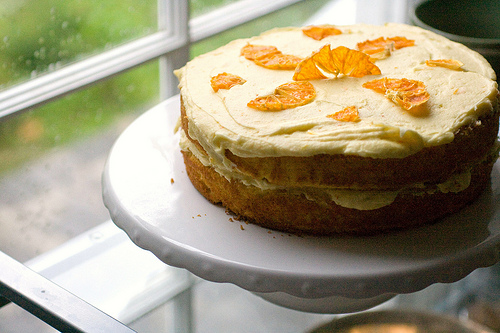 This is just your classic butter and confectioner's sugar buttercream, flavored with orange. The key to a bright flavor is to add lemon juice - this keeps the frosting from being to sweet.
Ingredients
1 cup (2 sticks) butter, softened (I use salted)
3-4 cups of powdered sugar, preferably sifted
zest from 1 orange
3 T orange juice concentrate
2 T fresh lemon juice (I used Meyer lemons because we have a glut right now - with a standard lemon, you might try adding 1 T lemon juice to start).
Instructions
Beat the butter until creamy, and slowly add the sugar until the preferred consistency.
Beat in the orange juice and zest and the lemon juice. Adjust seasonings to taste, adding more powdered sugar to increase thickness.