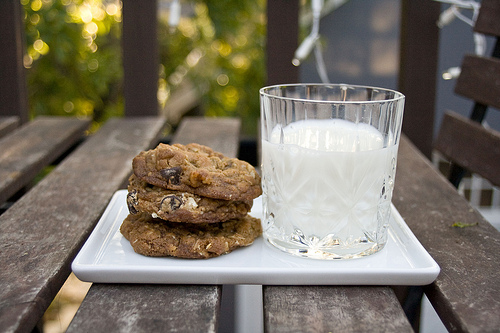 Why is it that I have no energy for cooking, but I'm always up for baking? I come home at the end of a long day after a long drive, with an aching back, and I reluctantly make dinner. All I want to do is collapse on the couch (ideally with a glass of wine, but alas, THAT isn't happening right now!) and go to bed early, but I have responsibilities, and a healthy dinner must be made. Some days I'm just not up for it, and pizza becomes our saving grace. But on weekends, I'm bright eyed and bushy-tailed and eyeing the butter and the sugar with alacrity.
OK, I suppose it's not that mysterious when you look at it that way. The point is, baking is fun cooking, frivolous cooking, and cookies seem to be some of the most frivolous foods you can bake. There's no POINT to cookies. They're merely there for enjoyment. And these might be my most enjoyable cookies.

OK, I am a sucker for chewy homemade chocolate chip cookies. And nothing quite hits the spot in the fall better than my friend Kas's molasses cookies. And these yeasted butter and sugar cookies are so unusual and addictive, they must be given some credit. But these oatmeal cookies are definitely in the TOP FOUR. And they're really the cookies I'm famous for. When I was in high school, I'd bake these all the time — they were my dad's favorite cookies, and were requested for holidays and family gatherings. I got out of the habit for a while — tried other oatmeal cookie recipes, cheated on my favorite, but I keep coming back to these — they're really the BEST. Chewy and buttery, with the nuttiness of the oats and the crunch of walnuts. You don't have to make them with chocolate chips — raisins are a perfectly acceptable substitute if you're a purist — but I happen to think that chocolate chips elevate oatmeal cookies into the realm of the sublime.
The dough can be made ahead and chilled, but they're really best if you bake them straight after mixing. Perfect for those energy bursts when you just feel inspired to bake … something. (If you do need to chill the dough, let it come back to room temperature before baking).

Chocolate Oatmeal Cookies
Ingredients
1 cup salted butter, softened
1 cup white sugar
½ cup brown sugar, packed
¼ cup molasses
1 egg
1 tsp vanilla extract
1½ cups AP flour
1 tsp. baking soda
½ tsp. salt
1 tsp. ground cinnamon
1 Tbsp. ground cocoa powder
1½ cups rolled oats
¾ cup chopped walnuts, toasted
¾ cup chocolate chips
Instructions
Preheat oven to 350 degrees.
In a large bowl, cream the butter and add the sugars, beating until fluffy.
Beat in the molasses, the egg and the vanilla.
Add the flour, soda, salt and spices, and stir until thoroughly combined.
Add in the oats, nuts and chocolate chips and mix in with a wooden spoon.
Form the cookies into generous balls (a little larger than walnuts, but definitely smaller than golf balls), and set on a baking sheet lined with parchment or silpat.
Bake in the preheated oven for 10 minutes. The cookies will puff up, and sink when they're cool. That's a good thing. It doesn't mean they're underbaked. It means they're chewy.
Let cool on the sheet for about 5 minutes, then move to a rack.