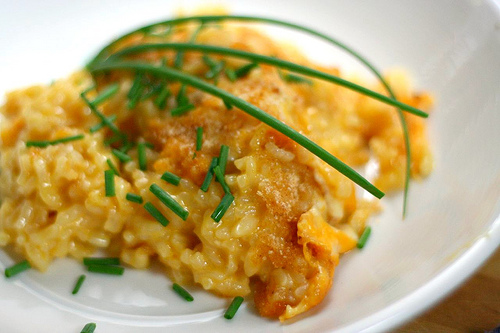 My daughter is not the world's soundest sleeper.
At least once a week I am awakened by a shout (usually for Dada, though I, like all mothers, am the light sleeper, and I am the one who comes running the most often). As soon as I open the door to her bedroom, she scrambles to standing position, reaching her arms out to me. I sit in the rocking chair in her room, holding her, rocking, and a little voice pipes up, "Sing songs," so I do. I sing, my voice bleary with sleep, "Sweet Baby James" or "La Mer" or "Edelweiss." And after I have sung my song, I put her back in her crib, and she clutches her stuffed dog, and closes her little eyes.
I don't know what wakes her, but I do know that whatever it is, I can give her enough comfort to drift back to dreamland. I only wish every worry could be this easily soothed — by a glider and a little James Taylor.


Food is another way of providing comfort. It can be warming, satisfying and approachable, and some foods, like this cheddar risotto, can make us flash back to memories of childhood. It hits the same notes as macaroni and cheese — melted orange cheddar cheese, satisfyingly chewy carbohydrates — but this comfort food is for grownups. It has more texture, more layers of flavor, and more novelt than plain old mac and cheese. It may not make your worries disappear, but it should keep them at bay for a little while.

Cheddar Risotto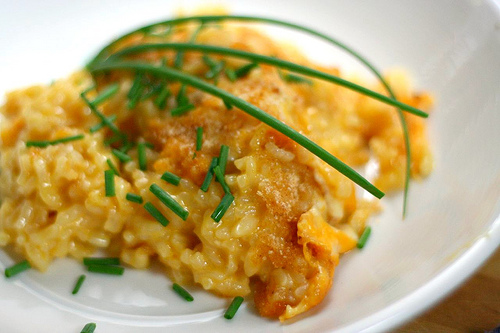 Ingredients
1 T butter
1 T olive oil
½ medium onion, finely chopped
10 oz. risotto rice (Arborio rice works the best, but another short grain rice (like sushi rice) will do in a pinch. Don't use jasmine, basmati or any long grain rice).
½ c. (125 mL) white wine
1 tsp Dijon mustard
4 c. (1 L) chicken stock, heated (it's essential when you're making risotto that you use a good flavorful broth or stock. Homemade is best, but I like Trader Joe's Organic in a pinch. Avoid Whole Foods 365 brand -- it tastes like water)
6 oz. cheddar cheese, cut into small cubes
3 T chopped chives
Instructions
Melt the butter in an oven proof pan, add oil and onions. Cook, stirring, until onions are translucent.
Add rice, stir thoroughly so that each grain of rice is coated in butter and oil. Then add wine and mustard, and cook until wine has been absorbed by rice. Add stock, ½ c. at a time, stirring until the stock is absorbed by rice. Add 4 oz. cheddar, stir until the cheddar is melted.
Top with bread crumbs and remaining cheese and bake at 400 degrees until the cheese is bubbly. Serve topped with chives.
This is pretty rich, and can probably serve 4 people.
Notes
Adapted from Nigella Lawson's Nigella Express