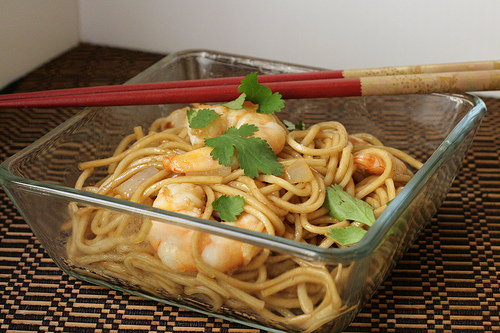 I have a little bit of a cookbook problem. You see, when we moved to our current home, we dedicated a reasonable sized bookcase to the cookbooks. It had four shelves, was about two and a half feet wide, and seemed perfectly fine. Until I started putting my cookbooks on it. There was a little overflow, a few cookbooks I put on another shelf, some books that I recategorized as "travel books." But the problem only got worse. It's not that I buy a ton of cookbooks — I mean, I do buy a few, sometimes to cook with, sometimes as a souvenir when I'm traveling, sometimes because I really can't resist a used book sale. But I also receive cookbooks as gifts. And cookbooks have a way of finding their way into my house in other ways too. As a result, I have several cookbooks that are more for recreational reading than actual cooking, per se, and several more that never really see the light of day (but do look so ornamental on that bookcase. And the surrounding bookcases as well.)
The point is, I have a lot of cookbooks, and while I don't mind this, my husband seems to think my collection is a bit … excessive. So you know a new cookbook is good when he comes up to me and says "You know, that cookbook really fills a niche that I think was missing from your cookbook collection." This cookbook isn't only endorsed by me, it's endorsed by him, and that is a rare thing indeed, when it comes to cookbooks.
The cookbook in question is, of course, The Steamy Kitchen Cookbook by Jaden Hair
. People who are up on the food blogging community will recognize Jaden from her popular blog, Steamy Kitchen, and if you've met her in person or seen her on TV, you know that she has a lot of personal charisma and energy (Full disclosure — I met Jaden at the 2009 Blogher Food Conference, and I received a complimentary copy of the book through the conference after party), but even if you've never heard of Jaden Hair, this is a book you'll want in your kitchen.

I like Asian food, but apart from a liberal use of sriracha and some hybrid recipes, like my super quick Thai style turkey or Vietnamese style sandwiches, I had never cooked it much at home. The markets were a little too intimidating, and most of the cookbooks, with their focus on authenticity, were intimidatingly dense. The Steamy Kitchen Cookbook makes Asian recipes accessible and approachable. The cookbook features recipes that are influenced by Chinese, Japanese, Thai and Vietnamese cuisine, and includes techniques and tips for everything from making good, fluffy fried rice (use rice that's at least a day old) to shopping in an Asian market.
I don't like to review cookbooks the second I get my hot little hands on them. I like to live with a cookbook, to see how it fits into my life, before I come on here and recommend it. And this is one that fits in quite well. Thanks to Jaden, I felt armed to go into the local Asian Supermarket, and now I have the ingredients to make things like Beef with Broccoli (my husband's favorite takeout dish) that actually taste like they're supposed to, only better and fresher, and homemade (sadly, I live across town from the good Chinese takeout). I learned that the savory bits in the braised string beans, my favorite dish at the Chinese restaurant I ate in growing up, were not pork as I had thought, but preserved radish, and what's more, I can make it for myself whenever I want. I've been introduced to furikake, a Japanese answer to seasoning salt, which enhances everything from crispy kale to baked potatoes, and lap sieung, a Chinese dried sausage, which has been featuring prominently in my Okonomiyaki as well as the fried rice I've made according to her instructions (pictured above). And I finally feel like I have the confidence and the resources to cook good Chinese food in my own kitchen.
The really lovely thing is that Jaden isn't dogmatic about her ingredients. She's fairly cavalier about using cross-cultural influences in her own dishes (the above mentioned fried rice, for example, which is Chinese in origin, is flavored with Thai fish sauce instead of the heavier soy), and when asked about the type of noodles used for the recipe below, she said that spaghetti would be fine. The cookbook and the recipes therein focus on flavor rather than authenticity, and as a result this is a book you feel comfortable cooking with.
One of the recipes that has become a mainstay in our household for weekend lunch is these garlic butter noodles. The basic idea — garlic, butter and sugar — lends itself to many iterations — I've made it with tofu, plain or with the shrimp as pictured. Sometimes I've replaced the scallions called for in Jaden's recipe with sauteed onions, sometimes with garlic chives. I happen to not have any oyster sauce in the house, so I've replaced it with both Japanese tonkatsu sauce and with an Americanized teriyaki sauce. And it's been delicious every time. This is a cookbook that I keep going back to, and I'd recommend that you go back to it, too.

Garlic Butter Noodles with Shrimp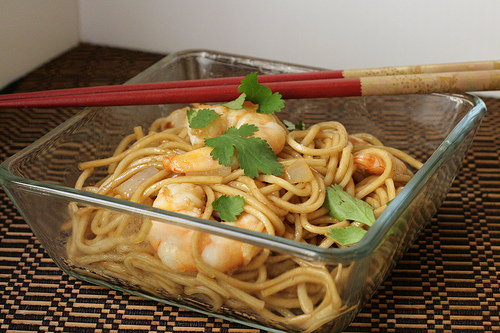 Ingredients
7 ounces skinny dry egg noodles or chow mein noodles(half the package)
4 oz. raw, peeled shrimp
¼ cup chopped onions
3 garlic cloves, finely minced
2 tablespoons brown sugar
1 teaspoon maggi seasoning or soy sauce
1 tablespoon teriyaki sauce
3.5 tablespoons butter
Instructions
Boil the noodles according to the package directions -- they should be just slightly al dente. Drain and set aside.
Meanwhile, in a large saute pan, heat about 2 T of the butter, then cook the shrimp until pink. Pull out the shrimp and set aside.
Add the remaining butter to the butter in the pan. Add the onions, and fry until translucent -- add the garlic a little bit in, but careful not to let it burn. Add brown sugar, fish sauce and teriyaki sauce.
Add the noodles, fry for a couple of minutes, and stir thoroughly to coat the noodles with the sauce. Add shrimp and toss to coat. Serve warm.
Notes
Adapted from the Steamy Kitchen Cookbook. For a Variation: Replace shrimp with about 6 oz. firm tofu, cut into cubes, the onions with ½ c. chopped chives (pref. onion chives) and the noodles with rice noodles, softened in hot water.