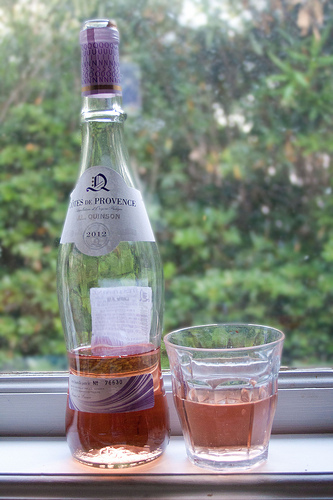 Wine: JL Quinson Cotes de Provence Rosé, 2012
Region: France, Provence
Style: Dry Rosé, light on the fruit
Price: $5.99 a bottle
I have a confession to make.  I like rosé wine.
Rosé wine gets a bad rap that can be traced directly to sweet, cheap California white zinfandel and Boone's Strawberry Hill.  My rosé love comes not from collegiate runs to the liquor store in town that doesn't card, but from spending a few summers in the south of France, where Rosé is as common as water.  French rosé isn't sticky sweet  – it shows a lot of fruit but it's dry and nicely acidic and goes well with food.  Plus, when you drink it you can imagine yourself sitting at a cafe on the Côte D'Azur gazing out over the Mediterranean.  And it's pink.  What's not to love?
I admit to being skeptical about JL Quinson Rosé when I saw it at Trader Joe's.  I thought it sounded like some Australian wine producer — I was mentally calling it Kwinsin in my head.  Turns out that Quinson (pronounced more like Cansohn) is a village in the Provence.  Who knew?  Also turns out that this wine is a very nice example of a  French Rosé – very dry, with a nice acidity and some forward fruit.  It's a great light wine to drink in the summer. (and as you can see from the first photo, I enjoyed it quite a bit). I'd pair it with this Grilled Provencal Chicken or some Soupe au Pistou; for that true Riviera flavor.  Some roses can be a bit thin or musty flavored, but this one has a nice freshness.  If I had to complain, I'd wish this wine had a bit more fruit, and I always like a more assertive PINK, but at $6, I'm not going to complain too much.