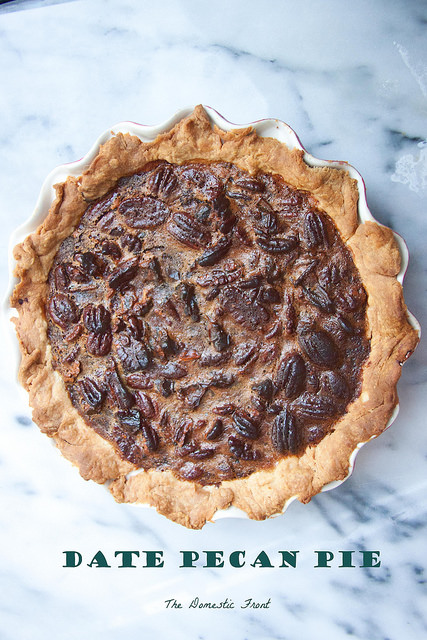 My father was a particular man, especially when it came to holidays. Christmas breakfast was ALWAYS pancakes and gravy. Fried chicken was essential on Easter. And Thanksgiving came with a long list of requirements, including the sacred stuffing and pecan pie.  Even the most perfect pumpkin pie would not do, let alone some abomination like cranberry pie, or some sci-fi amalgamation of pumpkin and pecan pie.  Pecan pie or it's not Thanksgiving.
I was never sold on pecan pie.  Pecan pie is SWEET.   A "translucent custard" which is basically made with eggs, sugar AND corn syrup, the nuts could never offset the tooth-aching nature of the pie.   But my dad has been gone almost four years, and I find myself looking for small acts of remembrance, to bring him closer.  I listen to some Johnny Cash, watch a little Jeopardy, and make pecan pie for Thanksgiving dinner.
I couldn't resist looking for a way to temper the sweetness, however.  The most obvious target was the corn syrup.  Corn syrup is good for texture, but adds no flavor other than sweet. When I discovered date syrup (available online
or from most Middle Eastern markets), I thought it would add a little more dimension to the sweetnesss.  Going with the theme, I added some chopped dates to the mixture for a concentrated date flavor.
The date syrup has the caramel and toffee flavors we associate with dates and pairs very nicely with brown sugar and toasted pecans.  It also adds just a touch of acidity which brightens up the whole flavor of the pie, and which I enhanced with lemon juice and just a touch of bourbon.   The result was a pecan pie which is sweet, yes, but has a lot going on in the flavor department other than just sweetness.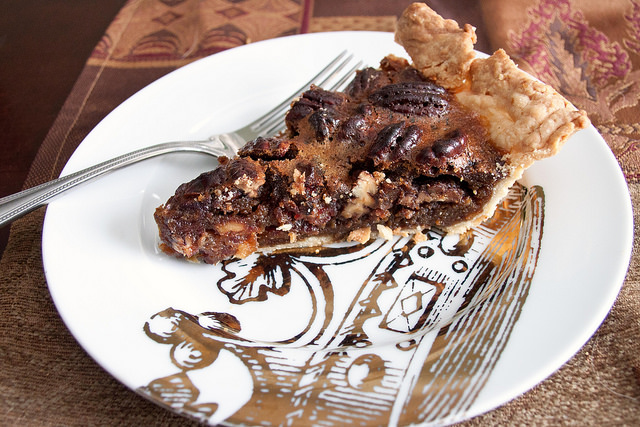 Tomorrow is my dad's birthday. He would have been 68, and I still miss him every day.  Would he have liked this pie?  Full disclosure:  he would have said "There's fruit shit in there, and I like your mother's pecan pie better."  Loyal to a fault, and also honest.  But he would have eaten it, and I like to think he would have enjoyed it.  Miss you, Dad.  Happy birthday, and Happy Thanksgiving.

Date Pecan Pie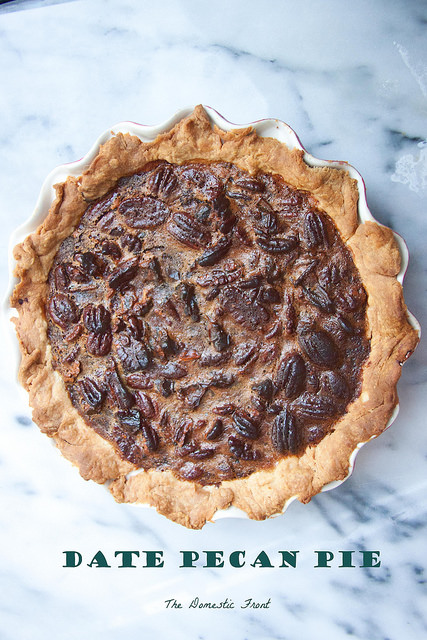 This recipe is adapted from
John Thorne
's (pretty great) pecan pie, which appears in Richard Sax's Classic Home Desserts
Ingredients
1 single crust pie crust, unbaked
1 cup dark brown sugar
⅔ cup date syrup or date molasses
4 Tablespoons salted butter
2 Tablespoons bourbon
8 oz. pecan halves
3 oz. ripe Medjool dates
3 eggs
½ teaspoon salt
juice of ½ lemon
Instructions
Preheat oven to 350.
In a medium saucepan, combine the brown sugar, date molasses, butter and bourbon and bring to a boil. Boil for 1 minute, and then let cool to lukewarm.
While the sugar mixture is cooling, toast the pecans on a cookie sheet in the oven until fragrant, about 5 minutes.
Pit the dates and roughly chop them.
Beat the eggs lightly, then add the cooled date syrup mixture, the salt and the lemon juice. Stir in the pecans and the chopped dates, and pour the entire mixture into the unbaked pie crust.
Bake for 30 minutes, or until the filling is firm but not hard.