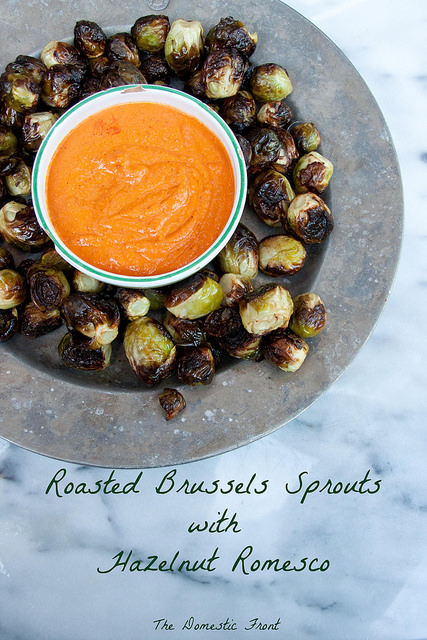 I have a confession to make.  I've been holding out on you.  Brussels sprouts are one of my all-time favorite vegetables.  I eat them almost weekly in the fall and winter.  And here I am with only one measly Brussels sprout recipe on the site. (I mean, don't get me wrong – that recipe is great. But with bacon AND cream it's not exactly something I'm eating every day.)  The problem is, of course, that the way I'm eating Brussels sprouts – one of THE best ways to eat Brussels sprouts – is roasted to a deep caramel color with the outer leaves crisp and the inner core meltingly tender.   But, of course, this is 2014, and you don't need to have it explained to you that vegetables taste better when they're roasted!  You've been around.  You read the internet.
But I still feel strongly that Brussels sprouts should play a larger role on the Domestic Front.  Brussels and I are BFF's.  They are in the regular rotation.  Even my kids eat them (sometimes.  Kids be kids.)  So I started to think about WAYS to eat roasted Brussels sprouts that you may not have thought of. We've all eaten Brussels sprouts as a side dish (and you can totally serve these that way, too), but what if the little baby cabbages (so cute!  I love miniatures!) were … canapes?  Think about it – they're the perfect size to pop in your mouth, they taste great at room temperature, and they look great on a plate.   Plus, as we enter the season for holiday parties, it's fantastic to have an appetizer that is not only festive – especially when the sprouts are paired with this tangy and colorful Romesco sauce – but also healthy, vegan, gluten-free and paleo to meet all of your guests' dietary needs. I mean, we are talking about a heavy lifter on the party circuit.
A note:  it's Brussels sprouts, not brussel sprouts.  Named after the city in Belgium.  Capitalization is apparently optional, but I think it's better.
The Romesco is optional of course – you could serve these on their own, with a garlic aioli, or a classic vinaigrette – but the slight bitterness of the roasted  Brussels sprouts contrasts beautifully with the acidity and richness of the Romesco.  Plus, it looks pretty on a plate, and it comes together very quickly in a food processor.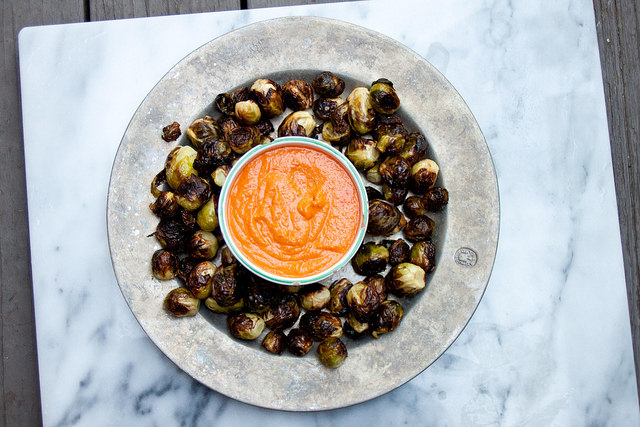 Roasted Brussels Sprouts with Hazelnut Romesco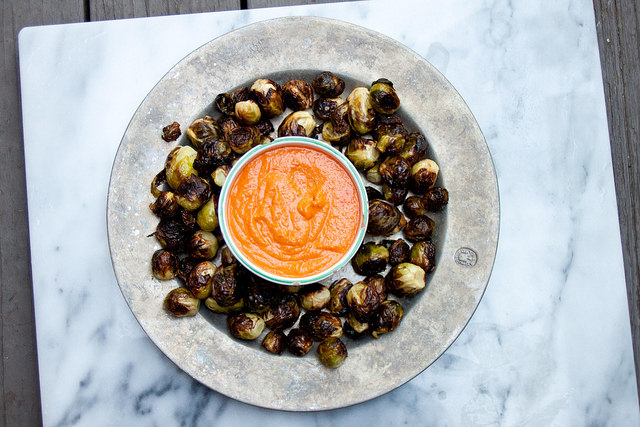 Ingredients
For the Brussels Sprouts
2 lbs whole Brussels sprouts - the small ones are better
2 Tablespoons olive oil
salt and pepper
For the Romesco Sauce:
12 oz. Roasted red bell peppers (about 2 peppers), seeds and stems removed
⅓ cup whole hazelnuts, toasted and peeled.
1 medium boiled potato (for paleo and gluten free) OR 1 slice french style or sourdough bread
2 Tablespoons sherry vinegar
3 cloves garlic
½ tsp. smoked paprika
⅓ cup olive oil
salt and pepper
Instructions
To roast Brussels sprouts:
Preheat oven to 400 degrees
Trim any discolored bottoms and outer leaves off of each sprout. In a large bowl, toss the Brussels sprouts with olive oil. Arrange on a flat baking sheet, and sprinkle with about ½ tsp. salt.
Roast at 400 degrees 15 to 20 minutes, or until the sprouts are brown and tender. (Cooking time may vary depending on size of sprouts).
To make the Romesco sauce:
In the bowl of a food processor, combine the bell peppers, hazelnuts, potato or bread, vinegar, garlic, and smoked paprika.
Process until smooth (even the nuts - this may take more time than you expect.)
With the motor running, add the oil in a thin stream. The sauce will thicken slightly.
Serve the brussels sprouts warm or at room temperature with the sauce to dip.