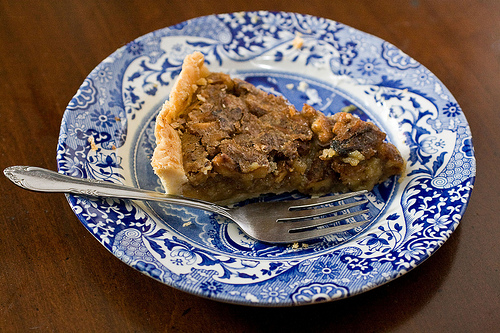 Fall themed desserts are all over these days – pumpkin bread puddings, cranberry panna cotta, pecan trifle. And those of us with a confirmed fear of rolling pins grasp at these desperately. But now it's time to get real. You and I both know that Thanksgiving is about pie. Preferably multiple types of pie. The table should be GROANING with pie. Pumpkin pie, mincemeat pie, apple pie … Panna cotta, while a very lovely dessert, just doesn't cut it.

Which means, fair readers, that if I'm going to do Thanksgiving right by you, I need to get over my fear of rolling. I need to summon the reserves — the wisdom of the elders, nerves of steel, hands of ice, and my own experience of parenting a three year old, and tell that pie dough, "You are NOT the boss of me. I am the boss. And don't you forget it." And then I'm going to fill it with something wonderful — in this case, a variation on the Thanksgiving classic pecan pie made with walnuts and maple syrup and no corn syrup in sight. And then I'm going to tell you all about it.
Let's start with the crust, shall we? I am tired of feeling anxiety about pie crust. I just want to make it and be done. Which means, for me, ignoring the tips and tweaks, and going back to basics. Armed with Michael Ruhlman's ratio for 3-2-1 pie dough, Julia Child's food processor method, Amanda Hesser and Dorie Greenspan's plastic wrap rolling technique (though Amanda might never forgive me for calling her an elder — sorry Amanda!), I made pie crust. And it took about 3 minutes. Freeze a stick of butter, cut it into cubes (I cut it into about 24 cubes (you can reverse these steps), then pulse it in the food processor with flour and some salt until it's coarse and uneven (about 9 pulses should do it). Add water in one fell swoop, pulse a couple of times more, then dump it all out onto some plastic wrap, pull the wrap around it until it looks like a disc of dough rather than a pile of crumbs, and chill for about 30 minutes. Then roll it out between two sheets of parchment (Amanda and Dorie use plastic wrap, but mine wrinkles like crazy) using your favorite rolling pin (and I will add that the acquisition of a French Rolling Pin
has improved my rolling technique immensely). Peel off one piece of parchment, arrange the dough dough side down over the pie dish, peel off the other piece of parchment, press it in, trim the edges, and use the trimmings to replace any holes or divots. Voila. No gimmicks. It might not be perfect, but a) it will taste good (thank you butter, not Crisco), b) it will be tender and flaky and c) it won't give you a panic attack.
Now the filling. I love a traditional pecan pie, but it is so sweet my teeth ache just thinking about it. I also don't love all the corn syrup because it's messy and has a funky flavor and questionable health effects (though frankly, pie isn't health food.) When I saw the French Canadian maple sugar pie recipe in Richard Sax's Classic Home Desserts
(which is my desert island dessert book (dessert island?) and should be in your library), my interest was piqued. Instead of pecans, it features walnuts, which give it a lovely bitter edge, and instead of corn syrup, the pie gets texture (and a lot of flavor) from maple syrup (use Grade B, which is not only cheaper but more flavorful.) It has a few other additions which cut the sweetness — apple cider vinegar, which adds an acid bite to counter the sweetness, and brewed tea (I used PG Tips), which adds some more bitterness and also flavor. The combination is a little more layered than the traditional pecan, which is just SWEET and nuts. (Not that I don't love both sweet and nuts.) Plus, my family is French Canadian, so I was just tickled to have a "heritage" pie in my repertoire.
The best thing, too, is that the filling takes no time at all to mix up and dump into your pie crust, which we've already established takes no time at all. So this becomes a quick and low stress dessert. And yes, this is pie we're talking about.
Now for the other six varieties …

Easy Pie Crust and Maple Walnut Pie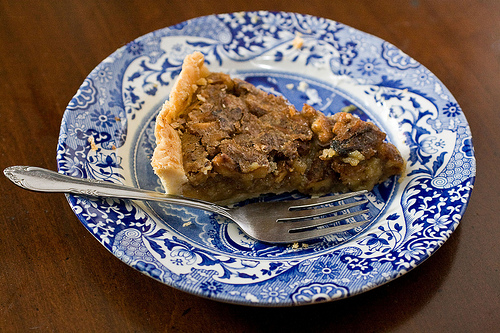 Ingredients
For the Crust:
6 ounces all purpose flour
½ teaspoon salt
4 ounces butter, frozen and cut into ½ inch cubes
2 ounces cold cold water
For the filling:
1 cup walnuts
3 eggs plus 1 egg yolk
¾ c plus 2 Tablespoons sugar
2 teaspoons molasses
¾ cup Grade B pure maple syrup
6 Tablespoons butter, melted
¼ cup brewed black tea
2 Tablespoons apple cider vinegar
½ teaspoon salt
Instructions
For the Crust:
In the food processor, combine the flour and the salt. Throw in the butter, and pulse 9 times -- the mixture should look like uneven crumbs. Add the water all at once and pulse a few more times until it's incorporated. The mixture should resemble dough at this point, but a semi-pebbly dough rather than a homogenous mass.
Dump the entire mixture out onto a sheet of plastic wrap, fold up the sides of the plastic to mush it all together so it is a homogeneous mass. Shape it into a thick disc, and chill in the refrigerator for 30 minutes.
Preheat oven to 425 degrees. Roll out the dough between two sheets of parchment until it's about a 12-14 inch circle. Peel off one sheet of parchment and transfer, dough side down, to your 9 inch pie plate. Lay the dough on top. Peel off the second sheet of parchment and press the pastry down into the pie plate. Trim the edges until there's about a ½ inch overhang, then fold that under and pinch it to the pie plate to crimp (the crimping is not just decorative- it helps keep the crust from shrinking down the side of the plate). Use the trimmings to fill in any holes or divots in the dough.
Line the pie crust with foil, then fill with pie weights or dried beans and bake for about 20 minutes. Let cool.
For the Filling:
Toast the walnuts (I use a toaster oven) then roughly roughly chop them.
In a bowl, whisk the eggs, add the sugar, molasses, maple syrup, melted butter, tea, vinegar and salt and whisk until combined. Add the walnuts and stir.
Set the prebaked pie shell onto a baking sheet lined with aluminum foil. Pour the walnut mixture into the pie crust.
Bake at 450 for 10 minutes, then reduce the heat to 350 and bake for an additional 20-25 minutes, or until the center has just a slightl slight wobble. (Watch the top in the last 10-15 minutes of baking - if it seems to be getting too browned, cover with foil.)
Let cool to room temperature and add to your groaning pie board.
Notes
Filling Adapted from Classic Home Desserts by Richard Sax