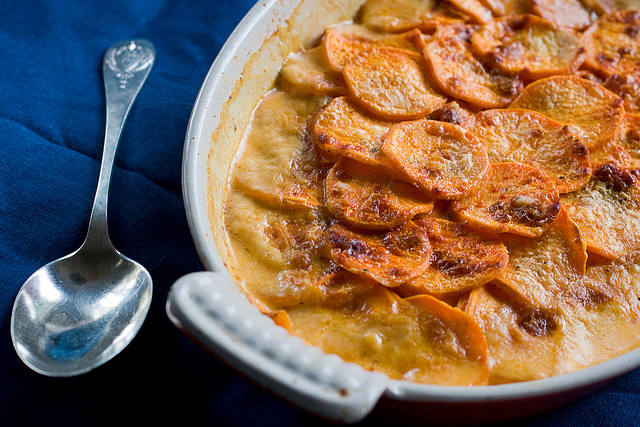 Despite having a decent reputation for cooking, a killer turkey recipe and not one but TWO autumnal table runners, I haven't hosted Thanksgiving since 2004, and I'm thrilled about that. One of the reasons we moved to Los Angeles back in the day was to give our (then unconceived) children the experience of growing up with family holidays, and for Thanksgiving we always have a place at the table at the house of my parents, my grandmother, or one of my aunts. And since family meals in my family are always pot luck, I get the fun of cooking what I want for Thanksgiving without the stress of worrying that I don't have enough wine glasses, or bringing in extra chairs from the garage.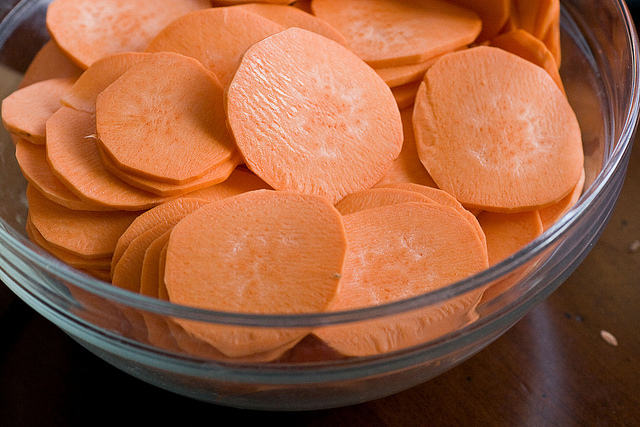 My contribution to the family Thanksgiving varies – sometimes I make pecan pie, sometimes old school bread stuffing with sage – but I always always make these sweet potatoes. They are not gooey with brown sugar, or covered in marshmallows. What they are is creamy and spicy and sweet and smoky. They're also easy and practically foolproof and, depending on how liberally you apply the cayenne, almost universally popular.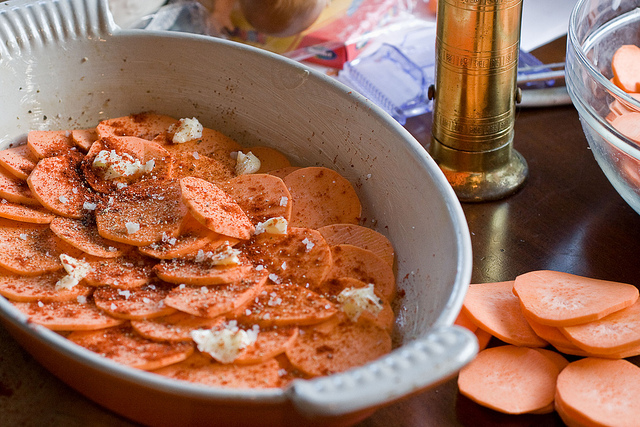 I never understood why so many sweet potato recipes added additional sweetness, in the form of brown sugar, or orange juice, or marshmallows. Sweet potatoes are already sweet — what I want is to balance the sweetness with saltiness. I like plain baked sweet potatoes with butter and salt, but this dish, with the layers of flavor from the spices, and the richness of the butter and cream and the mellow background of sweet potato, just sings.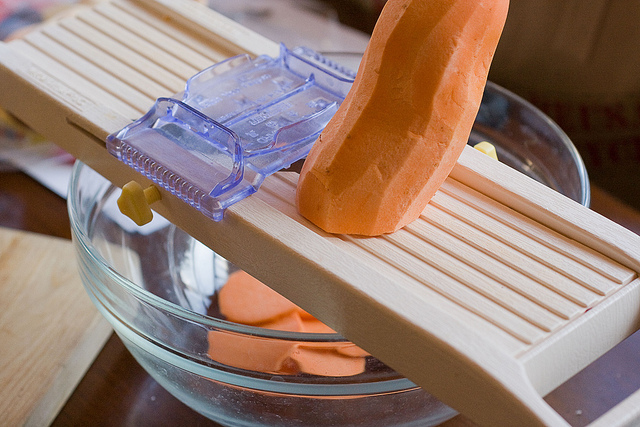 Fortunately, making them is a snap. I like to use my Benriner Japanese Mandoline Slicer
, which makes the slicing quick and the slices uniform, but PLEASE use the finger guard or you will do what I did LAST Thanksgiving and slice the tip off your finger. True story. Once the potatoes are sliced, you just layer them in a buttered gratin dish, dab each layer with a little more butter (holiday food, not health food), sprinkle with cayenne, smoked paprika, salt and pepper, then pour cream over the whole thing and bake.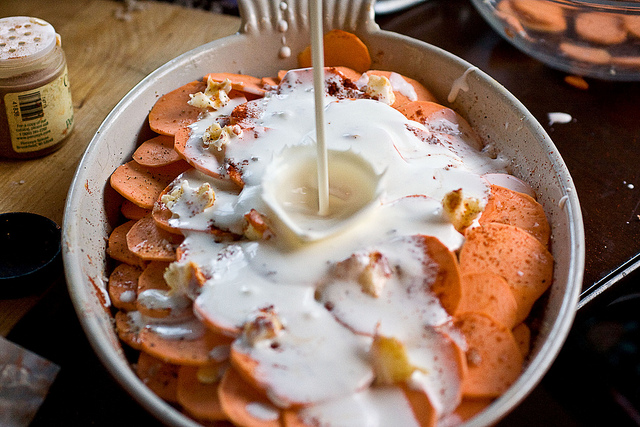 A few years ago my grandmother, who is a very, um, traditional cook, hosted Thanksgiving. I told her I was bringing these sweet potatoes and she balked. "My friend Jeannie is coming, " she said. "And Jean is midwestern. Why don't you make them with some nice orange juice?" Well, Jeannie is midwestern like Annie Oakley is midwestern, and she had second helpings of sweet potatoes. And even my grandmother enjoyed them.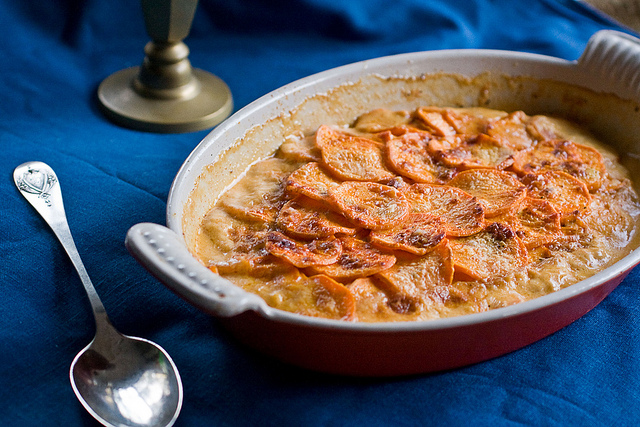 Smoky Spicy Sweet Potato Gratin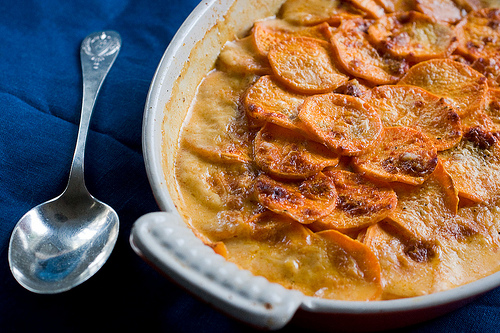 Ingredients
3 medium sweet potatoes
3-4 Tablespoons butter, at room temperature
½-1 teaspoons cayenne pepper
1-2 teaspoons sweet Spanish smoked paprika
salt and pepper
1½ cups heavy cream
Instructions
Preheat oven to 350 degrees.
Peel the sweet potatoes, and using a mandoline, a food processor or a sharp knife and a lot of patience, slice them thinly into even rounds. Set some of the prettiest and most perfect rounds aside for the top layer.
Butter a 14 inch gratin dish. Layer the sweet potatoes in concentric overlapping circles (or ovals) over the bottom of the gratin dish. Dot with a few dabs of butter, sprinkle with cayenne (more is obviously spicier), smoked paprika, a pinch of salt (go lightly on the salt -- the smokiness of the paprika adds a salty impression) and a few grinds of black pepper. Repeat with the next layer, and the spices and the butter, until you reach the top, where you'll use your reserved sweet potatoes.
Pour the cream over the dish, cover tightly with foil and bake 30 minutes. Remove the cover, bake an additional 30 minutes. Serve warm. (I happen to love this cold, but it doesn't reheat well because the cream tends to separate. You can make it entirely in advance except for the baking part, and pop it in the oven an hour before dinner is served).