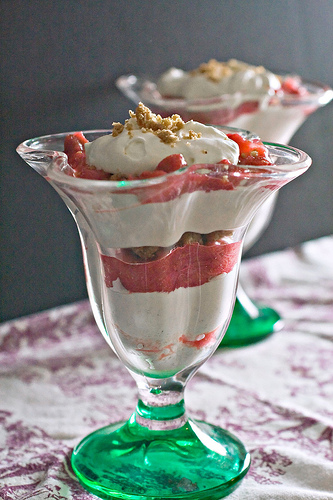 We are in full on girly mode in the The Domestic Front household. The Nuni is two and a half years old, and is seriously interested in the following (in no particular order): twirly dresses, crowns, glass slippers, toenail polish, my makeup, shiny shoes, and anything with sparkles. I would freak out in a feminist quandary, except I have a fuzzy memory of being VERY into princesses and makeup when I was quite young myself, and I am a perfectly acceptable adult with a career and a family and a tendency to wear Old Navy tee shirts to work.
In the Nuni's world, her current favorite book is one called "Fancy Nancy", about a hapless girl who LOVES being fancy — she likes to write her name with a plume (which is a fancy word for feather), her favorite color is fuchsia (which is a fancy word for purple), and she can't WAIT to learn French, because EVERYTHING sounds fancy in French. Poor Fancy Nancy is beset by a thoroughly plain family, who thrills her one night by dressing up in accessories, going to a restaurant and ordering parfaits, which are "French for ice cream sundaes".
Now, accuracy aside, parfaits are a very fancy dessert, and as the parent of a wee one who loves all things fancy, I thought I would accommodate her wishes and make them. As she also loves all things pink (as she regularly tells me, "Pink is my favrit color, mamma.") I thought I would turn to the pinkest of all pink things — rhubarb. Sure, it doesn't sport the aggressive magenta of anything made with beets, but for rosy, fancy, girly pinkness, rhubarb is your ingredient of choice.

These rhubarb parfaits are dessert frippery — they are a confection of lightness and ruffles, inspired both by the most frivolous of desserts, aptly named a fool, and the rather flighty crumble. Smooth and tangy rhubarb is layered with whipped cream and a crumbled almond cookie. The result is very fancy indeed, and very pink indeed. And the Nuni was justly appreciative, exclaiming "I LOVE this, mamma! Dat is a BOOTIFUL dessert!"

Fancy Rhubarb Parfaits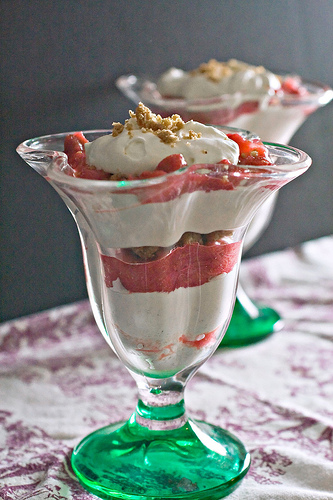 Ingredients
For the rhubarb and the cream:
1 pound rhubarb
¼ cup sugar
8 ounces heavy cream
⅓ cup greek yogurt
1 tablespoon honey
For the "crumble":
6 tablespoons butter
6 tablespoons sugar
¼ cup oats
½ cup flour
1 pinch salt
2 tablespoons almond flour
Instructions
Clean the rhubarb, trim off any remaining leaves (which are poisonous) and chop into 1 inch pieces.
Combine the rhubarb and the ¼ c. sugar in a small saucepan and heat over low heat until the rhubarb has broken down into a chunky sauce -- about 30 minutes. Let cool.
Meanwhile, combine the ingredients for the crumble. Mix them with a pastry blender until the mixture resembles coarse crumbs. Sprinkle on a cookie sheet and bake at 350 degrees until the crumbs are golden brown and crunchy, about 10 minutes.
Just before serving, whip the cream with the honey, then fold in the yogurt.
In 4 small bowls, layer the cream, the rhubarb, and crumbs of the crumble. Serve immediately.
Notes
Inspired by "Fancy Nancy" by Jane O'Connor and Robin Preiss Glasser (to be fair, we also watch a fair amount of "Shrek", and who can fail to be inspired by the donkey's quote, "Parfait's gotta be the tastiest thing on the whole damn planet.")