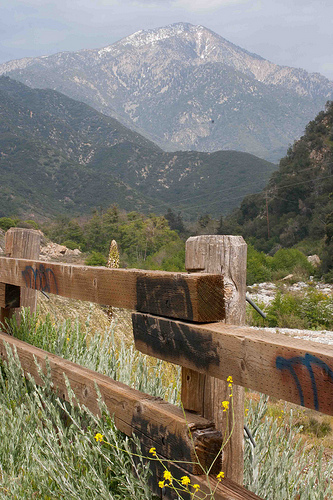 So this weekend I went to camp. Those of you who know me will be unsurprised to find that camping and I don't exactly mix well. I'm not as bad as my father, who defines "camping" as a suite at the Ahwahnee, but the history speaks for itself. Age 9: Girl Scout Camp for the weekend — got a 103 degree fever, couldn't take part in any activities. Age 11: School Camping Trip, Catalina Island — strep throat. Age 13: School Camping Trip, Zion National Park — badly sprained ankle (I STILL have problems with that ankle). Age 16: School Camping Trip, Snake River, Utah — Broken Heart (fortunately, I'm over that one). I somehow conveniently forgot this fact when I was planning for a weekend in the mountains at Camp Blogaway. I was counting on a relaxing weekend in the mountains with a lot of quiet, a lot of birdsong, and some time for reflection.
Instead, I woke up Saturday morning with headache, nausea and sleeplessness (classic symptoms of altitude sickness). I probably shouldn't have been surprised. Clearly, even if I'm theoretically behind the idea of camping (and this was camping lite — electricity, hot showers, and bunk beds in heated cabins), my body rebels. And the mountains were quiet, and the birds were singing, but that was difficult to hear beyond the chatter of many, many food bloggers. And the weekend was jampacked with activities and friends, instead of quiet reflection. But like me and camping, I shouldn't have been surprised — I've come to realize that blogging isn't a solo occupation.
Thankfully, with the help of a lot of water and a lot of advil, I was still able to participate in the weekend's activities and spend time with the group. We heard a host of great speakers, and I got to meet a host of terrific fellow food bloggers. When I started this blog, I didn't know what I was in for. I wanted to share my recipes, inspire people to cook, maybe garner a little fame and a (very) little fortune along the way. But what I didn't expect was the level of community I'd discover. And this weekend just reinforced that. Not only did I get to have great conversations with people who are starting to feel like old friends (including camp organizer Patti Londre of Worth the Whisk and my bunkmates Rachael of La Fuji Mama and Marla of Family Fresh Cooking), I got to meet people I've only known via the internet (the lovely Casey of Tastestopping and Vanessa of Chef Druck) and discover some new blogs and the bloggers behind them.
What I learned at Camp Blogaway, amidst the cake decorations and the camp food and the photography seminars and the s'mores, was that food, and food blogging as an extension, is a communal experience. We're not alone in the kitchens, or sitting here behind a computer screen. We're part of a larger group, sharing our experiences, and our recipes and our collective wisdom, and a lot of laughter.
It almost makes the camping worth while.

A special thanks to my sponsor, Ziplist.com for allowing me to attend Camp Blogaway!