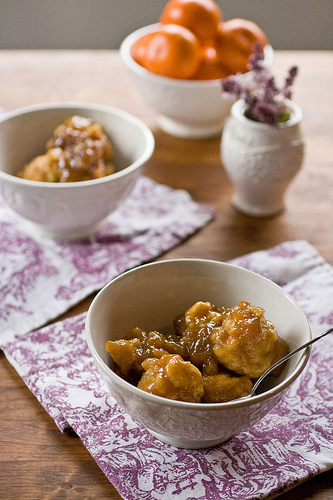 Before Mother's Day, the web abounds with recipes for Mother's Day breakfast in bed and Mother's Day brunch. Apparently, the morning belongs to the women, because you don't see nearly as many Father's Day breakfast recipes. But in my mind, weekend breakfasts — the kind that kids delight in, with pancakes and waffles and sugary anythings — are a dad thing. My mom is not a big breakfast eater, and is of the insanely practical frame of mind that breakfast should consist of proteins and whole grains, like scrambled eggs and oatmeal. My dad wasn't a big breakfast eater either as a regular rule, but on weekends we used to hit the best breakfast places in town – the restaurants with the best steak and eggs, or the really good blueberry pancakes, or the giant, gooey cinnamon rolls. When I spent the night at my friend Stacey's house, her dad would make all the girls coffee ice cream milkshakes for breakfast. Lisa's dad was always good for Belgian waffles with whipped cream and strawberries.
The point is, mother's day may be the traditional day for breakfast in bed, but in my experience, when it comes to indulgent breakfasts, it's all about Dad. So why not indulge your dad this father's day with a sugary, gooey breakfast of his own?
When I saw this maple syrup dumpling recipe in Saveur, I was instantly intrigued. We always keep a bottle of maple syrup on hand (Grade B, natch, for maximum flavor) but we usually pour it over the french toast, waffles or pancakes. These dumplings are cooked in the maple syrup, which gives them an intense maple flavor and gooey texture that's perfect for a sweet and not at all sensible weekend breakfast.
For me, there's the added bonus that these, like my father, are French Canadian, and the French name for them is Grands-Peres, or "Grandfathers." I couldn't resist offering them up for Father's Day, since I won't be able to share breakfast with my dad this year.


Father's Day Grands-Peres - Maple Syrup Dumplings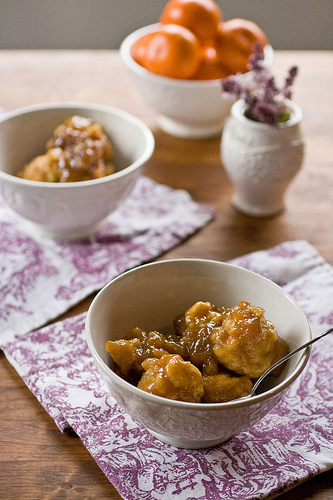 From the March 2011 issue of Saveur These are so intensely sweet I like to cut the sweetness with some tart plain Greek yogurt, but to really push the decadence factor, serve them with cream. They're also great all by themselves.
Ingredients
1¾ cups maple syrup (for a richer flavor, choose the darker, less refined (and less expensive) Grade B Maple Syrup)
1½ cups flour
4½ tsp. baking powder
½ tsp. kosher salt
¼ cup butter, frozen
¾ cup milk
Instructions
In a large Dutch oven or another deep pot with a lid, bring the maple syrup and 1¼ cups water to a boil.
In a large bowl, whisk together the flour, baking powder and salt. Grate the frozen butter (using the large holes of a box grater) into the flour mixture and toss, add milk and stir with a fork until a lumpy dough forms.
When the syrup mixture is boiling, use a spoon to drop spoonfuls of the dough into the boiling syrup. Cover the pot, reduce the heat to medium, and let simmer 10-15 minutes, until the dumplings are cooked through.
Serve warm with the extra syrup and, if you like, cream or yogurt.