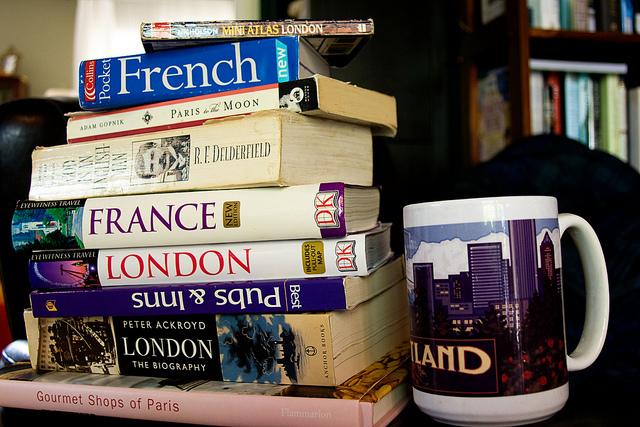 My father did not do many of the things dads do. He did not tinker with tools, or fish, or play golf. He did not manage the household finances, or take me to baseball games, or mow the lawn. My dad did crossword puzzles. He read mystery novels, and most of all, he planned vacations.
My dad was a great traveller, which is a particular accomplishment for someone who had the attachment to comfort that he did. For someone who thought camping was a hotel room without a coffee maker, he managed to cover quite a bit of the world (at least, if you saw the world in the way an Edwardian nobleman around 1906 did, which is to say, outposts of the British empire, Europe, and bits of North Africa.) He sailed the Norwegian fjords, saw the Egyptian pyramids, visited glaciers in both Alaska and Switzerland, sunned on the French Riviera, did his Christmas shopping in New York, and climbed the Acropolis. Despite all these adventures, my dad's most favorite vacations were the months he spent, nearly every summer, renting an apartment in Paris and pretending he lived there.
Every time he was home, he spent all of his time planning the next vacation, whether it was 1 months away or 11. (Never more than 11, natch). He obsessively researched hotels, planned packing systems, and booked airline tickets (and upgrades) well in advance. My mother kept pretty much every other part of our household spinning, but when it came to vacations, my dad was king
This summer we're planning a trip, to London and Paris, a trip I've dubbed the "Mike Wheeler Memorial Tour." The trip is happening in part to take a piece of my dad with us — he would want to spend eternity in Paris; that is certain. It's also happening because my father, true to form, had already bought plane tickets and booked a Parisian flat for him and my mother, and those things aren't refundable.
(London is on the itinerary because Ken and I met there and fell in love there, so we stop in whenever we can. It's also less expensive to fly to London and take the Eurostar to Paris, especially since Nuni now travels on the trains but not the planes for free.)
Of course, the minute Ken confirmed his work schedule I started PLANNING. I am, after all, my father's daughter. I began with the planes and trains, then booked the London hotel (we're staying in the flat in Paris), and moved on to dinner reservations for London (you can use opentable!) and a rough sketch of things to do in London and Paris (both are cities in which I've spent a lot of time, but there are always new things to discover).
Once the things are booked that I can book, then I start in on the books. After all, anticipating a vacation significantly contributes to your enjoyment of said vacation, and I must get in the mood. In addition to guidebooks (my favorites are always the Dorling-Kindersley Eyewitness Guides) I start inhaling, essays, fiction, nonfiction, food books and travel memoirs. By the time I actually leave home, I both feel like I've been on vacation for a month already and am stuck reading the Twilight books while I'm actually ON vacation.
That said, if you're planning a trip to either London or Paris, here are some of my favorite related books:
London

London Travel Guides)
The best guidebook series for practical information plus historical background

Bleak House

OK, it's very long. But very atmospheric. A real classic of Victorian literature, and one of my dad's favorites.

The Camomile Lawn

Set partly in a country house, this wonderful novel really captures life in London during WWII.

God Is an Englishman

Not all about London, per se, but embodies the Victorian ethos that you still see traces of all over the city.

Notes from a Small Island

This book is about England as a whole, but Bryson, with his trademark wit, manages to lovingly eviscerate all of English culture. Also worth reading is his biography of Shakespeare.

London: The Biography
A literary biography and semi-chronological history that really unpacks London from its earliest days.
Paris


Paris (Eyewitness Travel Guides)

Paris to the Moon
A series of really lovely essays that describe the experiences of an American in Paris.

My Life in France
One of my favorite books of all time. You can actually hear Julia Child's voice, and her enthusiasm for all things, but especially for Paris, rings through loud and clear.

The Sweet Life in Paris: Delicious Adventures in the World's Most Glorious – and Perplexing – City
Wit and recipes from the witty and urbane David Lebovitz (it is also entirely worthwhile to check out his blog.) The often perplexing intricacies of French culture, or why your favorite pastry shop will never be open when you visit.

A Moveable Feast
Jazz Age Paris, Gertrude Stein. This may be THE book about Paris. And maybe my dad's favorite book ever. I think I'll reread it in his memory.