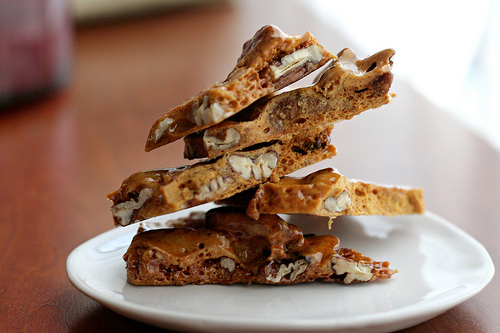 It's the Monday before Christmas. You've baked your fruitcake, braved the mall, passed all the shipping deadlines and if you're anything like me, are more than ready to settle down for a long winter's nap. Then your neighbor drops off a "small gift", or your Aunt Phyllis comes and tell you she's bringing her boyfriend's son to Christmas dinner, or your company IT guy marches into your office with a tub of popcorn. You need a gift, homemade is always nice, and you want it to be easy. No crazy specialty ingredients, no weeks of maturing and no multi-step elaborate processes. You need pecan brittle.


This isn't break your teeth brittle (though I am not claiming your dentist will be happy with me) — the addition of baking soda makes it foamy and light, and the toasted pecans add a wonderful contrasting texture as well as flavor. The recipe does call for using a candy thermometer, but a candy thermometer doesn't make things scary, it's just a tool to take away the guesswork, and if you don't have one, you can definitely eyeball this. When you add the aforementioned baking soda, you'll want to work quickly — the VERY hot sugar will start to foam up, and you want to be able to pour it and contain (it may seem alive) so it's best to have everything prepared before you start. Finally, if you're having damp weather, the brittle can get sticky. It still tastes great, and if you really worry about this coat it with chocolate and nobody will notice. Without the chocolate, the brittle is both vegan and gluten free, so it's a great gift for people who have special food requirements. With those caveats in mind, this is the perfect holiday gift — it's the work of minutes, it looks impressive and it tastes divine.

Pecan Brittle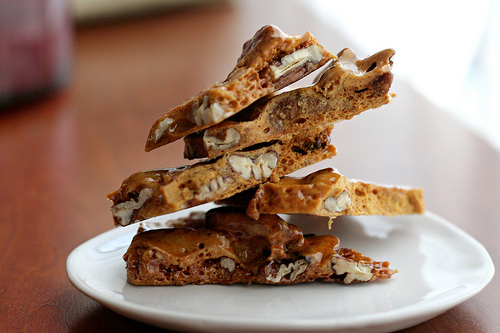 Ingredients
1½ c. granulated sugar
½ c. light corn syrup
½ c. water
1 T apple cider vinegar
2 large pinches salt
2½ c. toasted pecan halves
1 tsp baking soda
Instructions
Prepare a rimmed baking sheet by lining with parchment paper (I use a half sheet pan) and measure all your ingredients (esp. the baking soda) in advance.
Combine the sugar, corn syrup, water, vinegar and one pinch of salt in a large, nonreactive saucepan (it's best if the pan has a light interior, so you can see color) and give it a good stir to combine.
Heat over high heat without stirring until the mixture reaches hard ball stage (238 degrees F on a candy thermometer -- it will be pretty viscous and bubbling).
Add pecans and additional pinch of salt, stir to coat pecans and continue to cook until the mixture is a deep golden color (somewhere north of 310 degrees on a candy thermometer, but you really need to eyeball it).
Immediately dump in baking soda, stir to incorporate and pour out onto prepared baking sheet (the mixture will foam and expand a great deal and get all over whatever pot holders you're using, your spoon (I use a silicone spatula to stir) and probably your apron. Be careful because it's very hot, but fortunately sugar dissolves easily in water and cleanup is surprisingly not difficult). Allow the mixture to cool, then break into pieces and enjoy.
Notes
(Adapted from my awesome friend Carol)
(a note on corn syrup: Corn Syrup, as in Karo Syrup, is difference from the High Fructose Corn Syrup found in so many processed foods that is worrisome to many. Regular corn syrup is mostly glucose, while HFCS has converted much of the glucose to fructose, which as I understand it, is a large part of the concern. While Karo corn syrup is not by any means health food, you're not going to be eating vast quantities of pecan brittle, which is entirely composed of refined sugar anyway, and I don't know of a substitute that has the same chemical properties which is needed for the candymaking process. In short, don't worry overmuch about the corn syrup in this recipe — it's not going to be the tipping point on your health.)