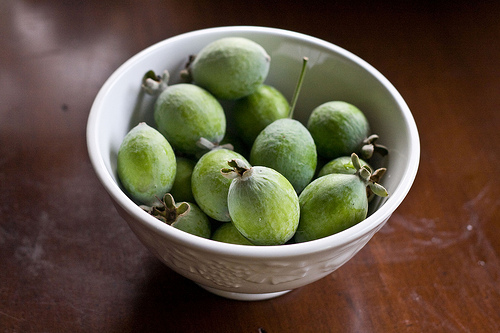 One of the things that Ken and I were most excited about when we bought our house was the prospects of a garden. We had managed to make do for years with the tiny terraces in our apartments — we have a dwarf Meyer Lemon tree, a Bearss Lime, and a thriving herb garden. But the possibilities of growing things for ourselves was intoxicating. We were overjoyed to discover the delights already in the offing — ornamental plums (too sour to eat, but good for jam), peach trees, a pomegranate tree, and my favorite, the pineapple guava, which I recognized because it's identical to the spreading one growing in my grandparents' back yard.
A garden, it turns out, is a work in progress. We put in blueberry bushes and raspberry canes, planted a second pomegranate tree, and ordered greengage plum, quince and persimmon to plant this winter. Of course, the plants we added will take a few years to bear fruit. We moved in too late for the plums, the peaches dropped all their fruit before it was ripe, and the pomegranate turned out to be non-bearing. But we'll still have a bumper crop of Meyer lemons this winter, and the pineapple guava did not disappoint.
Pineapple Guava, or Feijoa, is a native of Brazil. The tree sports dark green and silver leaves, with dark red fuzzy blossoms that bloom in the Spring in Southern California. This fall, the tree has been laden with the fruit — ovoid spheres of a pale dusky green tipped with the remains of the blossoms. We've had enough that both us and the squirrels have been satisfied.
I eat them the way my grandfather taught me — splitting the skin with my thumbnail, then sucking out the perfumey, sweet tart jellied center and scraping out the grainy flesh with my teeth. When I'm being more polite, I use a knife and a spoon. The flavor is reminiscent of a ripe pineapple, with the balance of sweet and tart, but with a more aromatic edge and a texture closer to guava.
We've been pretty happy eating them plain — they're that good. But if you've got any feijoa recipes, I'd love to hear them!