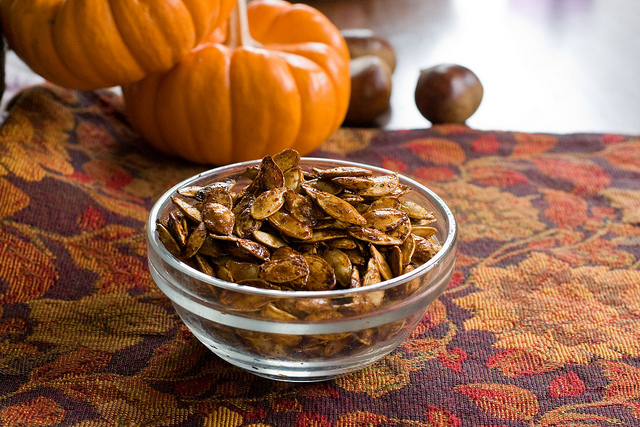 As an adult, I am wary of jack-o-lanterns. You see, I had a traumatic jack-o-lantern experience in college, and I'm still suffering the psychological wounds. As a member of the Senior Class Council, it was my job (together with my roommmate's) to plan the annual Senior Class Halloween Masquerade Ball. We planned to turn the college dining hall (a gorgeous, soaring Palladian space) into a veritable autumn wonderland, complete with hundreds of twinkling fairy lights and pumpkin lanterns. A week or so before the ball, we visited the pumpkin patch and loaded up my boyfriend's little blue Ford Festiva with over 50 pumpkins, and carried them up the stairs to my dorm room to await carving the following week. And there they sat, until I noticed a smell. And tried to pick up one of the pumpkins, only to have its flesh dissolve on the floor. The pumpkins were rotting. And slimy. And the stench of those pumpkins was entrenched in my dorm room for quite some time. Talk about a horror story! I still have nightmares about it.
But now I am the mother of a three year old, and to the three year old set, Halloween is a BIG DEAL. There have to be spiderwebs and princess costumes and candy (natch) but most of all there have to be jack-o-lanterns. So I overcame my pumpkin phobia, scraped out the insides with a metal spoon into a bowl (I'm not touching the slimy stuff — the memories!) and carved not one, not two, but three Jack-o-lanterns (OK, Ken, he of the former Ford Festiva, carved one, but I scraped out all three).
Of course, three year olds being the tiny tyrants they are, having three jack-o-lanterns was not enough — she wanted to roast pumpkin seeds (I blame preschool for putting these notions into her head). So, because I love her dearly, my gorge rising, I sorted through the bowl of slimy, smelly pumpkin guts (OK they weren't that smelly — these pumpkins had been living outside instead of near a radiator), and separated out the seeds. Now that, my friends, is maternal love. And then I roasted them, and thanks to the magic of spices, even thought they tasted pretty darn good!
To roast pumpkin seeds, first you need to get as much pumpkin goo off as possible, which involves pulling them off the squash, then soaking them in water and picking out any remaining goo, then drying them — first in a colander, then in the oven. When they're dry, you can toss them with seasonings, and roast them until they're toasty and crunchy, a halloween treat worth savoring. These have a sweet salty balance with a nice kick of piquancy from cayenne pepper. They're so good, they almost erase the horror of my collegiate nightmares.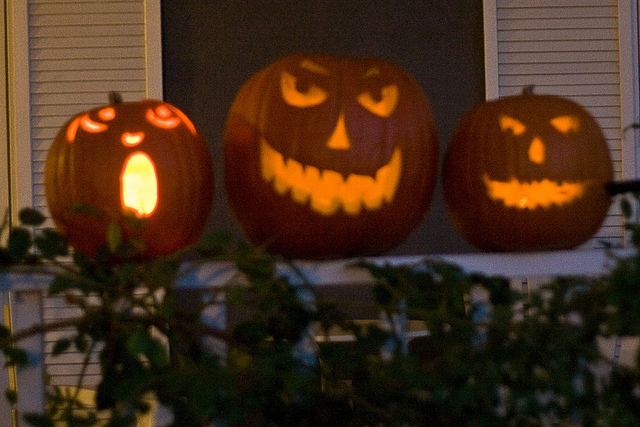 Sweet and Spicy Roasted Pumpkin Seeds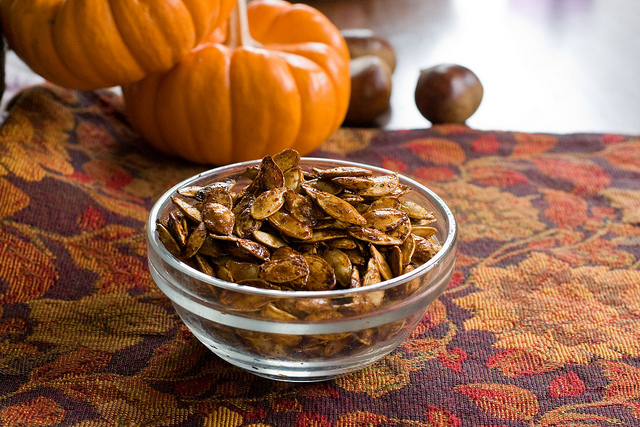 Ingredients
1 cup pumpkin seeds
2 Tablespoons melted butter
2 Tablespoons brown sugar
1 teaspoon worcestershire sauce
¼ teaspoon cumin
¼ teaspoon garlic powder
1 large pinch sea salt
1 small pinch cayenne pepper
Instructions
Wash the pumpkin seeds, remove any traces of pumpkin flesh, drain them in a colander and then spread on a cookie sheet lined with tin foil and dry in a 300 degree oven for about 15 minutes. The seeds should be dry and crisp.
Combine the melted butter, the brown sugar, the cumin, the garlic, the salt, the cayenne pepper and the worcestershire sauce in a medium bowl. Toss the pumpkin seeds in the mixture to coat. Raise the oven heat to 375 degrees, spread the spiced pumpkin seeds back out on your tinfoil, and roast for 8-10 minutes. Let cool, and enjoy.