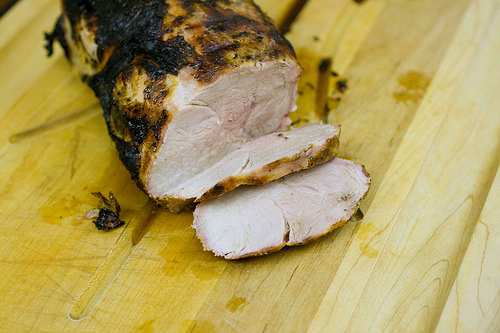 There are times when all I want to cook and eat is super simple comfort food. Then there are other times when I'm willing to put in a little (or a lot!) of effort to make something spectacular. And then there are the times (well, most of the times, to be frank) where I want something spectacular for little to no effort. And that's where this recipe for grilled brined pork loin comes in.
This is one of those recipes my mom used to make when I was growing up. Because it's so delicious, and because I knew it took three days to make, I always used to request it for special occasions — my birthday, my high school graduation, spring break in college, when I always went home because it was 85 degrees in LA and 35 in New Haven. So I asked my mother for the recipe, and realized she had been hoodwinking me all these years.
You see, this pork loin does take three days. But the active time is about 45 minutes, and it's only 5 minutes if you make someone else grill (like I always do — thanks honey!) I often add an extra 3 minutes and make a compound butter my mixing a couple spoonfuls of red wine and a clove of minced garlic into some softened butter (you can also add chopped cilantro and lime juice), chilling it in the refrigerator, and then letting a pat melt over the freshly grilled pork. And for that 5 (or 8) minutes of effort, you get aromatic, juicy flavorful pork with a seared crust and a tender pink interior that's worthy of the specialest of special occasions. That is the kind of recipe I can get behind.
Grilled Brined Pork Loin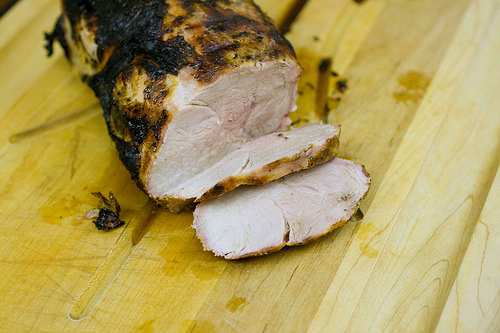 Ingredients
½ tsp. cumin seeds (My mom uses 5 coriander seeds instead, but I was out of coriander. They're both good)
10 black peppercorns
5 juniper berries
1 gal water
¼ c. sugar
2 T salt
6 bay leaves
2 sprigs fresh thyme
2 sprigs marjoram
1 pork loin (about 3-5 lbs.)
Instructions
Lightly crush the cumin seeds, peppercorns and juniper berries. Heat 1 c. water, dissolve the sugar and the salt in the hot water.
In a large bowl, place the pork loin, the water/sugar mixture, the remainder of the water, the spices and the herbs. Cover and refrigerate for 2-3 days.
Remove the pork loin from the brine (don't rinse it off), grill over indirect heat until the center reaches 137 degrees. (If you cook large pieces of meat with any regularity, you should invest in one of these babies: Probe Thermometer. It will change your life.) The timing depends on the size of your loin and your grill.
Let the loin rest for 10-15 minutes, then slice and serve.